I really wanted to do this challenge, and I really wanted to limit myself to the supplies on the list.
I had a vision. A vision of pom-poms.
Lots
of pom-poms.
I went to Hobby Lobby, and found a big, cheap bag of 'em.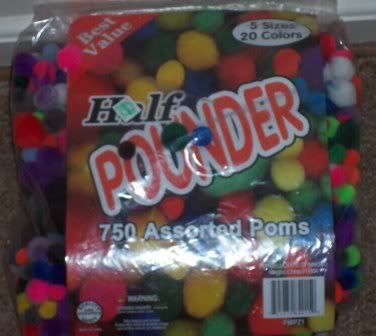 That's a lotta pom poms.
I used quilting thread to make a looooong string o' poms. Here it is at 25' long. When I got into the project, I squished them tightly together, and the string was more like 8' long.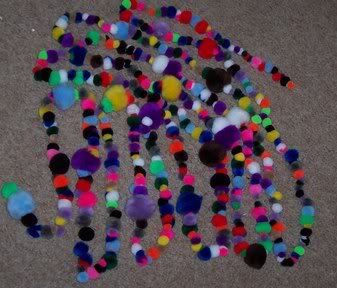 I had colored popsicle sticks, so I arranged them like so....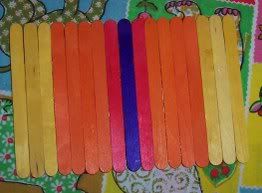 ...glued large popsicle sticks perpendicular to these on the back, and sealed with polyurethane because the colors have a tendency to run. This became the base of the purse.
I tied the string of pom poms to the base with quilting thread, and began to wrap. And tie. And wrap. And tie. And tie. And tie. And wrap. I tied thread to thread, and did it tightly so it wouldn't show. When I got to the top, I tied on two shorter strings of pom poms for handles.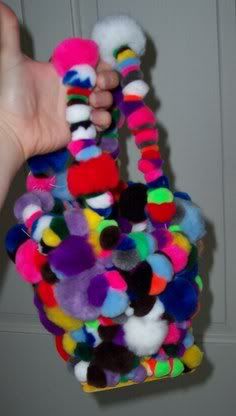 Then came the
Easter grass
! I never thought I'd use Easter grass! I tied strands together and knitted an i-cord with help from the Knitting Knobby.
I added light blue pom poms to stick out from the front, and tied the i-cord through the back to make a closure.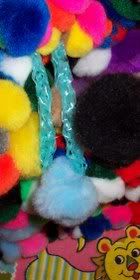 Fewer than 125 stragglers and factory seconds remain.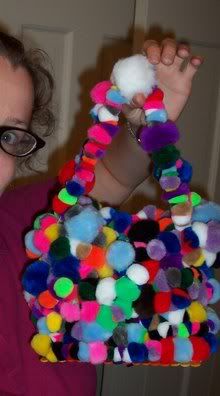 600-Pom-Pom Purse!