So yea I posted a few weeks ago about a shoe i had asking for advice on how to use it. Though I got a lot of great feedback i decided to do something different. I needed a way to keep pens close to my calendar so i can easily put events on it. so voila the shoe pen holder!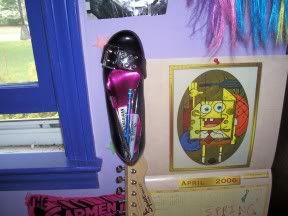 Yes that is a spongebob calendar, lol.
I used these little white foam things with sticky stuff on each side to put it on my wall. I forget what they're called but they worked really well.