Under the heavy influence of inspiration from
https://www.craftster.org/forum/index.php?topic=53838.0
I found a pair of converse-like shoes which didnt fit too well or go with anything in my wardrobe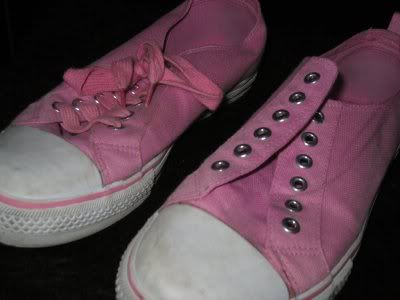 and turned them into cute little shoes which probably still dont get with anythign in my wardrobe!!!!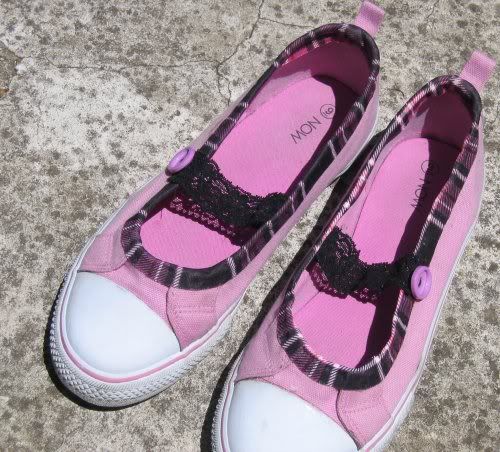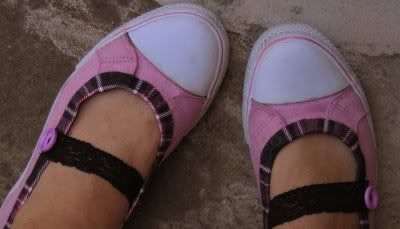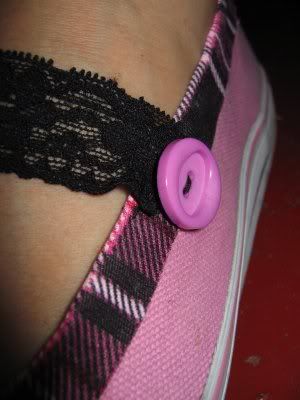 TUTORIAL
1. Cut the shoe to the right shape, just above the first set of eyelets. And glue the tounge to the side bits of canvus (you can see a little white dop of glue through the eyelet!!)
2. Cut a strip of stretch fabric (mine was qit a study fabric so t didnt stretch out of shape but still stretched around the curves). Then a feww inches at a time, cover it with clue and stick it over the raw edge and peg it down. Keep going around until youve covered all the edges.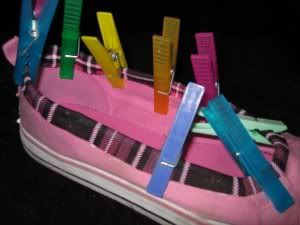 3. Keep all the pegs on as long as possible... SIDE NOTE: the craft glue i used isnt very durable. Im interested to know a better solution.. maybe super glue?!!?
4. Sew a longish piece of stretch lace to one side, slip the shoe on, pull the lace snug over you foot to work out the length and then sew it down on the other side of the shoe.
I put machien arm into the shoe as shown but only sewed an inch or sew as wide as the lace. It would be too hard to sew all the way around the edge I think.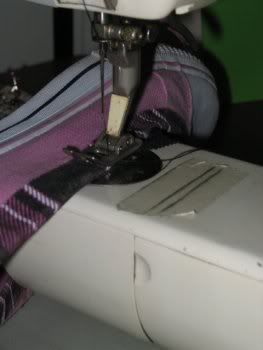 5. Hand stich cute buttons on!
6. Scrub white rubber bits with spray and wipe and a scratchy pad thing.
7. SHOW OFF!!!!!!
NOTE TO SELF: hand sewing through canvas cover heavily in craft glue is very hard going. Ease up on the craft glue in such areas!!!!