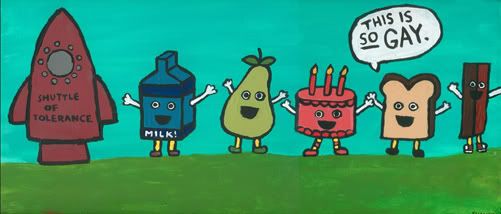 I made this painting a couple of nights ago with acrylic paint on a twenty-by-sixteen canvas. There is more to the painting on the top, but it is basically just a sun and two clouds. Milk Carton, Mr. Pear, Cake, Toasty and Bac'n are all going to go on quite the journey in the Shuttle of Tolerance. I only hope they can all fit.
Comments would be appreciated
PS. I don't mean any harm by the statements of Toasty. You're supposed to go, "Oh, ha-ha, I get it... Tolerance!"