I made this little decoration for a friend who has a snowman collection she displays at Christmastime.
I etched the glass canister, painted the coal eyes and buttons on a blank ceramic ornament, removed the ornament hanger and made a little hat with "snow" and a birdie on it, and made him a ribbon scarf.
I used polyester batting for the snow on which he sits. It has "diamond dust' snow and a wee toadstool.
I used some wired holly decorations and wooden beads that I painted red for a little decoration on the top which is glued on.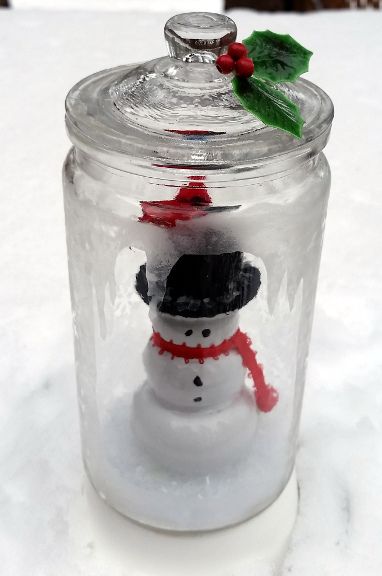 Originally was going to make a pompon snowman but that didn't work out. The ceramic snowman glued at one point to the glass canister makes me not trust shipping it! D'oh! Luckily this is a friend who tends to visit each year and is pretty chill about timing when it comes to this kind of thing, so it's going to wait until she can drive it home in her car or I visit my hometown.