I altered a store bought sweater to make TheManFlesh a Krampus sweater!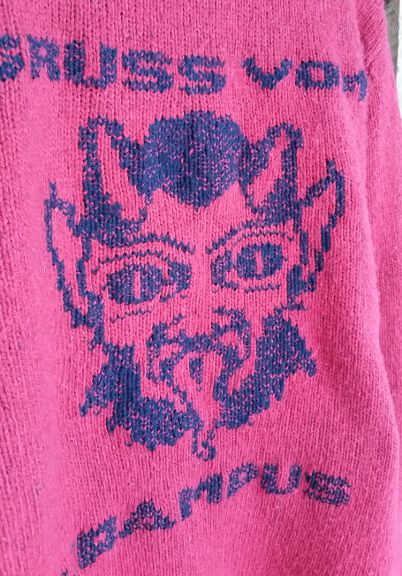 I remembered a decades old Martha Stewart Magazine craft about stitching with a needle and yarn over the existing knit of a sweater and decided to give it a whirl to make a tacky Krampus sweater. I used an image of a sweatshirt printed to look like a sweater as a guide, some yellow thread to mark the center of the sweater, and went to town. It took hours and hours and was kind of a pain in the @$$, but I am really pleased with how it turned out! The photo below is probably the most accurate color.
I might end up giving it to him early since we're going to a party on Sunday night and his last day of work for the year is tomorrow and we are staying home in Montana for the Christmas.
Here is a close up of the stitches. I used a sock-weight yarn. I don't knit or crochet, so that's about all I can tell you about the yarn other than it's a cotton blend and the sweater is a wool blend.