The long story of Mid-May Montana Mountain Madness, a.k.a MV (prounounced "Em Five")
Last autumn we moved from Portland, Oregon where I'd been most of my life and The ManFlesh has been since his mid teens (we're middle-aged now) to
outside
a small town in Montana. He turned 40 this spring and we only know a couple people here, so to properly celebrate we needed "The Dudes" to come out for a visit, so I went about making a big production out of it to help tempt them. And, get this, it
worked
. YES!
We had lived in the city and now we live in the woods on the mountains, so we definitely had to go with a mountain man theme. I found this PERFECT image via Fab, wished we could have afforded to buy everyone t-shirt (we originally were expecting 7 guests, 5 men, 2 women +us), but we could not so I lifted the image, downloaded a log font and came up with these invitations. Of course, they'd all be invited via text (like guys do), but we thought a cool looking paper invitation would be a better lure.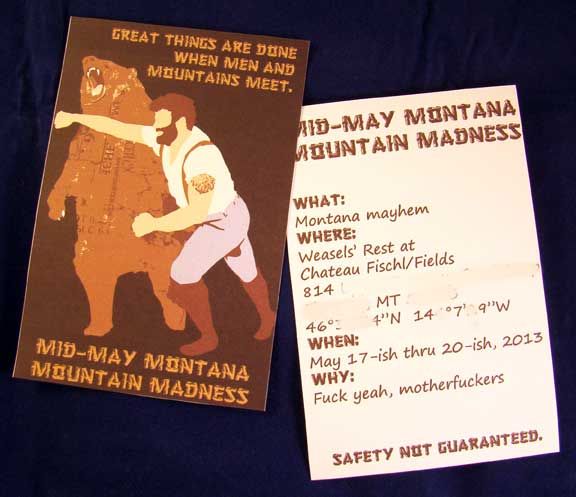 I wanted to do favors in a Mountain Man theme, but they needed to be Dude-friendly, fun/funny, inexpensive & moderately quick to make 9 to 11 of each (2 local friends might be joining or initial number of 9 including us). I reached out to the craftster community via this post with my original ideas and asking for others:
https://www.craftster.org/forum/index.php?topic=421340.0#axzz2U236Wumi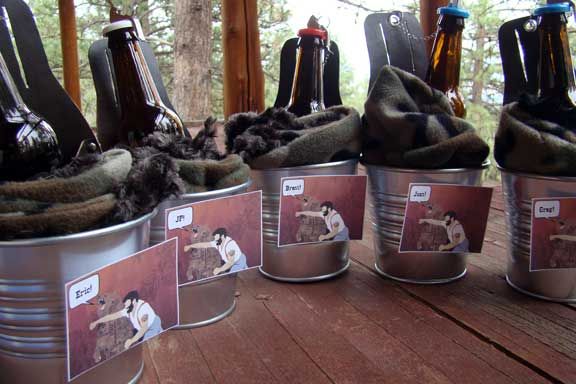 What I finally came up with:
Hats with detachable mountain man beards
Beer holsters
Navel Lint brushes (for the guys)
Leather keychains (for the ladies)
All in galvanized buckets (well, "cachepots" from Ikea)
labeled with magnets using another image borrowed from the same artist as the t-shirts
First I made the hats! I bought both black and brown costume fur for the beards and camouflage printed polar fleece for the hats. I had shopped for a pattern all over and not found one with as much contour as I wanted, so I turned a couple of our store-bought hats inside out and made a pattern based on those. I can see where mine could use some fine-tuning if I keep making them, but they're just fine for mountain man themed favors. the ladies' beards had hot pink bows!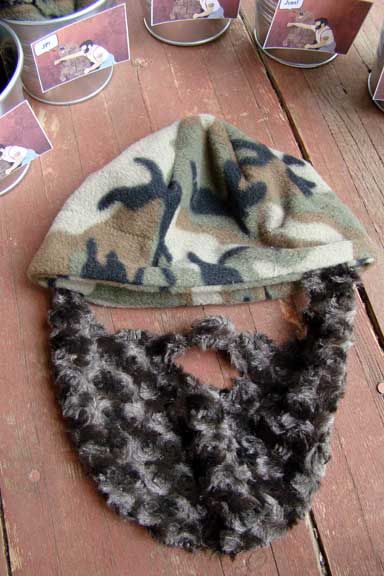 We ended up with 3 out-of-town guests having to cancel (both ladies and one guy) and our local friends didn't attend any of the festivities at the house, so the much anticipated group shot of the beard hats is just the 5 guys. I hope one of them has a shot of me in mine with the pink bow.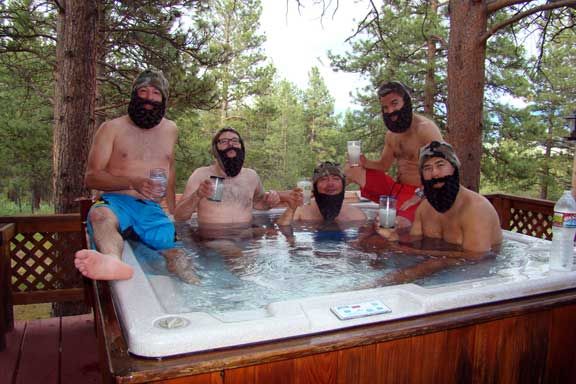 I'm happy to say that the dudes wore the hats for many activities as it got cool here for their weekend and was told that "the hats saved [them]" on their rafting trip, especially the half-hour of rain/hail they endured on the river.
The construction of the hats left me with a bunch of camo fleece scraps in diamond and triangle shapes. Once I saw those triangles, I knew I had to make a bunting for the front deck! So I cut most of the diamonds in half to make more triangles, dug up some plain ol' string and stitched the fleece to the string.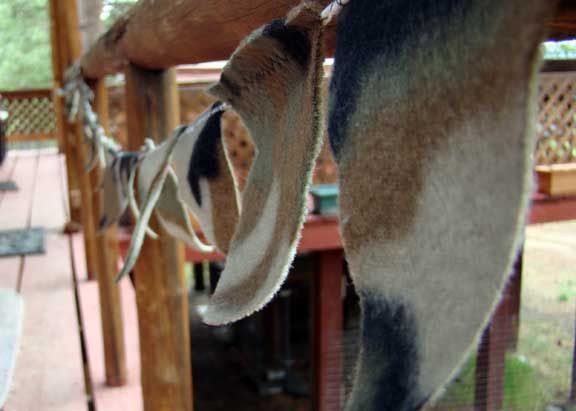 I'm not entirely sure The Dudes noticed the bunting or realized it was an MV specific decoration, but The ManFlesh did and was appropriately appreciative and impressed.
Next I whipped up these navel lint brushes based on one I picked up at a holiday bazaar for The ManFlesh. They're just chenille stems glued into beads. I didn't find plain wood beads that were suitable (I didn't bother going to a bead store), but I did find these fake (and fake-looking) turquoise and bone beads which I thought were western/pioneer/mountain man enough.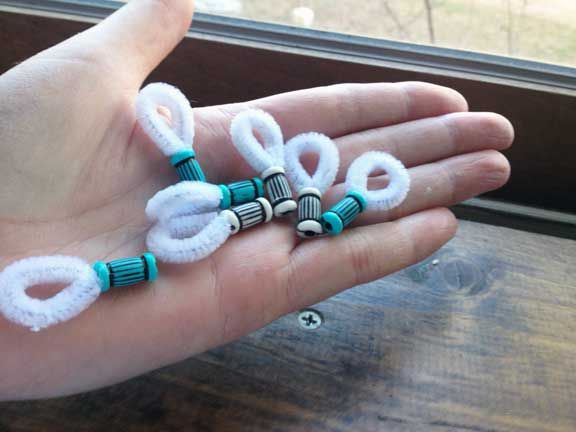 The ladies cancelled before I made the key chains, so they didn't happen. I do have the hardware, though, and a bag of cool leather scraps from a friend who designs furniture for an East Coast furniture company, so...
Next up, beer holsters! I had originally thought I'd get canteens and make faux suede, fringed covers and had started the search for canteens which was proving difficult to get nine to eleven the same at a good price and preferably not plastic. Then I happened upon a similar holster in leather, did a bunch of online searching and combined the features of several different sources to make mine... in vinyl to make it both economical and easy to work with. Added bonus, they could go in the hot tub! Alas, they did not.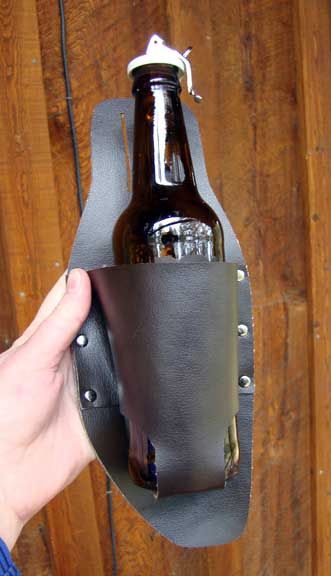 When I presented The ManFlesh with the idea he like it, but said, "what about cocktails?" Good point, The ManFlesh, good point. So I saved and cleaned beer bottles, cleaned off the labels, etched everyone's initials into them. It turned out that with our original cast of characters there were multiple people with the same first initials (2-Js, 2-Ms and 2-Gs). Luckily, one of the Js goes by JP, so I just did double initials for him. Another bit of luck was that one each of the Ms and the Gs were male and female, so I just did different fonts for the guys and the ladies. They all took their bottles with them, so maybe they'll use them for cocktails or even for vases. You know how dudes are about vases.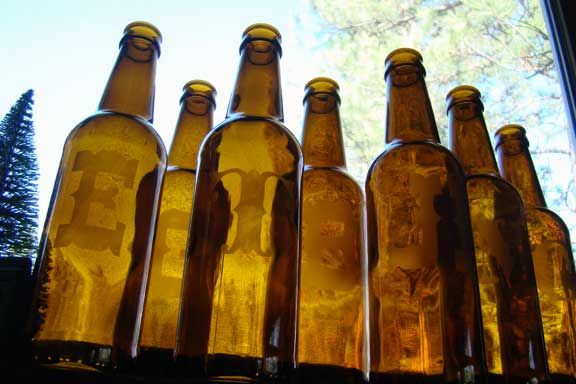 You can see where I added a stopper for the bottles for times when one might need to engage in some cornhole or hiking during the consumption of the beverage, but I bought too-delicate of chain and those ended up failing. The design of the holster needs some work, too, as they are too loose to properly hold bottles if moving around much at all. The pre-made ones I'd based my designs on held both cans and bottles and mine fit both on the table, but were loose with bottle when worn. I am determined to make a functioning holster, though! I purchased some leather crafting tools to make these, so I will continue with prototypes. There is talk of "MV II Snow Boogaloo," so I can give The Dudes improved models then.
For labels, it seemed appropriate to take advantage of the ferrous quality of the buckets, so I printed them up on card stock and attached a magnet with 2-sided tape. I borrowed the image, made it a suitable dpi for printing, then added the speech balloon and name using the same fonts for the dudes and ladies as I used on the bottles. The bear shouting the name crack both The ManFlesh and me right up. I wasn't expecting The Dudes to consider the labels as favors, but they did and took them home with them! I bet a few will even stick 'em on their fridges. I almost wish I'd used better magnets.
IF YOU HAVE MADE IT THIS FAR,

THANK YOU

AND PLEASE FEEL FREE TO GET UP TO STRETCH AND REFRESH YOUR BEVERAGE.


Aside from favors and bunting there were a few other party-details:

Of course, or Beastie Grrrlz are good hostesses and members of our crew, so they got camouflage Collar Cozies with safety orange top stitching for the event!
I made Mavis, a ceramic deer head with holes for improvising antlers that is hanging in our living room, a special safety-orange fleece hat and let her wear the prototype beard.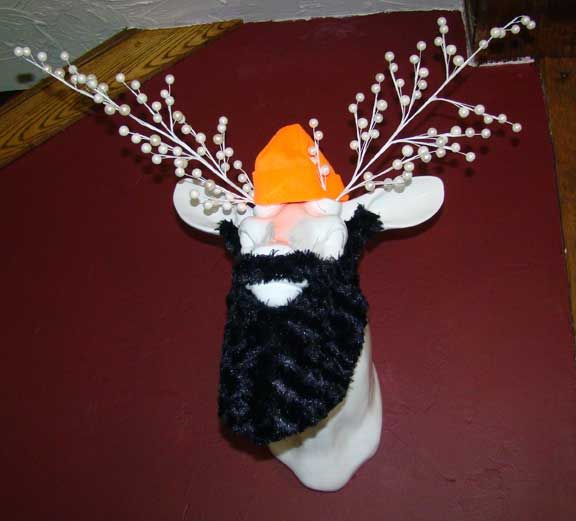 The ManFlesh and I worked together on a cornhole set.
He put it together which was extra cool since woodworking is not one of his hobbies and I have more experience with that kind of thing. I filled and painted the tops using paint we had on hand ( black & purple, his favorite color), we were able to use handles we'd taken off a screen door at our new house: I just sanded them, then sprayed them with rust inhibitor and spray paint we had (also in purple and black). And how serendipitous that I had appropriate fabrics in my stash to make the cornbags! We got lucky and there is just enough room in our shop to set up the game when it is not sunny or warm outside! It's just a few feet shy of the regulation 27 feet (d'oh!). We used the directions from ThisOldHouse.com for the boards and some official cornhole site for the bag measurements.
When we were expecting to host 7 guests + the 2 of us, I realized the towel situation around here was inadequate. I found a few on sale, but of course I wanted some that would go with our future bathroom decor (I haven't gotten to that bathroom yet) which meant differentiating who's towel was who's could be an issue and Despite what you may have heard, TheMistressT is not a gal who likes to share her towel with just any dude. So I got the bright idea to make tags!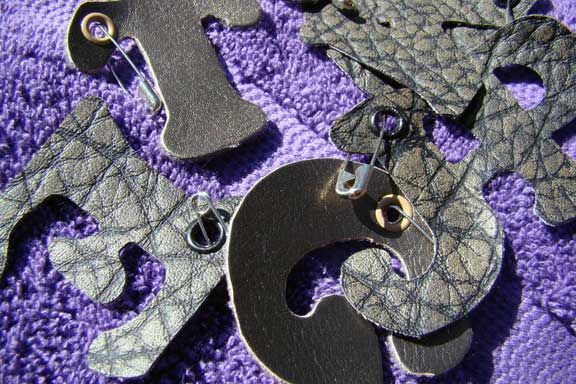 I made big initials using MSWord and printed them out as patterns that I transferred on to vinyl scraps I had on hand. Again, multiple people with the same initials, but different sexes so men got "elephant hide" and ladies got "bronze". Of course, with our final headcount it mattered less and made a less impressive photo with the tags installed on the stack of towels. I think I have a better solution for our future guest/towel situations, but that will be a while before it's implemented. It will also be non-specific to the names of the guest and therefore will work no matter who visits.
To help minimize hostess and hosting duties, I went ahead and made labels for the bathroom cabinets so The Dudes would know where to find TP. No one claimed to have been jilted on the TP, but no one replaced empty rolls or staged a fresh roll when the current one was almost empty, either. So I can't say if the signs worked or not. Dudes. [shakes head] The arrow version is the one as seen while seated. Ahem.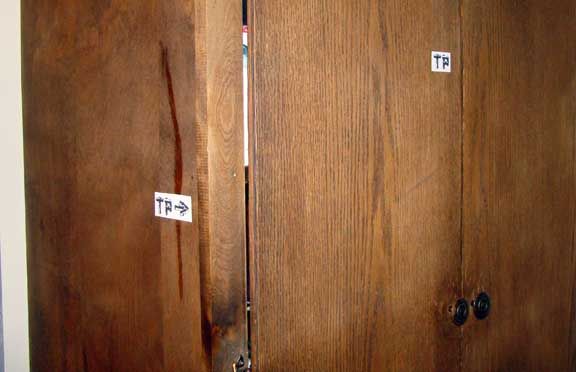 And since this is probably as close to a house warming party that we'll have, I did a thing that I did for my last house warming party that people seemed to enjoy and also may have saved some embarrassment as to commentary about "when are you going to change
that
?" if we'd already changed it.
I printed up some before pics and taped them up so they could see the work we've been doing.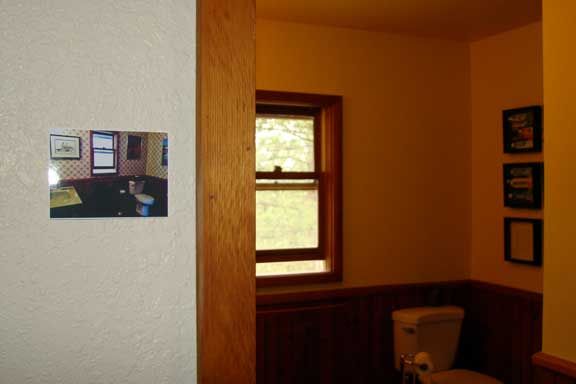 And finally, it seems there are 2 kind of guests to our place; those that easily find it and those that don't. It's really not hard, but I think that if you're not used to Forest Service- and private, unpaved, mountain roads it may be a bit confusing as to which is a road and which is a long driveway, etc. So I put up a few signs at key "intersections" to guide them the last half-mile.
There will be many more photos of the festivities in a few days on my blog and probably a few more detailed how-dids of the handmade projects over the next couple of weeks.
PS Hoo boy. I think I could have made 100 navel lint brushes in the time it took me to do this post!