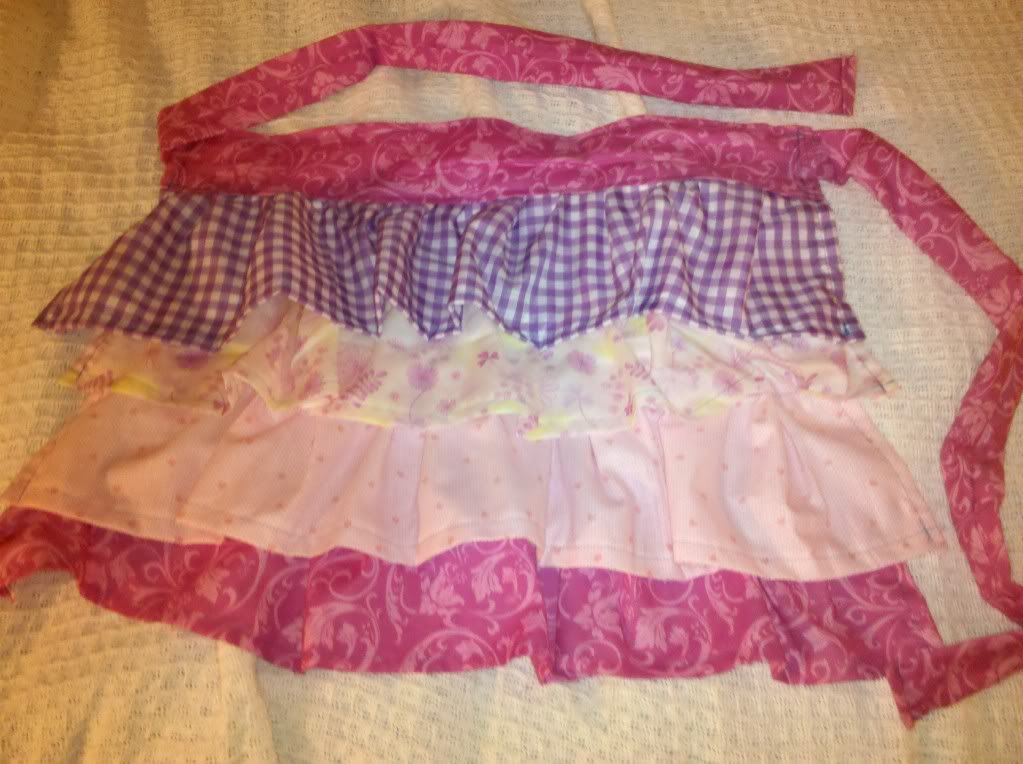 Gallery
https://www.craftster.org/forum/index.php?topic=407377.0
Swap name: Make me an apron
Craftster member who is organizing this swap: raewolo
Sign-up date range: 03/13 - 03/27
Date to send item by: 04/24
Limited to a certain number of people? YES, 24 plus myself so 25 total.
Restricted to people who all live in the same country? NO
Additional Age requirement? 16 and up
Swap Organizer himself/herself meets these conditions:
- Has fully read the Swap Info Guide: YES
- Has successfully completed two swaps as a participant: YES
- Is not organizing more than three swaps right now: YES
- Will recruit a co-organizer or give all details to a Swap Moderator if this swap has more than 25 participants: YES
- Is at least 18 years old: YES
Swap Organizer will check each participant to make sure they meet these conditions:
- Has been a member for at least one month: YES
- Has posted at least 15 times: YES
- Has completed one swap successfully before signing up for multiple swaps at a time: YES
- Is not currently signed up for more than five swaps: YES
- Does not have any negative feedback: YES
- Participant has agreed that he/she is at least 16 years old: YES
- If within the US, understands that Delivery Confirmation number is required for this swap: YES
- If outside the US, understands that a mailing receipt copy is required for this swap: YES
Details of swap:
Have you been looking for the perfect apron lately? Then this is your chance to get one to fit your style! From crafting to baking to gardening to cleaning the sky is the limit for what you need an apron for!
To keep crafting as even as possible, I will do my best to match people who want the same size of apron. You will need to communicate with your partner about their measurements and desired lengths.
You do not have to send extras, but if you and your partner are ok with them then go for it, but they are not required in this swap! This should be a fun swap, and the crafting time is roughly 3 weeks, so plenty of crafting time.
Please make sure you post in this thread at least once a week so I know you are still with us.
...
If you want to participate, information to send to organizer:
QUESTIONNAIRE TO ANSWER:
Name of swap
Craftster username
Email address
Your real name
Mailing address including the country
Would you be willing to ship to an address outside your own country?
Confirm that are at least 16 years old or, if not, that you have moderator approval(YES/NO)
Do you have any allergies?
Do you have any allergens in your home?
Will you post photos in the gallery upon receiving in a timely manor?
Do you want a full or half apron?
My apron will be used mostly for (crafting, cooking, baking, cleaning and so on):
If you want a half apron would you be willing to make a full one if needed?
Favorite colors:
Least favorite colors:
Would you like a theme apron?
If you would like a theme apron, what theme?
Styles you like (girly, rocker, country, modern and so on):
Styles you don't like:
Prints you like (checker, stripes, dots, flowers and so on):
Prints you don't like:
Link to your wists, pinterest, or blog:
Anything else you would like to share about yourself:
IF YOU WANT TO PARTICIPATE, REMEMBER TO SEND YOUR INFO TO raewolo VIA PRIVATE MESSAGE AND NOT TO REPLY WITH IT HERE.
Also, remember to read the
Swap Info Guide
to find other rules about participating in a swap.
AFTER PEOPLE HAVE SIGNED UP AND BEEN APPROVED, LIST THE PARTICIPANTS HERE AND WHO IS SENDING TO WHOM:
...
Participants
1. raewolo
2. Mrs Shak
3. Beunruffled
4. Christine420
5. PurplePaisley
6. Anyuta
7. pearljam94
8. cloud_berry
9. dfabbric
10. annigirl22
11. najaorama
12. squidget
Partners
raewolo <--> najaorama
Mrs Shak <--> Beunruffled
Christine420 <--> annigirl22
PurplePaisley <--> squidget
Anyuta <--> dfabbric
pearljam94 <--> cloud_berry