You might want to sit down, this is going to take awhile.
I was lucky enough to participate in the Wicked Vices Altered Tin Swap wherein we gave our partners a list of five of our "vices" and we altered an Altoid -style tin with one or more of those vices in mind. My partner's vices included book hoarding (is
that
a vice?). Originally I had another idea involving another vice on the list that I don't even remotely remember, but on a craft-night with a girlfriend I got to play with her Martha Stewart Scoring Board and ZAP! the idea to make many wee books and a library to house them in struck me. Luck shone down on me again as I was gifted from my birthday my very own scoring board by that same girlfriend. WHEE! And now to the many, many, MANY photos.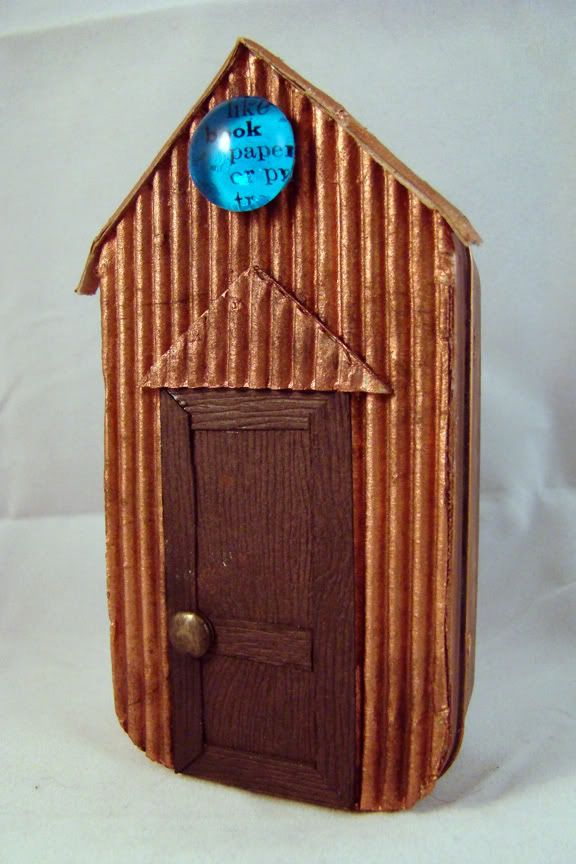 My partner likes the distressed look, so I decided the library should look like a shed of aged copper. I had a sheet of corrugated paper missing one flat side in my stash and painted it with paint that you spray with a distressing fluid to oxidize it. Luckily I was able to work in light coats so as not to ruin the paper.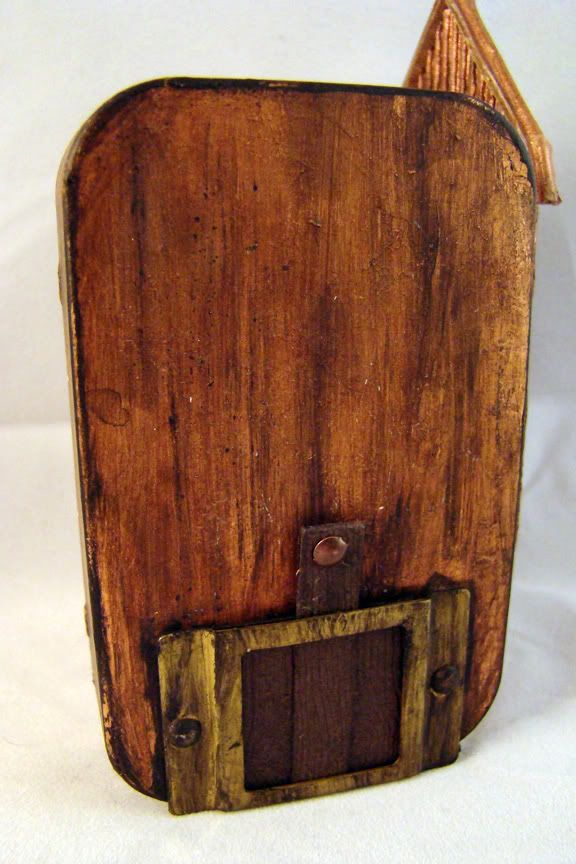 The back is copper leaf, distressed with glaze and topcoated with a matte varnish. Why I did 2 different coppers that ended up looking the same? Heck if I know.
Inside, sans books. A library pocket on the inside of the lid from a pattern I found on pinterest, then resized to fit in photo shop. I stamped it with an anatomical heart stamp a bunch of times, as hearts were one of my partners loves. The shelves on the other side are made with faux bois embossed paper over paperboard, then inked to bring out the pattern.
All the wee books on the shelves. After about 12 books, I started thinking "what I have gotten myself into?" Then I thought... "well, I could make a few bookends..." So I made several more books and a few bookends.
The bookends are a vintage game piece that I silver leafed, then distressed with glaze and a piece of cut tile I found on the floor at a job site I was working on with a marble glued to it. The marble was leaved with bits of gold, silver and copper leaf randomly stuck on. It ended up looking a bit like a globe.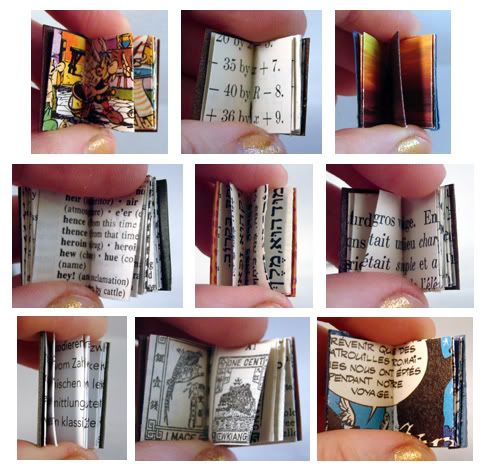 The books all actually open and have pages, etc. I used pages from my small collection of books-bought-to-make-into-something-new including non-English language books, a vintage math textbook, magazine photos, etc. Scrapbook paper that look like types of leather and a leather-y wrapping paper for the covers
The secret hatch in the back where the library's owner keeps her skulls (like skeletons in her closet):
The door is made with another color of the faux bois embossed paper and a oiled bronze colored paper brad. The hardware is from my stash, distressed with glaze.
The inside has one of those things from the top of that sleeve that covered the top of a wine bottle.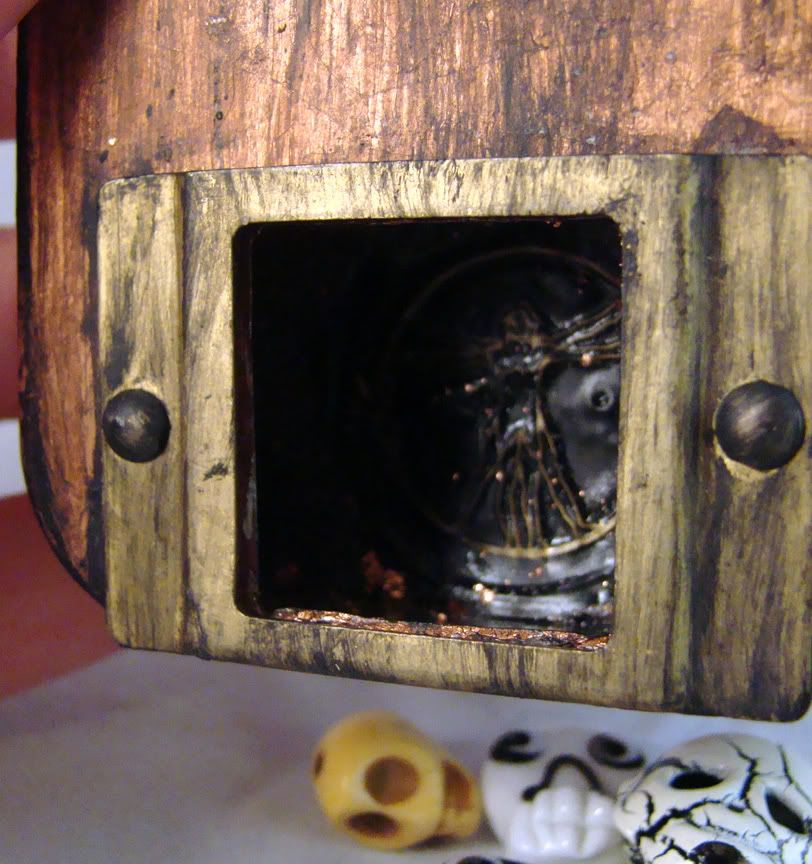 And finally a bunch of detail shots, because for me these things are all about the little details.
A bit of color and a hint about what's inside the shed: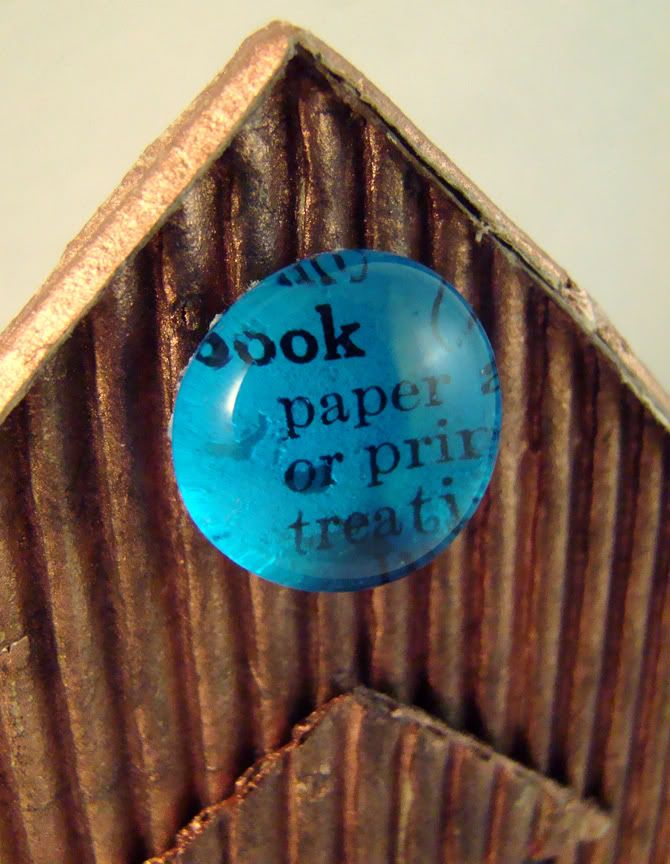 I felt lucky (again) that I was able to get "book paper or print treat" under the turquoise glass thingy from my stash.
"Door" made from the darker version of the faux bois embossed paper, again inked to bring out the grain. Paper brad for door knob.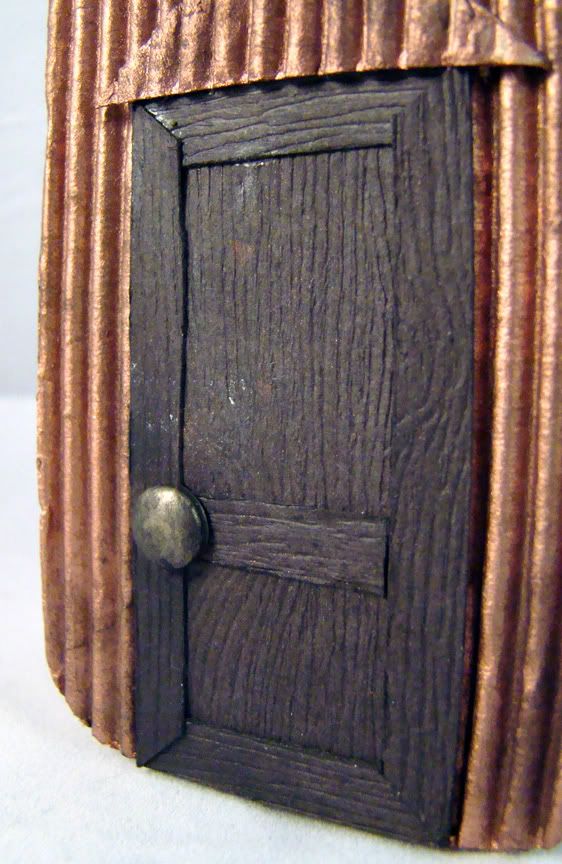 My miters didn't turn out so well, but I decided it was a happy accident making the dilapidated shed look just that much more so.
One of the shelves of books: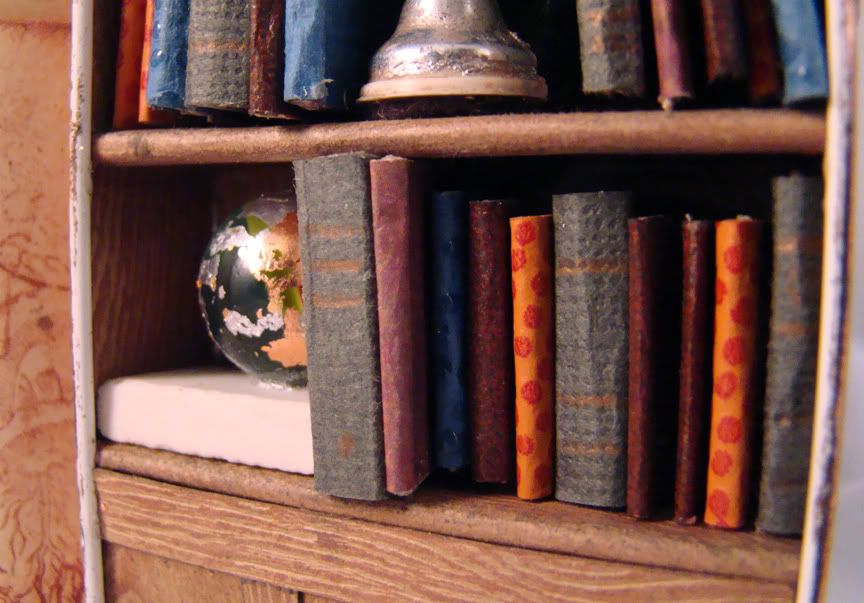 Mini faux joinery sans books: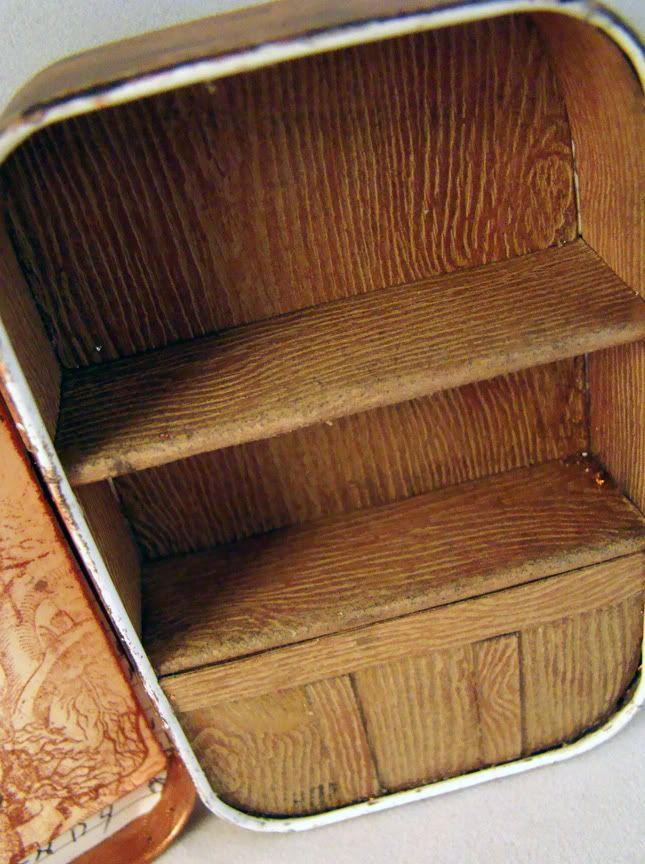 Closed hatch:
Pile of wee books: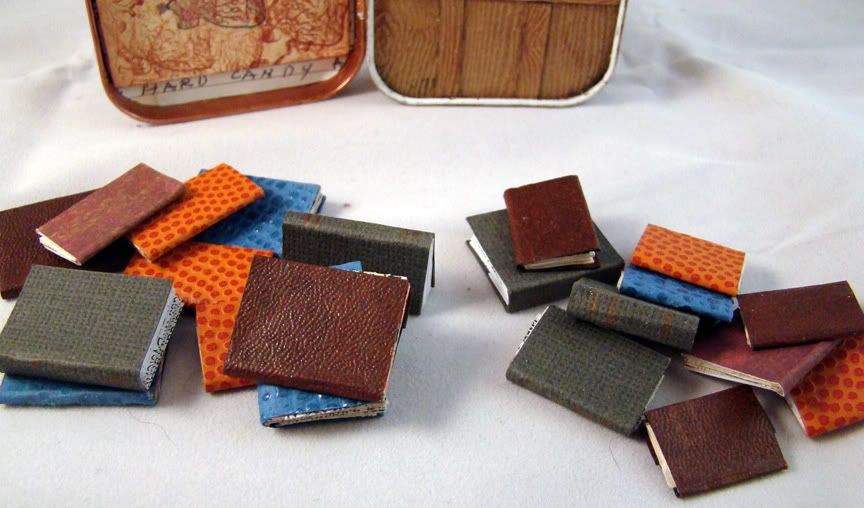 Can you tell I'm proud of the books, in a survived-a-harrowing-event kind of way?
And a shot with a moose for scale:
My partner likes moose (even though they eat her garden) and when going thru my stash initially looking for inspiration I'd pulled it out, so I sent him along as a surprise extra. I refrained from glittering his antlers, since glitter is MY vice, not hers.