We adopted a puppy and with our vet we determined her birthday to be August 20 (give or take, of course). So, having coveted some super cute crafted kids' birthday parties and not having a human child of my own... I unleashed on Betty! The theme was orange, purple and white in ginghams when possible.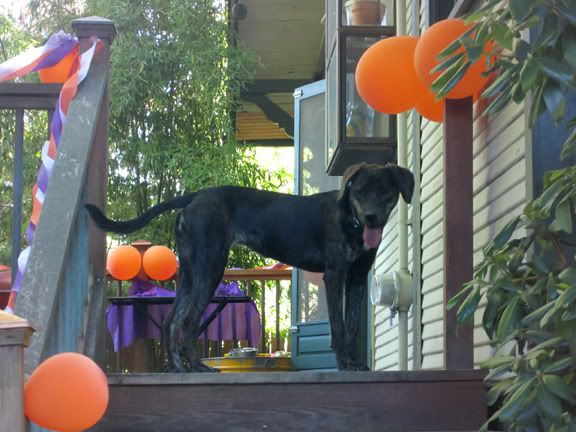 Save the date cards sent to the small guest list in May since August is a busy vacation and bbq time. The pic is from Betty's first few days in our family.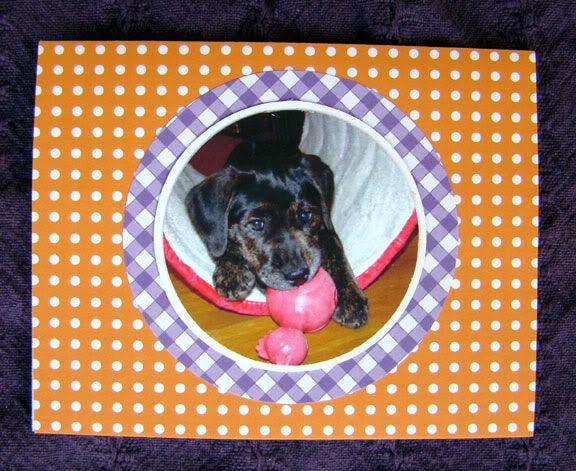 Craftster post with details here:
https://www.craftster.org/forum/index.php?topic=380340.msg4499380#msg4499380
Then in mid-July I sent out invitations with a current pic of Betty - airborne at the dog park.
Post here:
https://www.craftster.org/forum/index.php?topic=388795.0
Even though the party and the decorations were focused on the back yard where the party took place, I wanted the front porch to indicate a celebration.
(post for the bunting:https://www.craftster.org/forum/index.php?topic=370902.0 )
Throughout the planning process I wanted to make it as much like a human-child's party as I could so I started with goodie bags for dogs and for kids.
Dogs: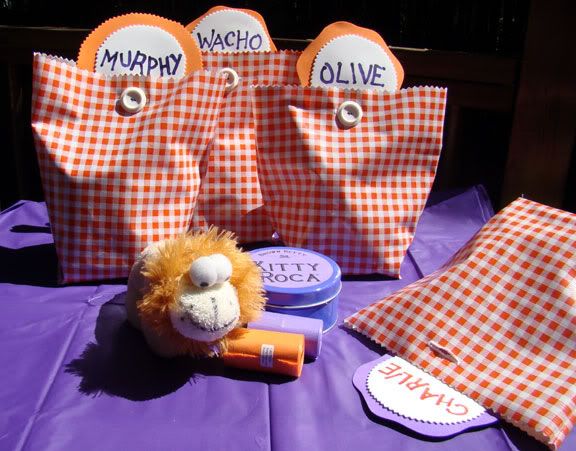 I made the bags from orange gingham oilcloth with vintage button closures (sewn on with purple thread), then chose a few dog essentials to fill them with: a toy (squeakers added to those for dogs who like squeakers), a roll of poop bags in either orange or purple, and...
a tin of Kitty Roca!
Homemade dog cookies, rolled into "turds" instead of cut with cookie cutters, and then rolled in chopped peanuts.
The label based on Brown & Haley's Almond Roca label: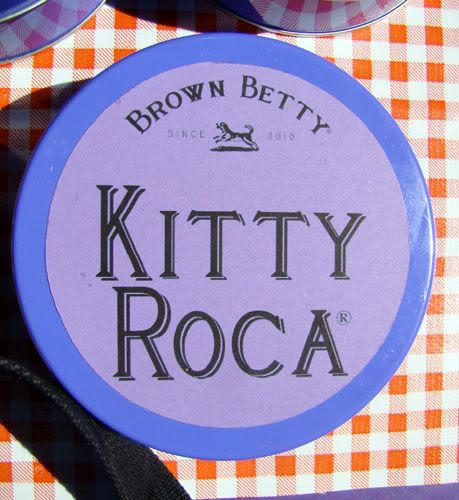 Even though, Betty is mostly black she has brown brindle on her head, face and legs so we often refer to her in terms of brown (as opposed to her sister who we refer to in terms of black).
For the human cousins: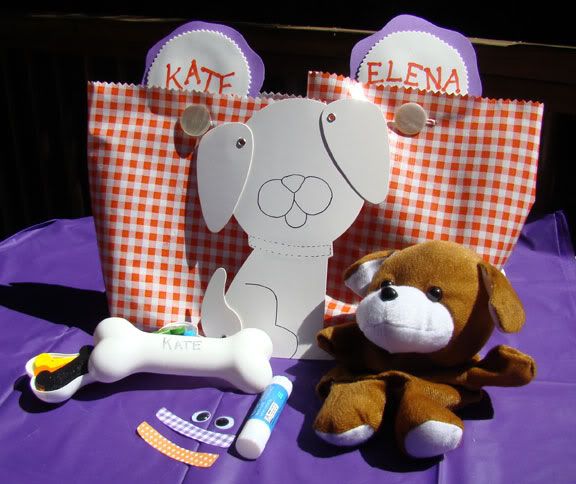 A puppy puppet and a puppy activity: I found this puppy blanks and went to town. First I drew some basic details to help with the coloring since the girls are younger.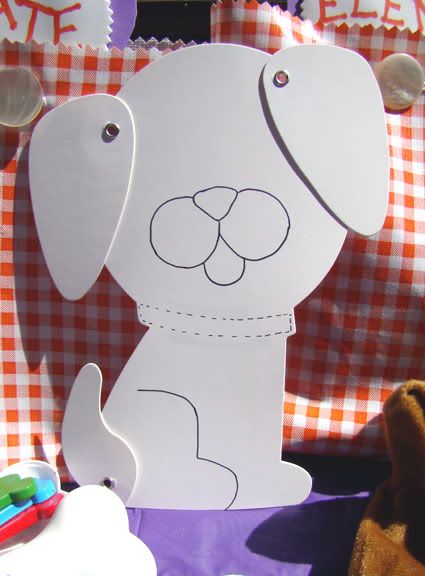 The kit for decorating the puppies included bone shaped-crayons in a bone container, glue stick, googly eyes and collars (cut from papers used on the save-the-date cards and invitations).
There were mini-pupcakes (beef jerky chip flavor) and a normal-sized pupcake with a carrot "candle" presented with a rendition of the birthday song. Both had either orange or purple gingham papers that I bought from an etsy shop.
For activities the 4 dogs (Betty, her big sister Olive, her Uncle Murphy and cousin Wacho) ran around the yard, wrassled, begged and played/laid in the dog pool.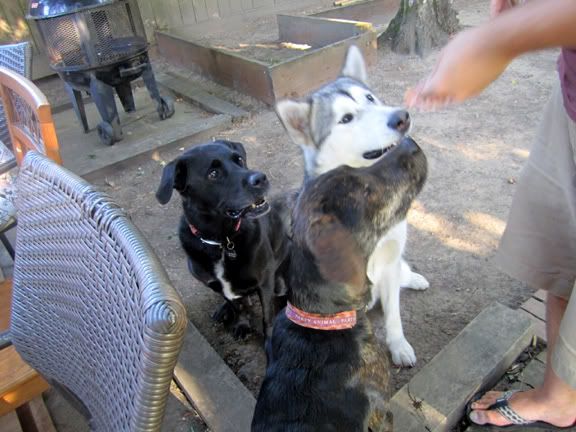 It wouldn't be a TheMistressT/Bubble Off Plumb Productions event without custom Collar Cozies for the dogs - knowing party hats would never last.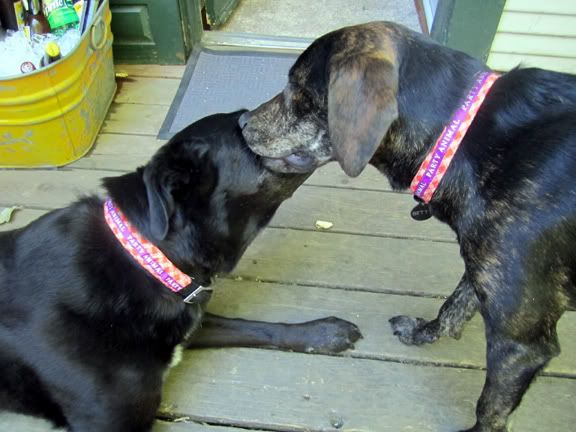 Betty with her big sister, Olive.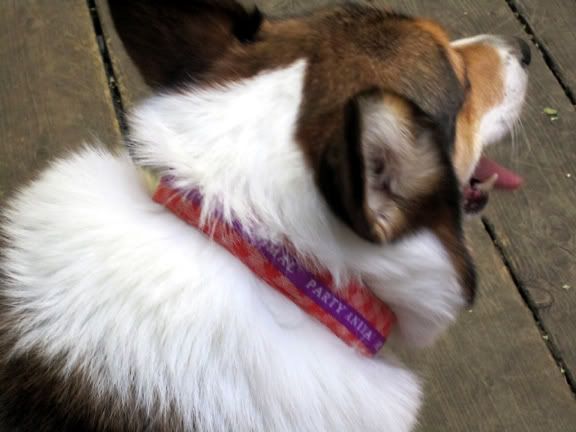 Uncle Murphy
The cozies before installation on most of the collars: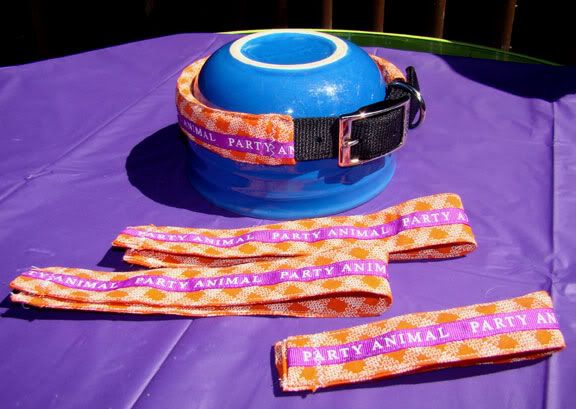 For people we had hot dogs, of course! Well, fancy sausages, actually.
And Apple Brown Betty cupcakes, also in the gingham papers:
... and a tasty strawberry rhubarb pie from MrsBowles!
Coming up very soon: Thank You notes for her guests!