This is my first post on the polymer clay board! I often use it for a part or detail in another project, but in this case it's probably the main material so I thought it should go here.
I made this gypsy wagon for the Wicked Circus Altered Altoid Tin Swap:
https://www.craftster.org/forum/index.php?topic=375594.0
!
The whole front:
My interpretation of the Wicked Circus theme included the idea that at a wicked circus nothing is as it seems and much of what the customers see is just for show. The backside and inside of everything is even dingier and more mysterious.
The whole back:
My partner was a self-professed "crazy bird lady" so when I found the image of this gypsy-like lady with the bird, I knew I'd found my fortune teller!
Madame Aviana:
So clean and glittery.
I rolled out the clay, cut it to fit the tin then used a paring knife to mark the "boards" and a probe to make the wood grain and knots. After everything was baked, I attached it to the tin, primed the tin, painted the whole thing with craft paints, then used watered down burnt umber and black craft paints to make it all dingy and dirty looking. I top-coated the whole thing with a decorative painter's acrylic varnish in "dull" which is what gave it the crackle finish - that part is a happy accident. I imagine if I'd used artist acrylics or decorative painter's paints it wouldn't have crackled.
But what happens behind the scenes?
Some sinister and pompous half-man/half-bird is pulling the strings! His room is lined with coarse, dirty burlap. His chair sits on a stained and ratty rug.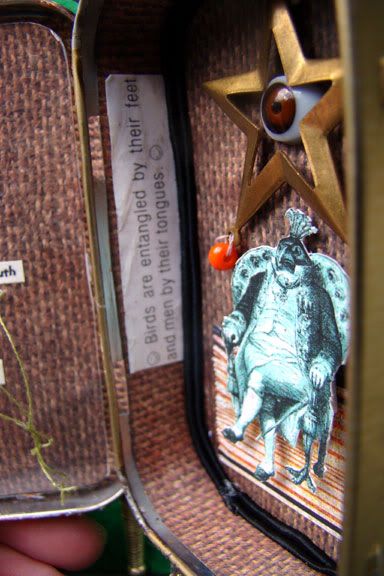 Literally!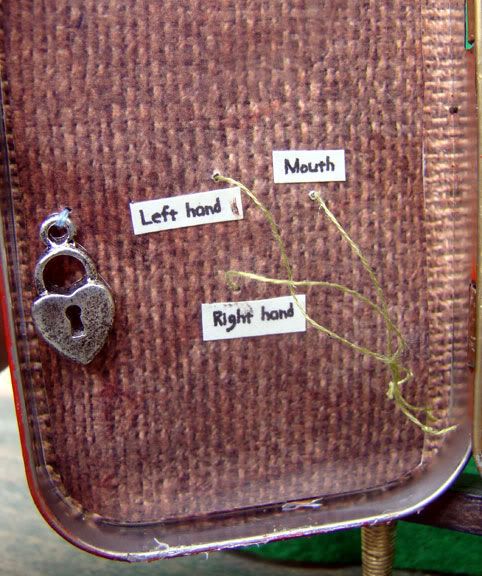 And now the tedious detail shots!
To follow the theme of things being much different where the customer can't see, the front gable had green painted fish scale shingles, but the back is just plain wood, lower-quality wood using the same tools as above, but I was rougher and gaugier (to coin a term).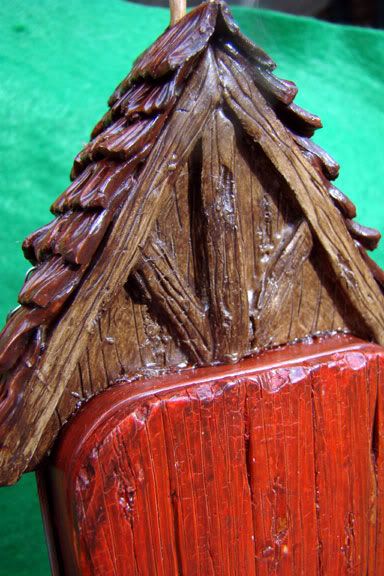 The front wheel is much more colorful and exotic than the back wheel.
Front:
Back:
And just a few more close-ups.
Madame Aviana's banner announcing her to circus patrons as well as while she's being pulled down the road to the next site:
And one of my favorite parts - the roof.
I have a history in home construction, so it didn't really occur to me until after I'd made 2 roofs (a certain unnamed puppy chewed the first one before it was painted) that there was probably another way other than making individual shingles and attaching them one at a time to the roof being sure to stagger the joins, etc. Sigh. I made sure to punch holes for the bells before baking and I'm so glad that I did. I love that there's an audio component to the wagon! The wondrous tin I received has a scent component, so it's even more special since my partner and I never discussed fortune tellers or media and we swapped polymer clay fortune tellers with an added sensual component! You can see how lucky I am here:
https://www.craftster.org/forum/index.php?topic=376453.0
I really geeked out on this project (also my first altered Altoid tin) so I kept track of all the media, tools, etc. that I used. I love collage and assemblage, but I'm initimidated to try. STill, I've been collecting things hoping one day I'll have the inspiration and the guts so it was fun to see all that I was able to use from my stash. The only things I bought for this were the star paper and the striped paper used for the Bird Man's rug. Well, I found starry tissue at the thrift store a couple days before sending that I used to wrap it, but that's it!
Tools/Supplies
Hammer, finish nails, utility knife, oven, probe, sand paper, PVC closet rod, paring knife, Dremel tool (with cutting wheel), metal file, paint brushes, wire cutters, inkjet printer.
Media:
Altoid tin, balsa wood, metal tops to champagne corks. Sculpy + Bake & Bond, brassed linoleum nails, finish nail, craft paint, dog/cat hair/lint, primer, acrylic varnish, paper: scrapbook, printer, skewer, Dover clip art, Beads: glass, wooden, ceramic, jewelry findings, charms, bells, upholstery tacks, glitter, mod podge, adhesives: carpenter's glue, glue stick, E6000, 3-in-1, double stick foam tape. pigment , embroidery floss, upholstery trim, Fortune cookie fortunes