So, a few things have changed. I have added mocha and copper and silver to my list of approved wedding colors, and changed my "green" to chartreuse. Just because I can. Also, only one Spooky pumpkin has popped up in my garden so far (despite a million accidental jack-o-lanterns: the fruits of last year's compost) so we picked up some garden lanterns and rock crystals to use as centerpieces, instead of pumpkins. And Jason won an Emmy!
I potted a fake orchid, all by myself, I made two bouquets, 65 favors, and I'm growing my very own fingernails to paint for my wedding day! How's that for D.I.Y.?!
Wow. I have gotten SO MUCH done since I last posted. Unfortunately, most of that SO MUCH has been accomplished in the past few weeks!
I have had all summer to do this stuff, but I had been working full time and taking classes full time until June (despite that awful Alternative Research Methods class, I still got a 4.0!!!) , and working full time until July after that (exhausting!) so I didn't get a good start on all of this until a few weeks ago. Anyway, here's some of the SO MUCH, so far:
I made two ostrich feather pomanders for my two flower girls: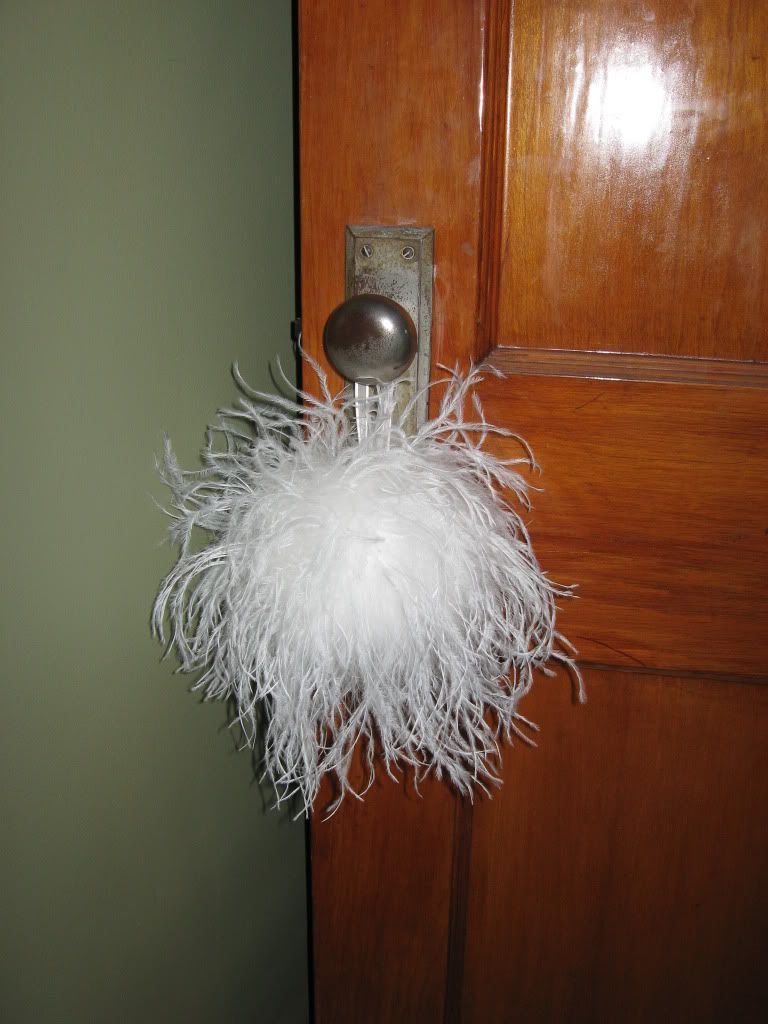 and I made little TAZO herbal tea favors for everybody. Each little bag contains 2 packets of TAZO and 1 packet of Sugar In The Raw, tied up with an orange or green ribbon.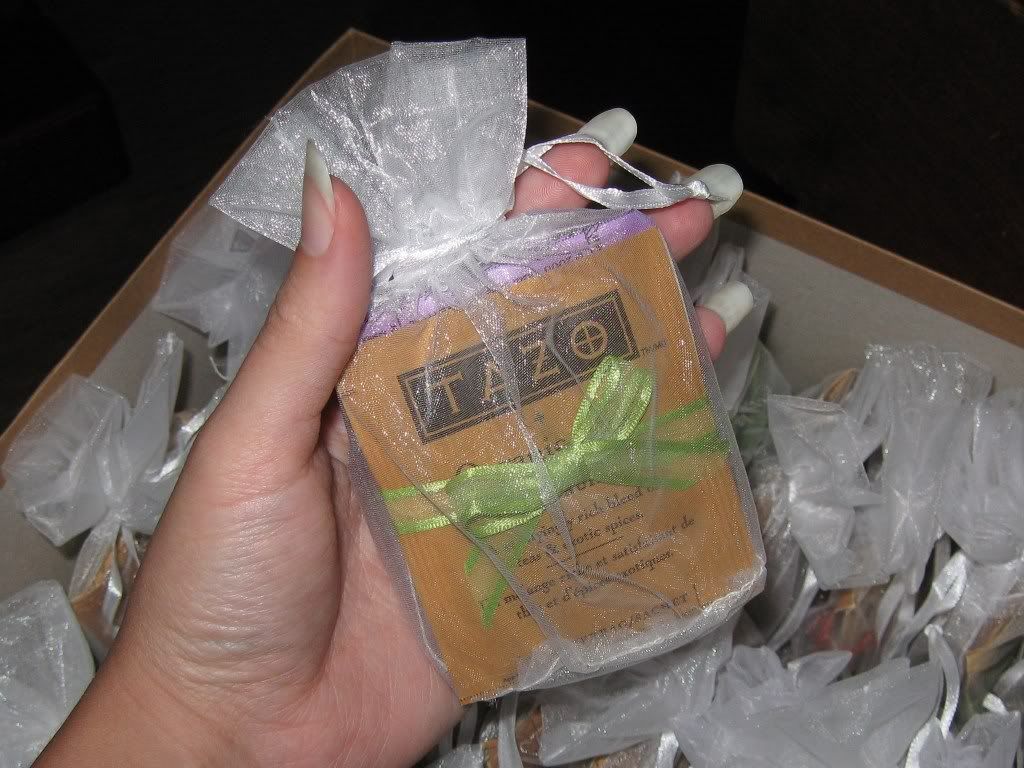 I used Calm, Zen, Passion, and Organic Chai flavors in different combination. They really easy to put together and they were actually surprisingly cheap!
I also decorated my own bubbles. I had leftover envelope seals that I ended up not using for my invitations, so I printed them with our names and date and I tied a little chartreuse ribbon around each one. They're so cute!
I made my own toss bouquet. (I bought my REAL bouquet from Ardesign on Etsy. It's beautiful, but it's made of very high quality silks and latex orchids, so it weighs a TON. You could kill a bridesmaid with that thing!) So I made this one to toss:
And I made this one for my MOH: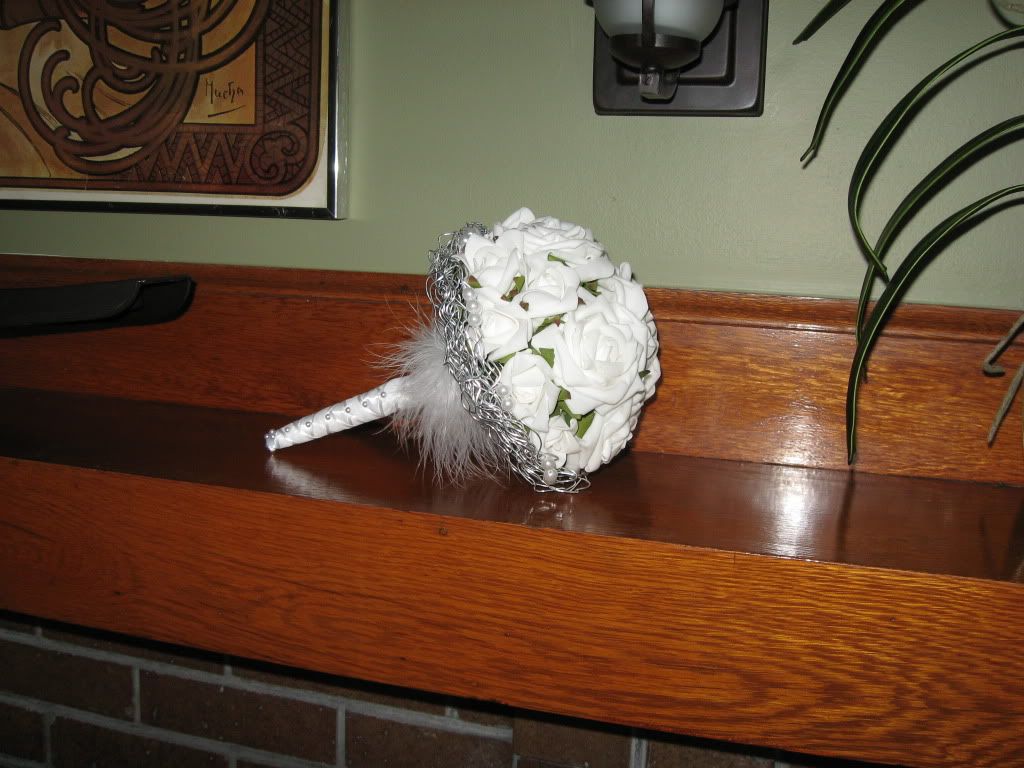 And we are ordering these cymbidium bouquets from a florist to set on the hearth (which we will be married in front of):
*Photoshop courtesy of Jason Wilson, Emmy-award-winning film and video editor and The Best Fiance Ever
This faux cymbidium was $26.99 retail, but I got it for $3 at a wholesale craft store here in Ohio. The pot was a pot leftover from an edible arrangement and the moss was $2 at Joann's. I stuck the orchid into a Styrofoam ball and wrapped it in some leftover tulle to keep it steady. I think it turned out AMAZING, especially for $5!
My fiance's mock-up of our cake, just to make sure we had the proportion's correct: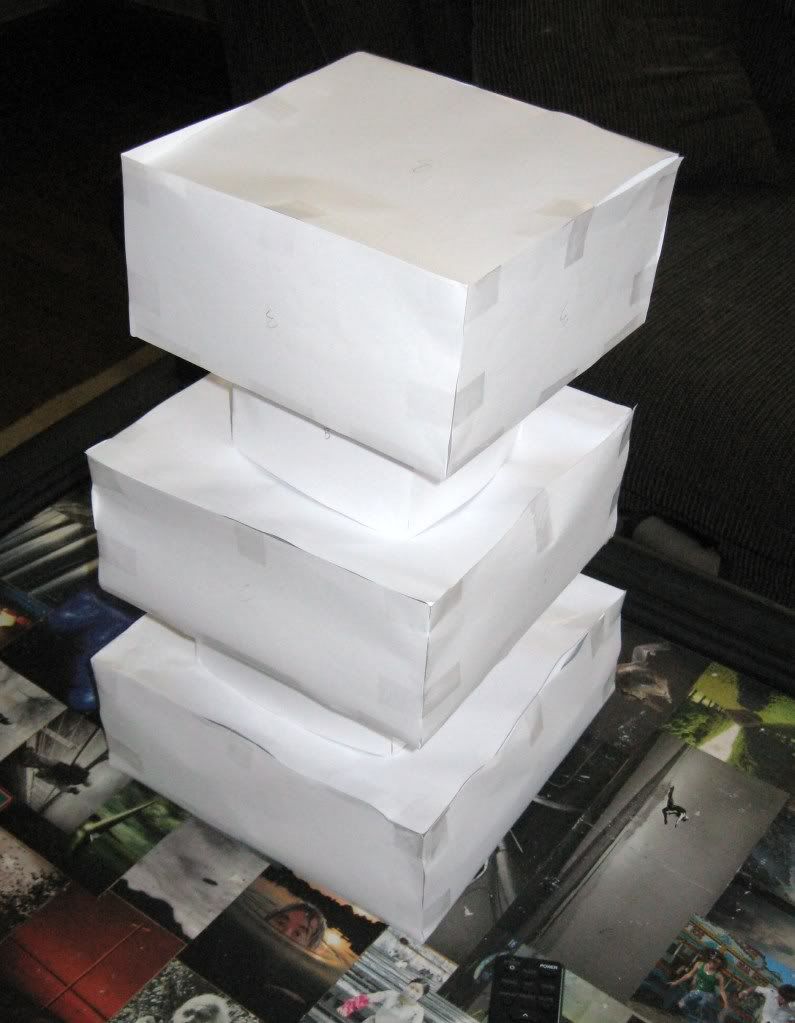 I know you want to see the real thing really badly but the picture that inspired it looks nothing like the cake we really wanted, so you'll have to wait for the big day to see it in all of it's raspberry Italian butter cream glory.
Oh, and Jason is BUILDING a prairie-style cake stand. He's amazingly crafty like that. So stay tuned for it's awesomeness.
August's pitiful pumpkin crop: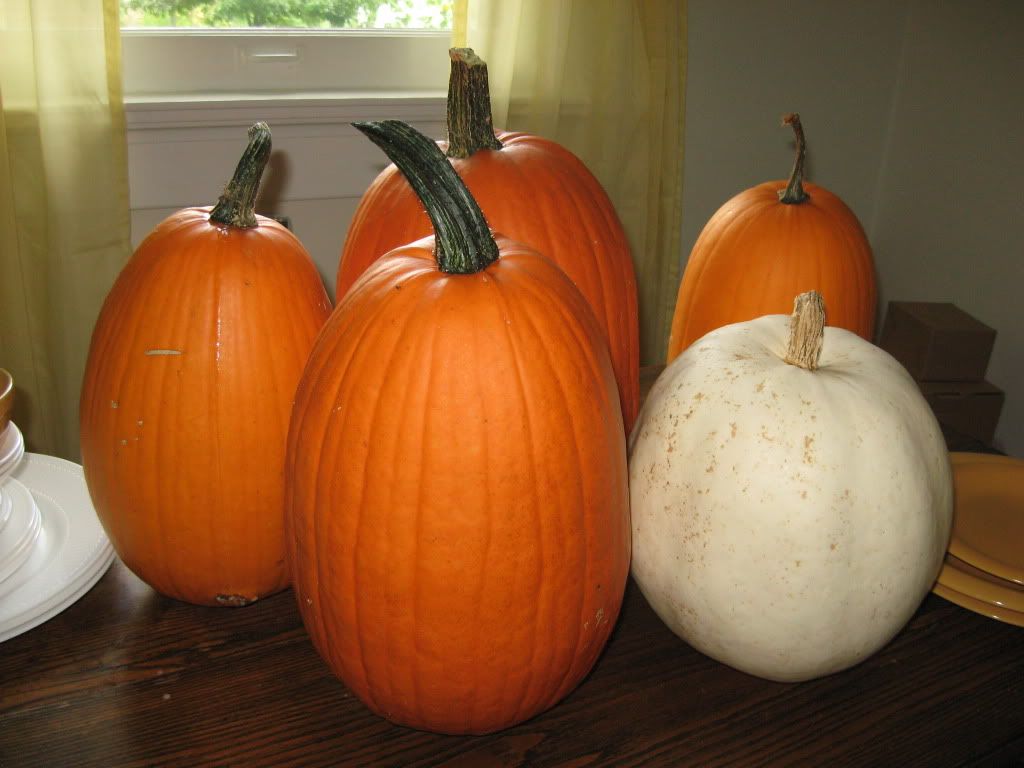 There are still about fifteen more out on the vines, but that won't help us, now.
My D.I.Y. veil:
The clip was like $3 at Target (by Goody, I think). I was looking EVERYWHERE for something to pin up my veil with. It matches all the diamonds and filigree that Jason has lavished on me, so I was SO lucky to find this thing. It's still going to take some fancy styling to get it to hold all night, but I have faith in my stylist that she will make it stick.
And the veil was $16 at the aforementioned wholesale craft store. All the veils I tried on at the local bridal shops were $80 and up, and I didn't like a SINGLE one. I wanted a simply stitched edge, not ribbon, and not fraying and unfinished. I found it! And now I'm really excited about it.
Here's my blurry wedding hair, half-up with loose curls. I love it! (pardon the PJs)
Here we are at the 2010 NATAS Ohio Valley Emmy awards:
Here are our centerpieces: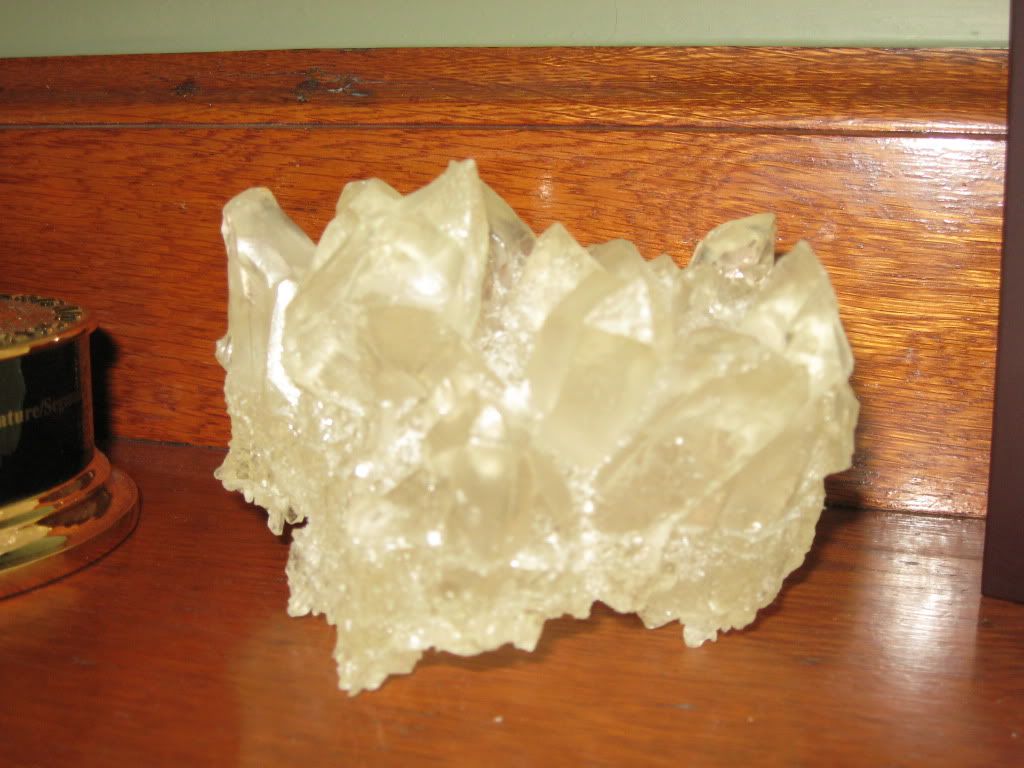 crystals
and lanterns
The flower candles are LED and we are still thinking of a place to put them. Maybe on the steps (with the pumpkins) up to the front door.
I shall post pictures of the star of the show (THE DRESS) shortly. No pun intended. (I'm 5-foot-nothing.) It counts as crafty, because it was HANDMADE by a dressmaker in Australia. It is -devastatingly- gorgeous.
Thanks for popping in to check up on my D.I.Y. FLW wedding.