First off I must say that this was not my idea! I pretty much blatantly copied iheartlinen's calendar
here
. I think mine is bigger, I was trying to match it to the size of my
fabric mail holder
. Now they are next to each other on the wall in the kitchen!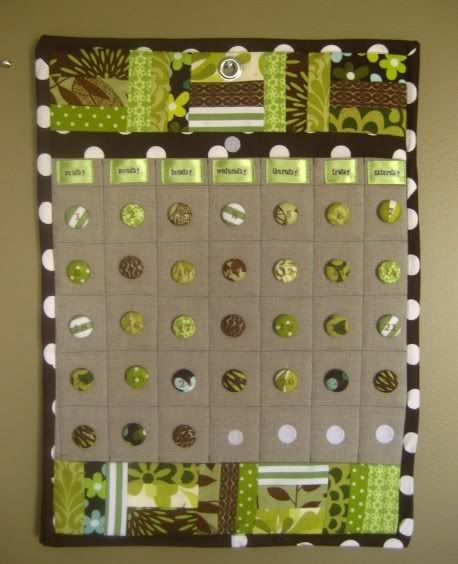 I love green and brown together, and I use this fabric combination so often that I had a ton of scraps available for the patchwork and buttons. The back is linen (clearly iheartlinen has a huge influence on me
) and the back is just unbleached muslin. I put a little pocket on the back for extra buttons, so I hope it doesn't stick out from the wall too much when I use it.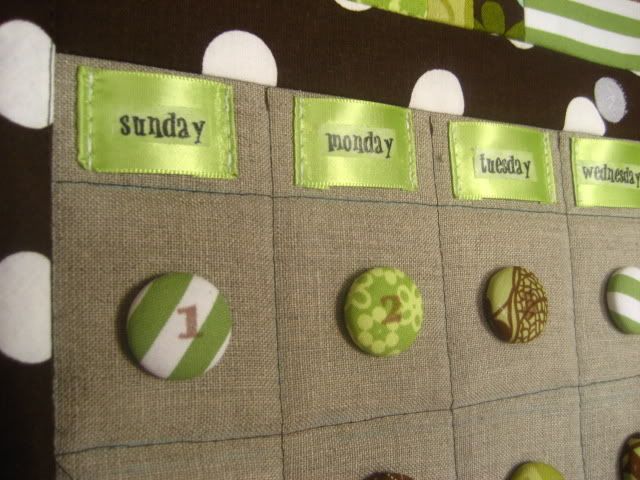 I used iron on transfer for the days of the week, but I'm out of paper so I didn't get to do the months yet. Originally I tried stamping on the ribbon but it bled like crazy. Oops I haven't brushed away my chalk lines yet!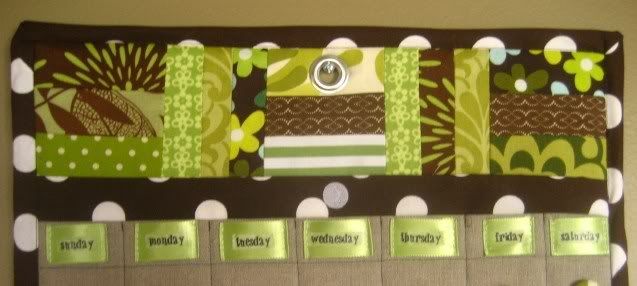 Here's a closer view of the patchwork! Not my strong suit really, and neither is binding, but practice makes perfect!
This project took a really long time. In some part because it took awhile to select fabrics, cut, piece, attach, buy more velcro dots because I ran out, make buttons, blah blah. I'm so happy now that it's done though!
Comments and criticism very much appreciated!