I received an absolutely amazing package from SonjaBoo today! Get your wisting fingers ready, ladies!
This is the wonderful box that greeted me this afternoon. Yep, that's bacon tape!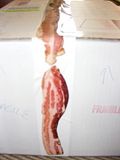 The first thing I saw was this adorable notecard and cute gnome tag. (I love gnomes!!!)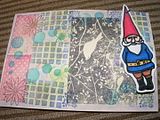 Then I came across this lovely bouquet of fabric flowers. They are straight off my wist and I love them!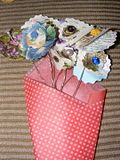 And here is their new home on our entertainment center. I need to take the time to fluff them up a little, but they look perfect there, no?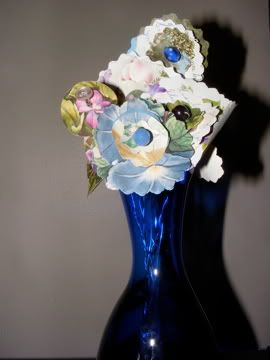 SonjaBoo also crafted up some cute inchies for me and put them in a cool Chinese envelope (that will definitely be used in some altered art in the future). My faves are the cookie monster, Detroit map and the smurf.
The next thing I opened is one of my favorites of this package. It's a mini-Snort! (see my avatar for the real Snort) I've been wanting a needle-felted beagle for so, so long and I can't believe I finally have one! And check out the accessories! A toy ball, leash, bone and... poo! Too frickin' adorable!!!
And the mini-Snort not only looks amazingly like the real Snort, but is also Snort-approved.
SonjaBoo, you did an amazing job on this, seriously.
So, that's it, right? Nope, not even close. Better put up your feet and relax...
Next up is a really cool soldered glass necklace. I love the stamp you choose, SonjaBoo. It's so cool!
And then, I opened up this super-cool, super-funky necklace. I LOVE IT!!! I think you can tell in the photos, but it's made of felted beads wrapped with a zipper. AWESOME!!! I'm just hoping I have enough style and flair to pull this one off.
SonjaBoo also included a cute container of random jewelry and metal goodies that are just perfect for my jewelry making. I love it all, but there's a super cute camera charm, clock charm, antique key, rhinestone brooch and vintage blue flower that I just adore!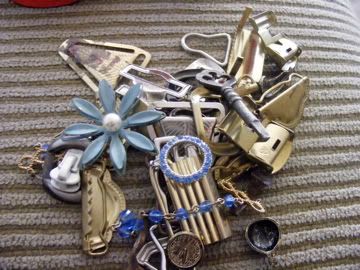 And, last, but certainly not least, a recipe box! And yes, ladies, it's made with kitschy, happy-homemaker-with-a-twist graphics!!! Seriously, I have wanting this for years. I was almost to the point that I was going to make it for myself. But I am so glad I didn't since SonjaBoo's is so much cooler than anything I would have done. Check out the amazing work! (It is so much more vibrant and colorful in person, my photos are crappy because it was a cloudy day today.)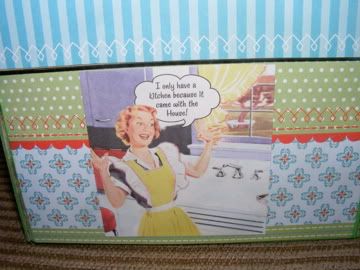 And here are a couple of the uber-cute dividers!
Thank you so, so much for such an amazing swap package, SonjaBoo! I am thoroughly and utterly floored by your generosity. YOU ROCKED THIS SWAP!!!