Ok, first a solution and then a question.
Here's my solution to the strange 7 flap. The wrong side of the fabric is
supposed
to show, when it's folded back (notice that there's no interfacing on the back). As follows:
1) finish raw right edge (as looking at pattern) with grosgrain
2) fold back on itself to the left, to line up as shown
3) sew lines perpendicular to the grosgrain where marked (seven different places)
Here's a photo of my finished 7 flap. I took the liberty of backing it with my lining fabric, because the back of satin is un-lovely, and also I thought the silver would look good on the back of the jacket.
(EDIT: I just looked at the green runway version again, and noticed that her flap 7 is backed with the floral lining, same as I did with my silver. I feel good that I had the same idea without realizing Galliano had done it that way too.
))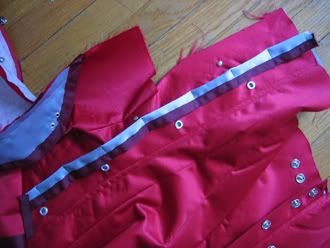 I didn't iron the fold flat, because I like the three-dimensional quality.
--------
Now for the question, and of course it's about that darn right sleeve. I can't figure out how to piece together the sleeve with piece 10.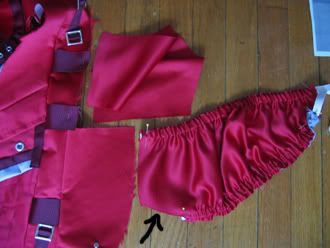 I think I have 10 & the sleeve lined up correctly in this photo , but what is that strange curve for in the left bottom of the sleeve piece (see arrow)? It's like a chunk taken out of the end...I can't figure out how to line it up with 10.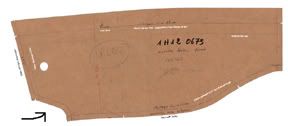 Here's a clearer explanation of the curve that I'm talking about.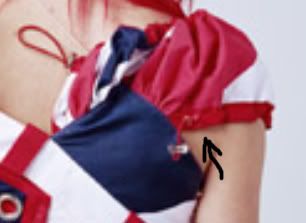 On the original jacket, the bottom elastic casing seems to meet with 10, and I can't see any hint of what that cut-out curve on the pattern was for.
Any ideas?
Oh, and if anyone's interested, in the photo I folded & placed the "mini-sleeve" roughly where I think it should be sewn on, once it's elasticized.