I bought some skull fabric last winter intending to my curtains for my nephew. Then my SIL said their rental doesn't allow curtain rods and they can't use a tension rod on their windows.
So the other day, I showed her pictures of the fabric and asked why the nephew would like. She said pajamas, piraterific pajamas. Woo! So I got busy with my favorite easy pirate costume pattern (
McCalls M4952
).
I'm extra proud of this project because it represents a few firsts for me:
(1) my first ever button hole with my button hole attachment. I used the keyhole version for the drawstring
(ii) My first ever sewing with a fabric requiring a ball-point needle. It wasn't quite lycra, but was close, and it took a couple missteps and test runs to figure out how to sew it.
(c) The first time I have actually completed a project from a pattern in under 4 hours!!
Unfortunatly, my nephew lives 3000 miles away, so I have no model pictures
Here is the reversible vest: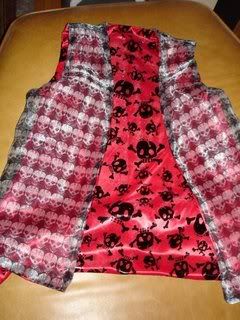 Vest with sash (not the patten sash, who needs a pattern to sew a sash):
The pants (currently unhemmed, I need to know his hem length)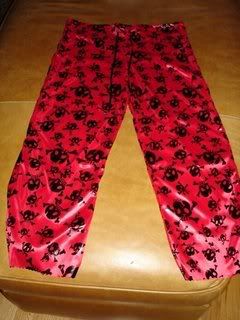 And a close-up of my button hole