I claim Calluna's set of 8 Mary Englebreit rubber stamps.
May I make 2 claims at the same time? If yes, then I'd like the asian album. The next person could claim 2 from me? or two people could claim? Oh, well maybe that is too confusing. (Like how the claims from the claimers would become) <Sigh> Okay just the one above.
Claims this month: 2
Claims allowed (outstanding): 2
Sendouts not sent: 1
Sendouts in transit: 0
Sendouts received: 0
Mix and Match pick two items, and let me know if you want like one of the two items and two of the three, just have some fun picking!
<clickable thumbnails>
pick any one book:
pick just this set = 1 claim:
tatted earrings and pendant. pink, white, and orange. pearl cotton, lightweight, dangle-ly. tatted portion of earrings are 2 1/2 inches long.
I will add either hooks or posts to earrings, your choice. And gold or silver jump ring to pendant.
Little postage notes!
-- 1 claim
20 very cute, little cards with envelopes. Just enough to say "thank you!" and claim info. Cards are 1 inch by 1 3/8 inches (writing area: 1 7/8" x 1 3/8"). The cards have non-US stamps from around the world! No two alike in a set. The picture representative of the variety of stamps included, as no two sets are alike.
NEW!!! now get a pdf with your craftster id or name to insert in little note! Makes a "lined" note.
sample pdf:
lil-notes.pdf
Tatted bookmarks, use image name to pick the ones you want. 1 for a claim: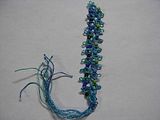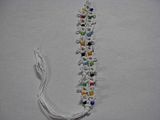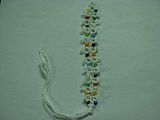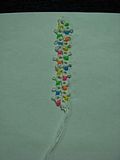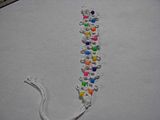 Will do custom colors in bookmarks and beads.
tatted blue-purple earrings, 1 pair for a claim
, with faceted beads for pair. Very long, dangle-ly, light weight. Tatted portion of earrings are 3 1/2 inches long.
2 yards = 1 claim (This is 42" wide by 72"+ long):
Pick two for claim:
two random (but will match your taste) handknit cords with seashell collage necklaces for claim:
Pick three for claim:
4 red cards = 1/3 claim; 4 green cards = 1/3 claim
thanks for looking!
claims:
calluna to sewknitter mary englebreit stamps.
sewknitter to purpleone twisted paper, red notecards and green notecards
calluna to sewknitter unopened ink pads