Finally! This is my first "show off" post even though I've been lurking here for a while. About time I guess
I made this for a friend who is having her birthday on Saturday. I knew she likes these "elven" hoodies (at least that's what they're called here), with the pointed hoods and wider sleeves, you know? So I decided to make one in crushed velour using some of her favorite colors: orange and yellow.
I had some trouble with the fabrics though, as I have to drive for an hour to get to the nearest fabric store that has more than curtain stuff (I hate you, small towns!). And when I got there they didn't have the colors I was looking for so I didn't buy anything
What a waste of time. So I bought my fabric online instead (and it was so much cheaper, yay) but it took 10 days for it to arrive. So I wasn't able to start sewing this thing until last Saturday. I seem to always make a ton of mistakes so I am really really happy that I finished it on time!
It has yellow lining in the hood and in the pouch. I made the pattern myself and all in all it really wasn't that hard to make. If I had not messed up when I sewed it together (forgot the pouch lining so I had to rip the seams, not funny in this material) it would've taken a lot less time...
Now my friend is pretty much the same size as me, only taller and has wider hips. I have never made clothing for someone I couldn't try it on before so I hope it fits! I had her boyfriend take her measurements w/o her knowing what it was for. I hope she doesn't suspect anything
Sorry for all the text, I'm just so excited about it!
On to the photos:
EDIT: I gave it to my friend and she loves it! So here are som pics of her wearing it instead of the old ones.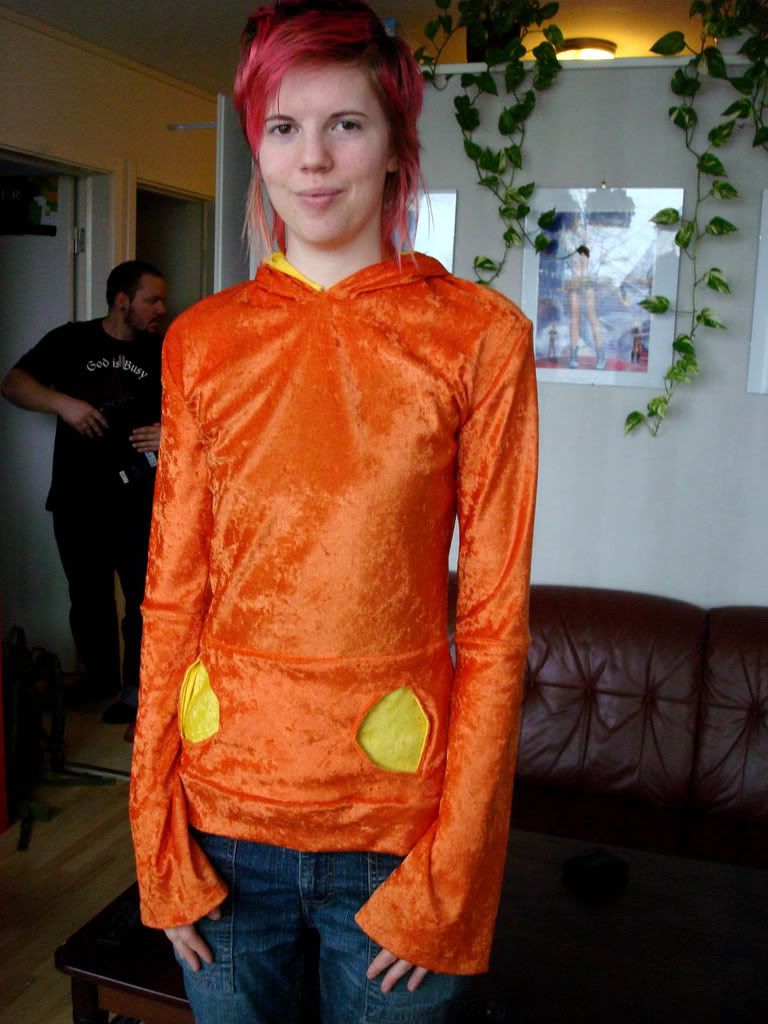 From the front. The yellow is the lining of the pocket. I made the holes a bit big, I wasn't expecting them to stretch so much... I'll make them smaller next time.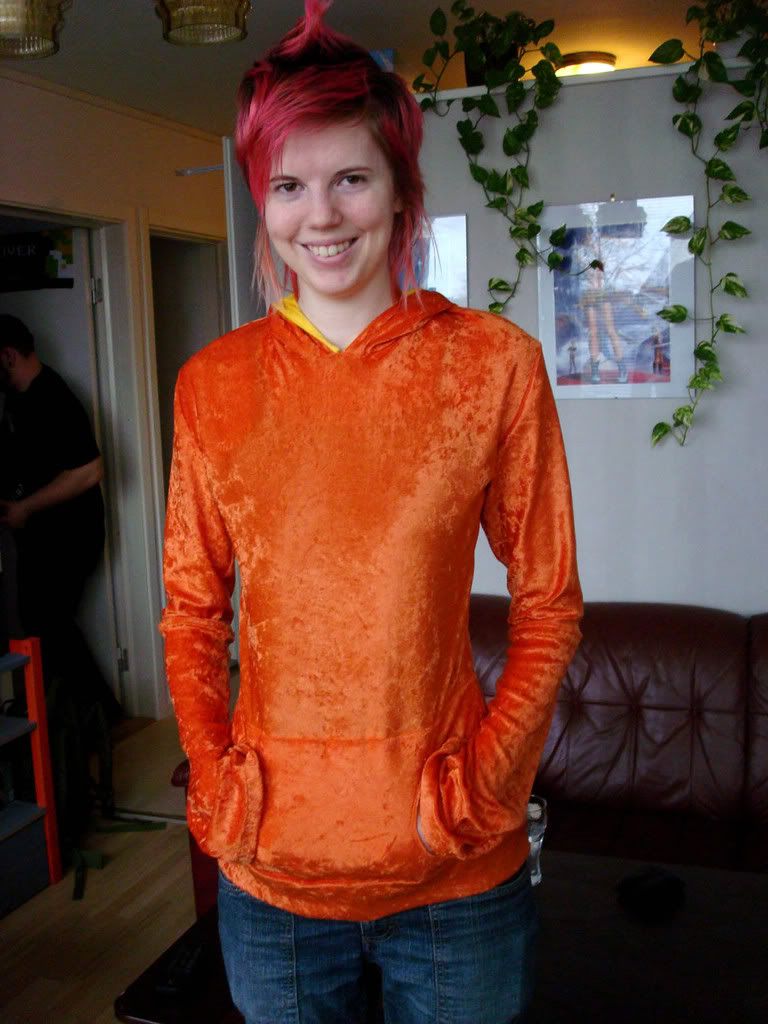 Showing how the pockets work. Yay she is happy!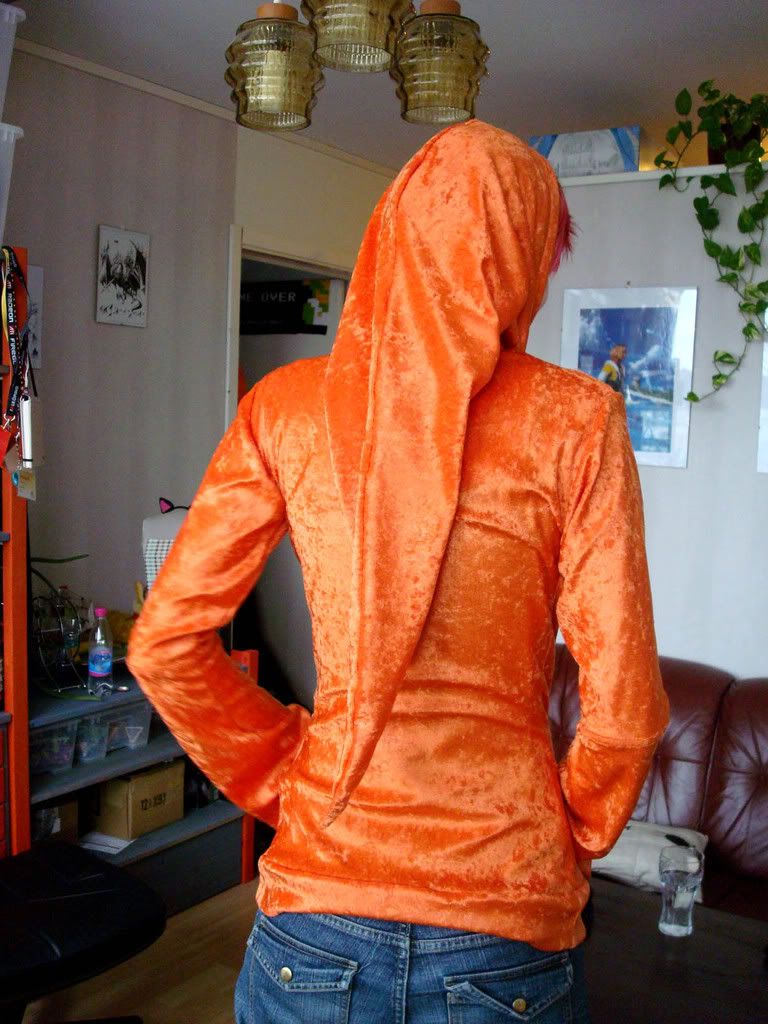 Back view. So you can see the "elvish" hood!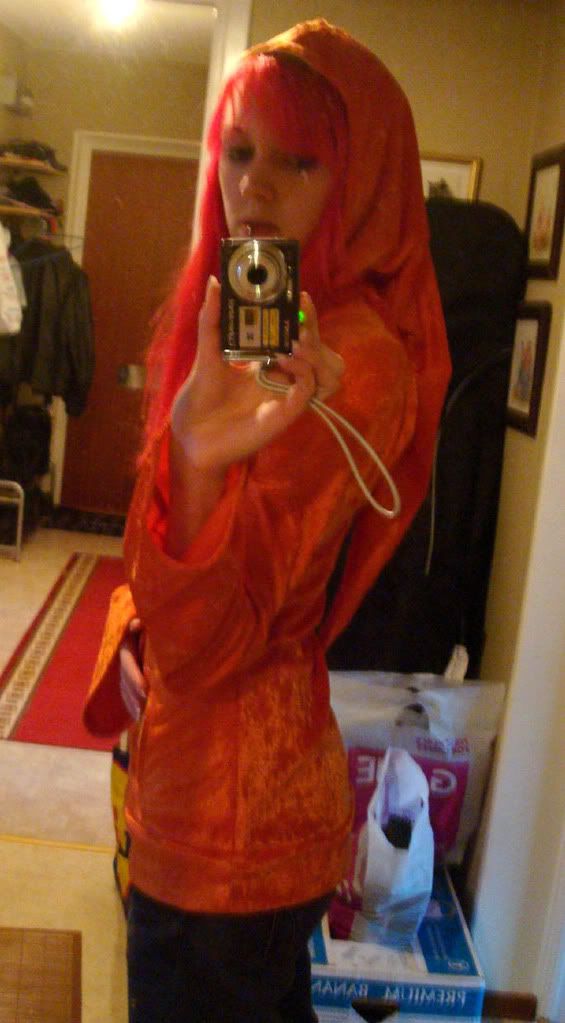 A pic starring me to show it from the side. It's a bit shorter on her though.
Closeup of pocket hole.
closeup of fabric.
I want to thank everyone who helped me decide the colorcombo of this thing. I think it looks much better this way than what I first had in mind (different colors on the lower sleeves and pouch). I am so making one for me too, but in purple or something. The orange doesn't really go well with my hair
Thx for looking!
EDIT::
Here is the tutorial finally. Sorry it took so long!
https://www.craftster.org/forum/index.php?topic=246171