So I'm a competitive Irish and Highland (Scottish) dancer and one of my resolutions this year was to be more consistent about practicing. After all, I spend a lot of time and money on competitions and it would be nice to do better, therefore, must practice!! However it's all too easy to get sidetracked by a busy day and so I wanted to make a reminder of how much I love to dance (yes, even when I'm tired and mad at my job, or whatever) that I could carry around with me.
So I made a Go Practice bum bag! (bum bag because I made it out of the bum of an old pair of jeans). I wanted one side to be an old pair of dance shoes I wore through, to remind me I really can work hard, and I wanted the other side to be some inspiring quotes. Here's the quotes side, in all it's fabric-painty glory: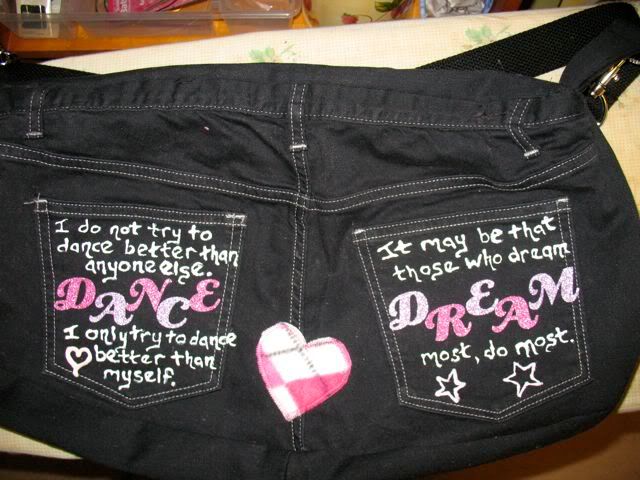 The "Dance" quote is Baryshnikov, and the "Dream" quote is Steven Leacock and is one of my all time faves (spoken like a true dreamer, eh?
) Here's the shoe side, pre-assembly:
Here's a close up on the shoe (it's called a "ghillie") -- I attached them with a zig-zag stitch, just like the pieces of argyle fleece, and kept the original laces: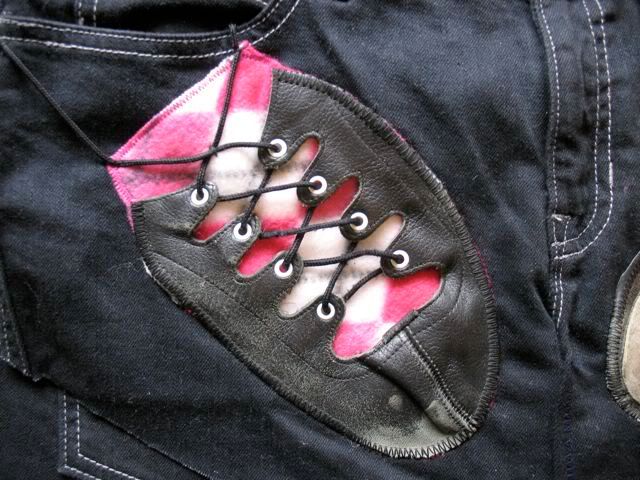 The lining I made from that argyle fleece -- I bought 4 yards of that stuff when it was on sale so look for another post with all the projects I intend to make from it, LOL! This is just the first of many
Here's the lining pieces, pre-assembly:
And sewn into the bag (no, I did not try to match the pattern.. who am I? Prada?
):
The final touch?? A rhinestone zipper of course!! Plus the D-rings have rhinestones too although I don't think you can tell from this picture. The strap is black cotton webbing attached to the silver snap hooks.
That fabric paint is still drying (note to fabric paint makers: 12 hours is an ETERNITY!!) but I didn't want to wait to post because I am just so loving this bag, it turned out exactly how I wanted it, yay! So I will take a picture of me using it and add that tomorrow hopefully.
And yes! It DOES make me want to practice more
Hope you all enjoy it as well!