About 10 years ago around Christmas time my brother and I found the ugliest doll we had ever seen at a toy store at the mall. We laughed about it and continued our shopping. A few days later I was surprised when I received that same ugly doll as a gag gift from my brother. Since then we've been passing it back and forth every year in new and creative ways. I've sent it to him from a different address, and made a shirt for him (which I found in the trash earlier this year
)
I even made a photo album of the doll with all the animals I used to work with at the zoo school I attended.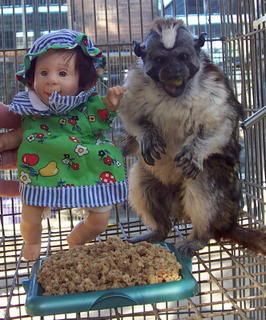 Last year he really blew me away, though. He bought me the whole family! I now own 16 of the ugliest dolls I have ever seen and have no idea how to re-gift them this year.
I'd really appreciate any ideas you might have. I have a sewing machine and a 1-inch button press at my disposal. I also have the t-shirt I made him a few years back (yes, I rescued it from the trash).
-Update-
Sorry to keep everyone waiting for so long. My friend Victoria and I decided the multi-headed monster would be fun to make, so we got to work on it a few weeks ago. After a full day of crafting we were nowhere near being done with the beast, so Victoria kindly took on the rest of the project (she is much better at sewing than I am). We just met up yesterday and I got to see the final results: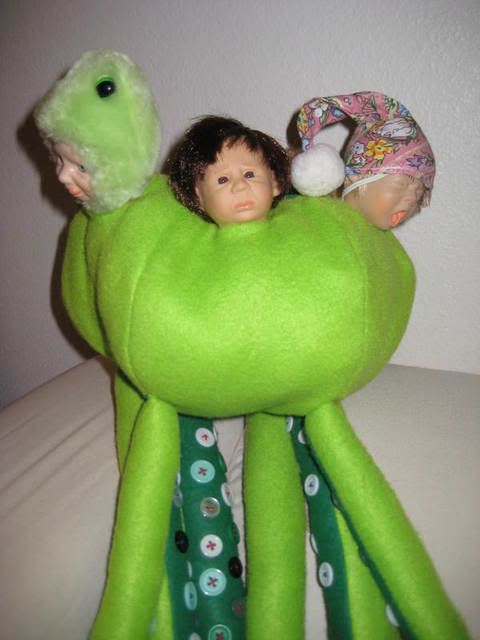 This six-headed beast is about 2 1/2 feet long and made from fleece and felt. The dolls' bodies are still attached to the heads - they were just shoved into the body. And If you look closely at the legs you may find one thats a little phallic.
My fiance and I are currently working on painting a wooden box to put it in. It's going to be in the style of an early freak show carnival poster. I'll post pictures of that as soon as we're done.
As for the other dolls, you guys gave me so many great ideas that I wanted to save some dolls for his birthday in April.