Fixing Pointy Toe Syndrome or Poppet Plastic Surgery:
If your poppet all ready has toes scroll down the where the bold text is and start from there.
Ok you will want to load your needle with thread and knot the end. Trim the tails off the end so you only have a knot on the end and then follow my directions:
Ugly pointy toes. Now Insert your needle about a half inch from the edge from the bottom of the foot up to the top. This will keep the knots on the bottom of the foot where they won't be as noticeable:
Bring needle all the way out of foot then back down to where you put it in in the first place when pulled tight this thread across the foot will create the toe. I like to reapeat this step at least once more for security.:
Now poke your needle back in the same spot at the bottom of the foot, but this time bring it up on the opposite side. Your needle will be on an angle. Don't pull the thread tight here: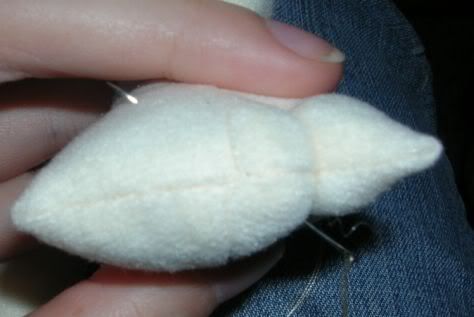 Now repeat the same process used earlier to create the toes. bring your thread across the front of the foot and down to the bottom. Poke the needle in directly under the same place as the top thread entered. And bring it back up through the foot:
see cute toes are starting to form: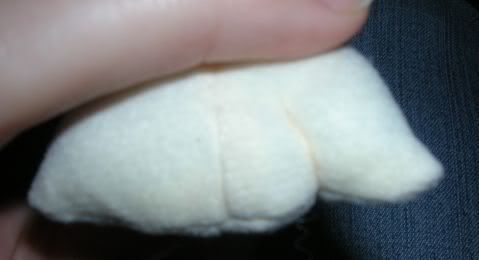 Now we can start to fix the pointy toes!
If you have all ready made your toes start from this point!
Poke needle into bottom of foot where toe was formed and bring it up in the point.
Now poke through the point:
Pull tight on the thread.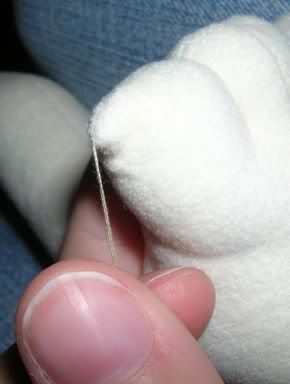 You'll notice the point comes down forming a nice round toe!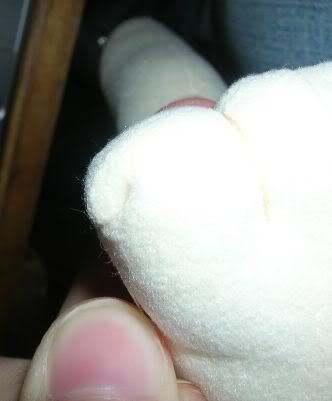 Now keeping tension on the thread fasten the point down.
When you are satisfied with that point move to the other point. Here's how to do that. Insert needle from point to bottom of toe nearest this side of foot:
don't pull the thread tight! now insert needle from that same spot to the top of the toe on the opposite side: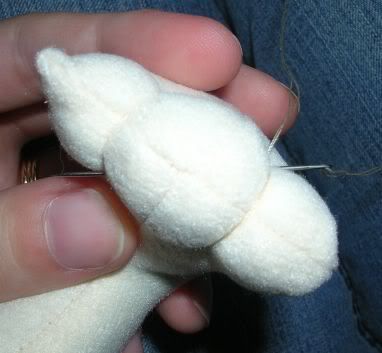 Now Insert needle from top of toe to point.
You can now fix this side in the same way you did the other. knot your thread when you are finished then insert needle from and angle to bottom of to nearest this side of foot. Clip thread
and admire your now cute rounded toes!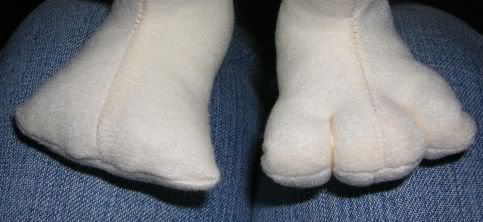 See the Difference?
Hope that's helpful!