I absolutly loved this challenge. The idea for this game came from a reconstructed board game that I saw somewhere on here (sorry can't remember exactly) and remember thinking that a game based on Craft would be fun if only I could work out how. And this challenge comes along and I really put my self into action.
The original board game was a Screen Play game - kind of like charades I think. The game came into work and I the spent the whole day modelling the play of my game onto this board. I started with this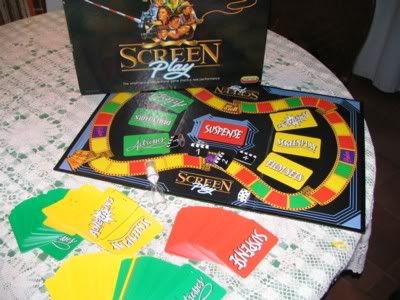 And ended up with this - the pics first, followed by the rules
The Box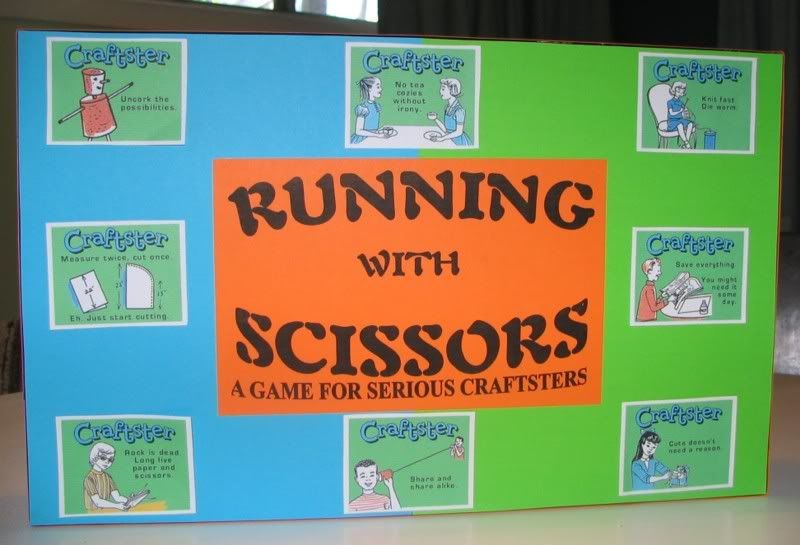 The Board
Swap and Limbo squares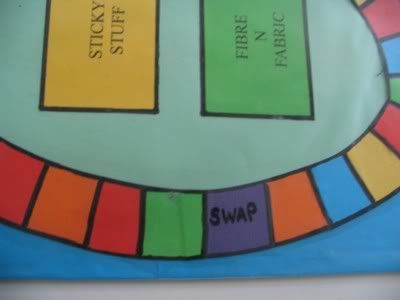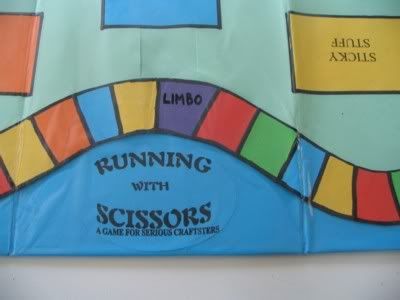 The Playing pieces - do you recognize some of our esteemed leaders

The Playing Cards - there where so many of these to make over, took me a whole two days solid to do them. I am going to add a couple more Item cards though. The cards shown below are not all the cards there are about 100+ cards these are to show you what they look like. Each group of cards except Items cards has two Wild cards as well.
Item Cards
Item Cards (showing small, medium and large items) and Sticky Stuff Cards
Notions Cards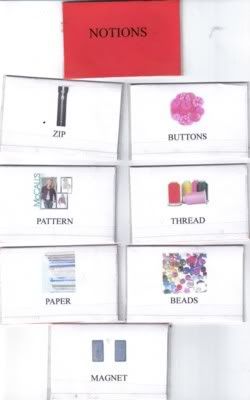 Pointy Things and Fibre N Fabric Cards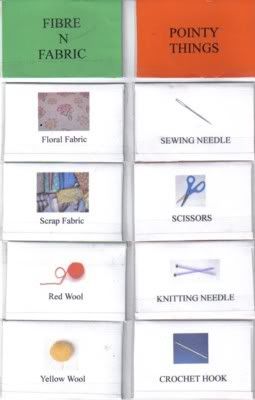 In the original game there was also one of these, a timer, how the heck am I going to incorporate this I thinks. But I did, and you will have to read the rules to find out how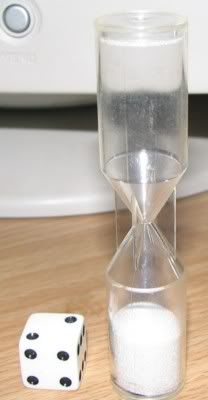 Onto the rules - nice and simple so even youngsters can play. My ten year old loves it.
RUNNING WITH SCISSORS
A BOARD GAME FOR SERIOUS CRAFTSTERS


A game for four players
4yrs to Forever


OBJECT OF THE GAME

Each player is to collect cards to craft three items
One large = 5+ cards
One medium = 4+ cards
One small = 3+ cards
The winner is the first one to craft all three items

PREPARATION

Divide cards into five separate piles by colour, shuffle each pile well. And place face down as indicated on the board
Each player to roll the dice, highest roll will be LEAH, remaining game pieces are taken by the rest of the players

PLAYING THE GAME

LEAH rolls first. Each player to roll the dice and move their playing piece
forward as indicated by the die. That player will then collect a card as indicated by the colour they land on on the board. Eg: red tile = red card. This completes one play and play turns over to the next player. (Note : a six does not roll again.) Continue in this way until one player collects the cards required to make three items, this player is then the winner.

SCORING THE CARDS

The winner must have one large = 5+ cards, one medium = 4+ cards and one small = 3+ CARDS item crafted. You may use as many cards as you wish to craft your item but even though you may use more than three cards to craft a small item it is still considered a small item, this helps to eliminate some of the cards that you will accumulate during the play, but be careful what you use because you might need it later and once it has been used it cannot be returned to your hand.

BLUE CARDS

Blue cards are ITEMS CARDS. There are a mixture of craft items to make. Each card will designate how many other cards are required to make this item ie : 3, 4 0r 5. These cards can be made up of a variation of the other cards and as long as they are items that would generally be used to make that item. IE Jumper = 4 cards, you could use wool, needles, pattern and scissors. But you could not use glue, paper etc.
You must have a blue card, but the blue card does not count as one of the cards you are required to collect.


YELLOW CARDS

Yellow cards are sticky stuff. Glue, tape, paint, stickers
There are also two Wild Cards in this deck. Wild cards can be used for anything listed or not listed in Sticky Stuff ie: Velcro etc.

GREEN CARDS

Green cards are fibre and fabric. There are two types of fabric floral and scrap. There are two types of fibre red and yellow wool. You may use anycombination of these cards to make your item. Eg: Jumper = four+ cards, you may use red and yellow wool in the construction.
There are also two Wild Cards in this deck. Wild cards can be used for anything listed or not listed in Fabric n Fibre ie: Felt etc

ORANGE CARDS

Orange cards are pointy things. Needle, scissors, knitting needle, crochet hook
There are also two Wild Cards in this deck. Wild cards can be used for anything listed or not listed in Pointy Things ie: Pins, Sewing Machine etc

RED CARDS

Red cards are Notions. Magnets, buttons, zip. paper, beads, thread, pattern.
There are also two Wild Cards in this deck. Wild cards can be used for anything listed or not listed in Notions ie: Lace etc.

THE BOARD

The playing board is divided into coloured squares. Each square is one card of the same colour. There are also two SWAP squares and two LIMBO squares.

SWAP

When a player lands on this square, all other players are to roll the dice, highest roll is a swap partner. LEAH will hand both swap players face down a card from the Blue Items pile (random pick). LEAH will then turn over the timer and each swap player must constuct the item that is on their card, before the timer runs out. If a player can do so they may roll the dice and move forward that number of spaces and collect a card. If not they are to stay where they are until it is their turn. Play continues from the original swap player.

LIMBO

If you get hit by the Limbo stick, LEAH will remove one card from your pack and return it to the centre pile