Get your wist buttons ready!!! IF this wasn't all mine, I would be wisting like crazy!! I got my package today!!! I am floored!! I feel so inadequate about my package now!! artoo1121 is so talented!! I have gotten Montag the Phoenix! He is 150 Years old and on his 17th Generation. So he is just a wee baby! He knows Fawkes! And his job is to keep certain books protected! Currently he is guarding the Special Edition of Monster Books of Monsters, The Egyption Book of the Dead, And the Phoenix Book Of Genealogical History. Thank you so much artoo1121! I am so in love!! Ok here are the pictures!! Sorry if there is so many but this is so awesome!!! Thank you again!!
Montag the phoenix!!
Montag guarding the books on our book shelf!
The books he keeps sacred!
Just one of the pages
Another book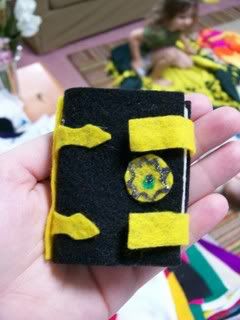 And the last book!
I love him so much!!