I received the most fantastic package today from rorriM_esoR!!! I am so extremely lucky to have had such a wonderful talented partner. I love everything you made me so very much!! You are so awesome!
First is a group shot...it's not that great...the flash on my phone messed it up a bit.
She made me a beautiful music box, owl crayons, a Ravenclaw Quidditch magnet and patch from the Wizarding World of Harry Potter, a house unity necklace with owl pendant, three pairs of earrings, loaded Ravenclaw charm bracelet, Italian wafer cookies, and lots of chocolate frogs!
First up, the awesome magnet, patch, and owl crayons! The magnet is already in it's rightful place on the fridge. My husband is super impressed with the owl crayons and has demanded that I do not use them and "ruin" them.
Now on the the amazing edibles! She made me some Butter Beer Pizzelles which are Italian cookies that she drizzled with melted butterscotch and they are so yummy! She made three large chocolate frogs and several mini ones. They are a mixture of milk and dark chocolate and have POP ROCKS mixed in. So amazing!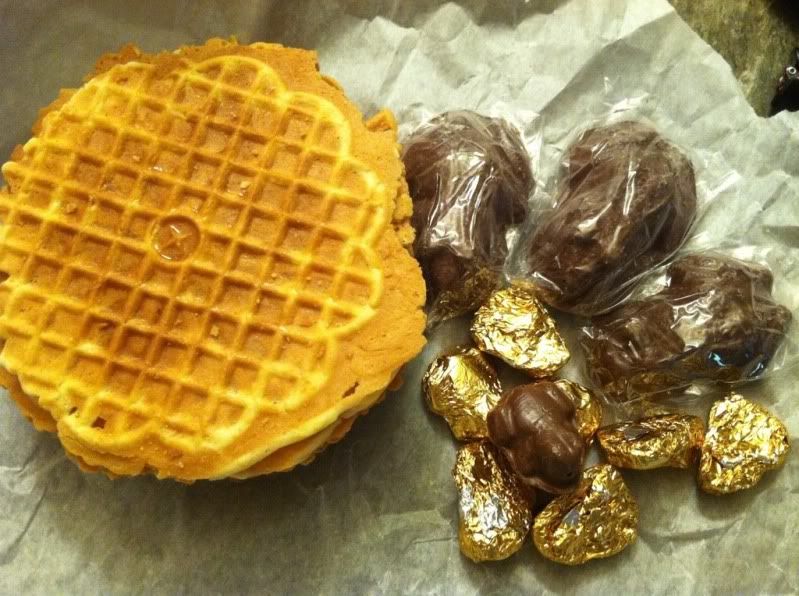 rorriM_esoR made me som absolutely stunning jewelry. I can't pick my favorite. First up the three sets of earrings: A pair of cute little owls, Ravenclaw Quidditch snitch earrings, and Ravenclaw pride knowledge earrings. Fabulous!!
She also made me a Ravenclaw charm bracelet that is out of this world! It's two layers, one is strictly charms and the other is blue and bronze only. It's so wonderful I can't even say how much I love it! I adore all the charms, but my favorites are the wand, rabbit, owl, and mirror!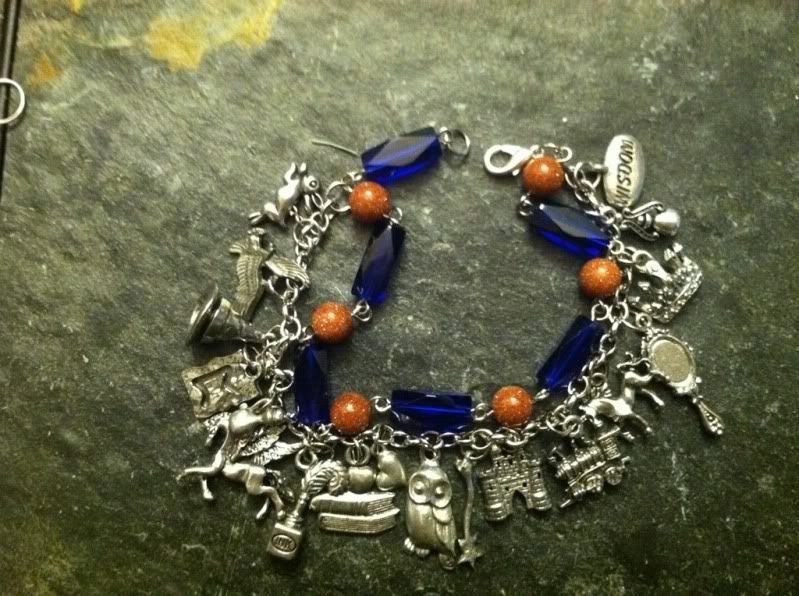 This necklace is simply stunning. It's a subtle house unity theme with an owl/watch pendant. I absolutely adore this necklace!!!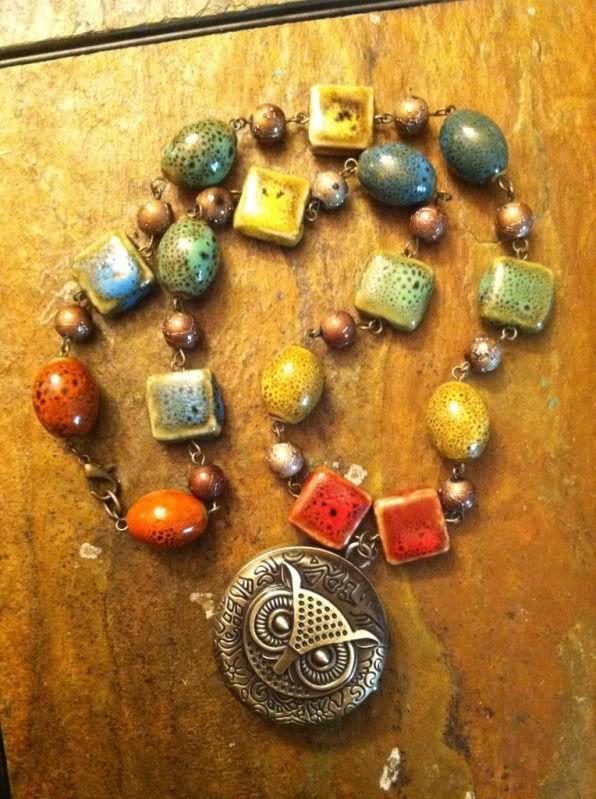 Action shot: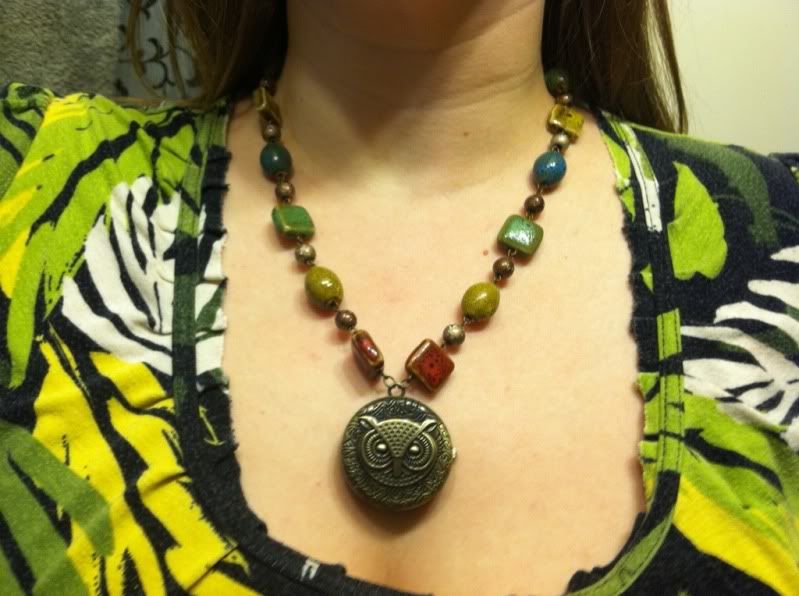 And finally the Mirror of Erised music box. I love this so much!!! It has three compartments. The center one holds the music component which plays......the Harry Potter theme song!!!!! I couldn't believe it when I heard those first few notes! I am so in love with this box! It is going on my dresser straight away. The two faces represent Dumbledore's saying that men and women have wasted away in front of the mirror. LOVE!!!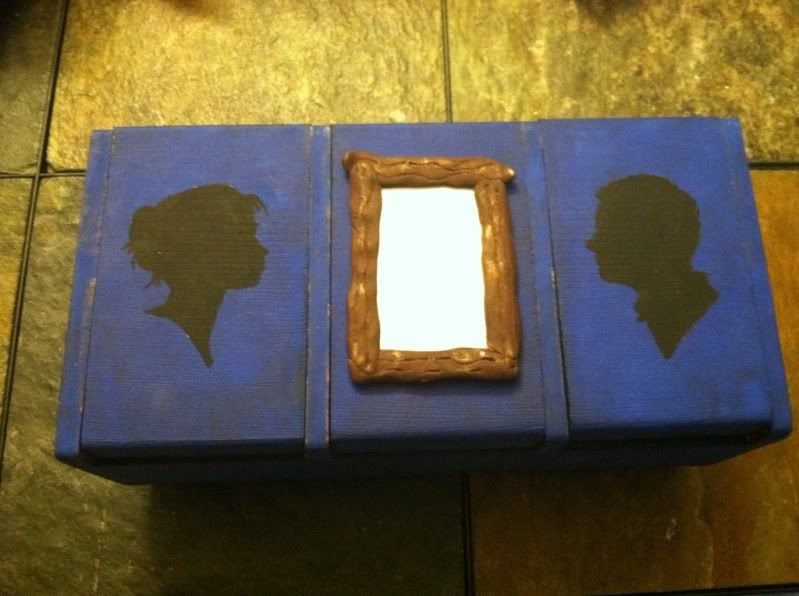 I can't say thank you enough for this amazing package! I love everything so much. I can't wait to wear my necklace to work tomorrow and show off all my great stuff to my other Harry Potter fan friends!
Oh and PS - when I came in the door my cat Neville was all up on the box and all in it when I was taking everything out. He KNEW your kitty had been on there