This is the latest project that I have made for my beloved 16-month-old daughter, who really loves everything soft and pretty. It's going to be one of her X-mas presents this year, and I can hardly wait until she opens it next month. It is a "topsy turvy" doll that I made from a pattern by Leslie Molen. For those of you who don't know what a topsy turvy doll is---it is like having 2 dolls in 1. The 2 torsos are separated by a skirt that you lift over the dolls head, turning it over so that it becomes a totally different looking doll. Instead of doing the traditional white doll vs. black doll like her pattern, I did a happy vs. sad doll like the one that I had and loved when I was a little girl. I also reduced the size of the pattern pieces with a photocopier, so that the finished doll is about 14" tall. Here is the happy side: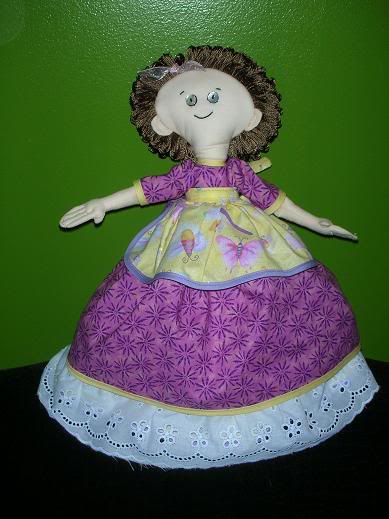 And the sad side: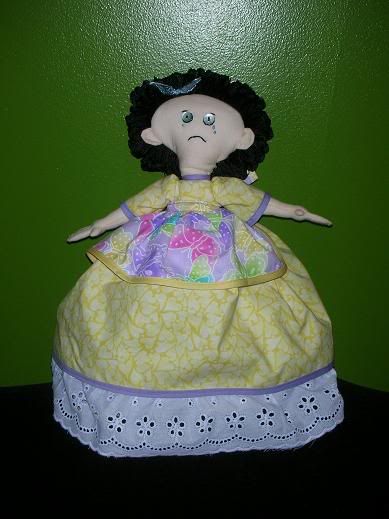 If you look closely, you can see little finger details stitched into the hands. What separated this pattern from all of the others when I was searching for one, is that this doll has little ears! I thought that was another really cute detail
The doll's skirts are separated by a white slip in between that has the eyelet trim at the bottom. I think that all of the layers really do give it a nice weight and thickness to it. Here is the back of the happy doll: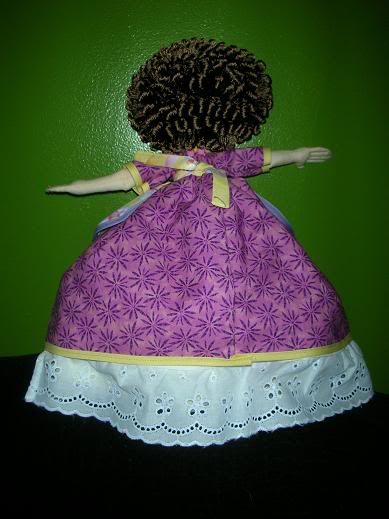 And the back of the sad doll: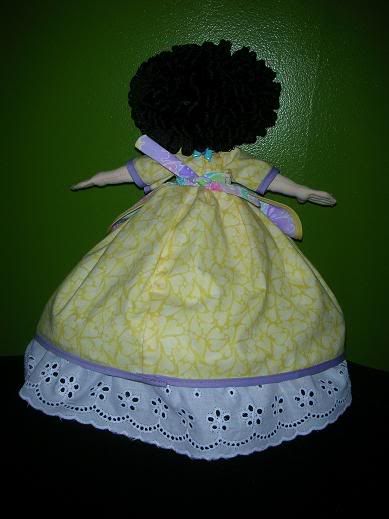 The little aprons tie on and off. The hair was a little tricky. The pattern calls for a miniscule amount of home-dec fringe trim to sew between the head pieces, so that if you looked at the doll from the face-on, it would look like it has hair. The problem is, that was the only instructions the pattern gave for the hair, which would leave the whole back of the head bald! So I bought extra trim and painstakingly attached it in a spiral to the back of the doll's head, which became really difficult when I got to the center and resulted in many needle-sticks to my fingers. Then there were tiny amounts of places where you could see "scalp" showing through, so I filled them in with matching permanent Sharpie marker. Voila! So what do you think?