I had 5 rigid foam head stones that I made 13 years ago before the interwebs was quite so wonderfully deep and wide and before I had as much experience with making. I"ve seen so many cool hand-crafted headstones and tutorials on making them that I decided to recon mine. Here is a before shot with the standard dog photobomb.
I looked at lots of tutes all over the interwebs and kind of combined techniques to go with the tools and supplies I had on hand and what seemed to work for me. And here are two of the five.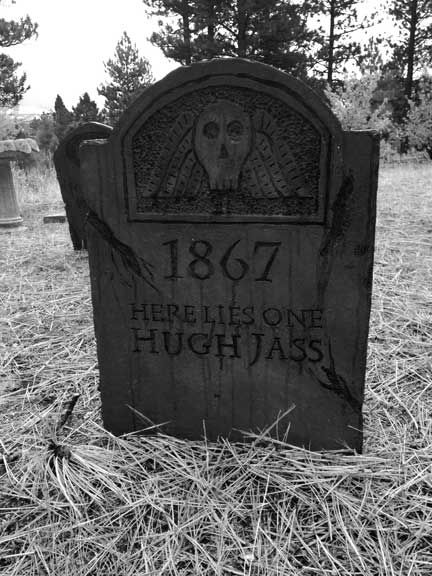 I tried to keep them old and creepy looking, but also with a touch of humor. That combo is kind of my Halloween M.O.
FYI: when I saw the "noir" setting on The ManFlesh's iPhone camera that came with the iOS7 update, I knew I wanted to take pics of my bone yard with it, so I set aside the 3-4 hours to download and install just for that feature alone.
Finally, a pic w/o filters. We we live in the mountains and in the forest and for the most part our 5 acres slant a little. This is a mostly flat spat that the former owners had placed the birdbath in and had some flower beds bordering. We couldn't quite figure out why until we realized that it's a good spot to see the view of the valley. Well, it's also the perfect spot for a bone yard because it's flat-ish and we can see if from the house and the driveway. I repositioned the bench and the bird bath to look more like a grave yard situation. I have plans to expand and improve this in Halloweens to come!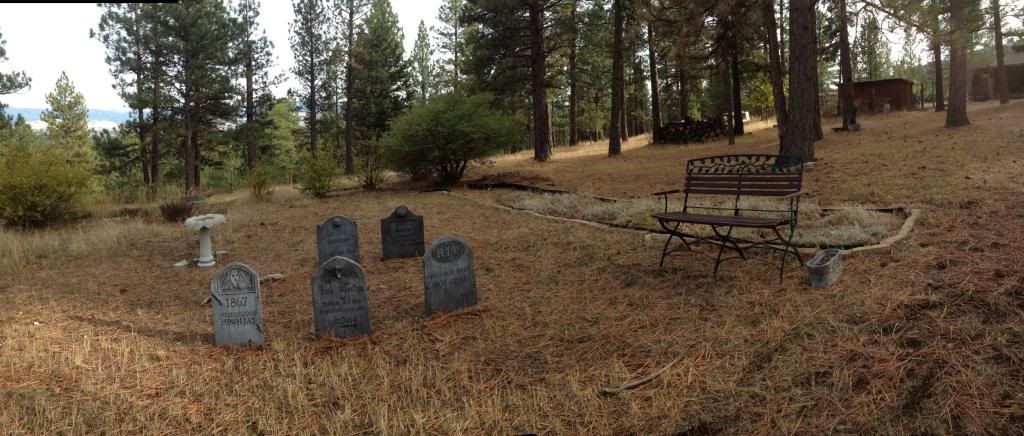 I've done a more in depth post about the process for the headstones on my blog:
http://suddenlytaxidermy.blogspot.com/2013/10/bitterroot-bone-yard.html
I posted here about the way I made installing these quick and easy:
https://www.craftster.org/forum/index.php?topic=427713.msg5100180#msg5100180