About 6 weeks ago my friend and colleague's husband was the victim of a murder/suicide committed by a co-worker. I know her from a now-disbanded decorative painter's guild and workshops we took together One of the other members of that guild organized nine of us from the guild to create for her a collaborative project.
This is the first time I've ever worked on a canvas and I was intimidated by that as well as the purpose of the project. The only parameters were using a low profile 8" x 8" canvas and using the couple's love of the outdoors as inspiration. The will be arranged and framed in a 3 by 3 square to make a 24" x 24" piece.
I had seen photos of them at the beach and enjoying water activities, so I decided to go with blue sky and blue-green water as my my inspiration. I wanted to be dimensional, so I used the lid of a paper mache box to create an inset. I liked the idea of warm colors in there to contrast with the cool colors on the main body.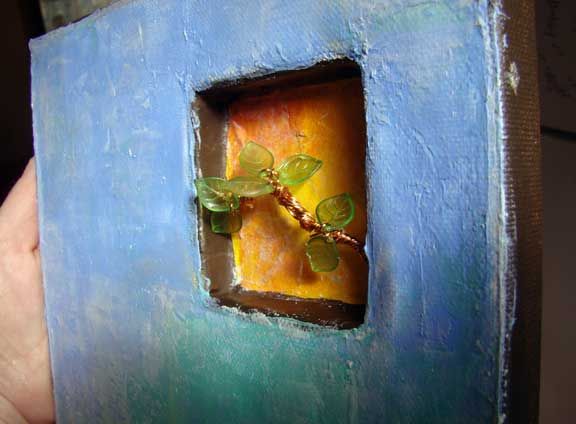 She and I had just had a little FB thread about birds when the tragedy occurred, so I wanted a branch with a bird, but couldn't find a bird and didn't trust myself to make one and then got to thinking a single bird might be sadder than I intended. So, I just went with a branch made of two gauges of copper wire and leaf shaped beads.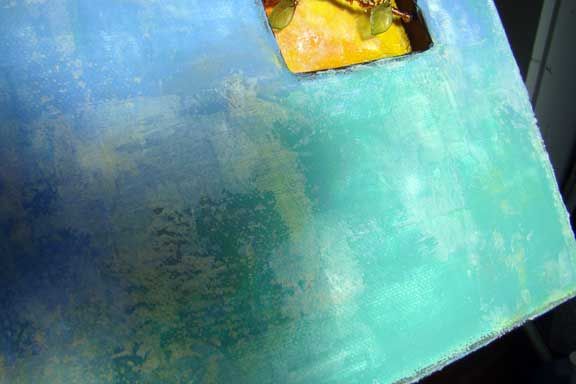 It was hard for me to capture with the camera, but there are hits of "interference gold" on the surfaces to add some kind of dynamic element and a little something else. All of this is done with decorative painters' materials instead of artists' materials, because that's what I have and what I know. It's mostly applied and manipulated with a trowel, but some with brushes.
I'm not thrilled with the piece, but I'm not humiliated either. I picked up several more canvases when I bought this one, hoping to try more things.