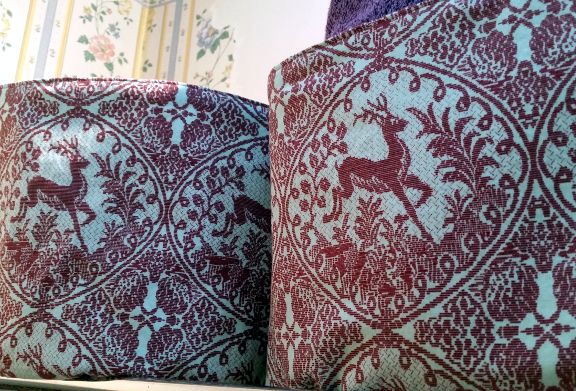 By this time of this year I was supposed to be well underway with redoing our main bathroom. But instead I broke my hand about 7 weeks ago, so I am working more slowly and on smaller parts of the project - the finishing touches are coming first this time! I decided I wanted fabrics, but didn't find any that were the right size, the right material and the right price so I knew I had to make them.
The deer material I found online was JUST RIGHT. Perfect colors, perfect pattern. WOO! You can see that the easy part of the wallpaper removal is done; the streamer will come out for the rest of that project. The train rack they're sitting on will be moved out of that corner for the remodel/redecoration.
They are lined with heavy, unbleached cotton duck with a medium weight fusible, washable interfacing inside.