It seems like all of a sudden I'm surrounded by friends or the family of friends getting cancer. While no one that I know of in my circle (and my circle's circle) has breast cancer right now it is also true that none of them have the same form of cancer. I feel hyper aware of all cancers these days and I've had my own "abnormal mammograms" in the last few years. This sums up my complex responses to cancers.
Close-up: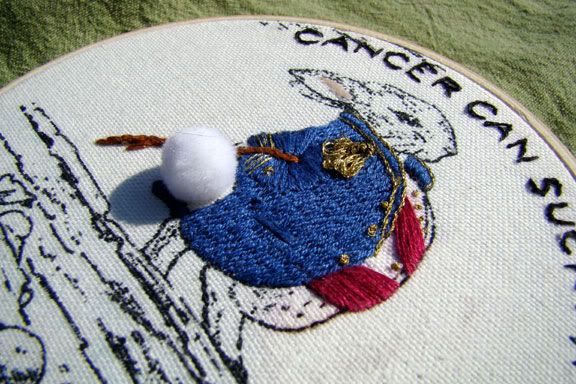 I used satin stitch, long-and-short stitch, french knots, stem stitch (my first time!), and some unnamed stitch. I was also able to use mostly supplies I already had on hand (except the blue floss and the hoop for display) which includes the thrift store magenta of his sash... which bled and caused me some distress.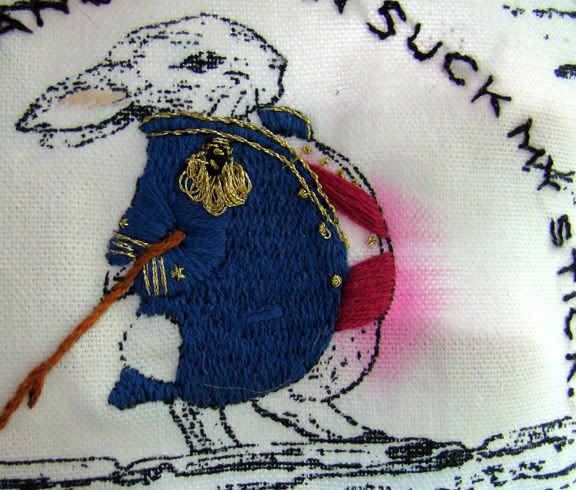 I posted a plea for help and advice and through the kind and patient answers I decided to try the bleach pen which I applied with a small paint brush. It's not perfect as there are spots I couldn't get to, some bleaching of the floss and the black print on the fabric and some discoloration of the fabric. Also, a mystery brown stain at the outer edge of the bleached area that would not come out with bleach.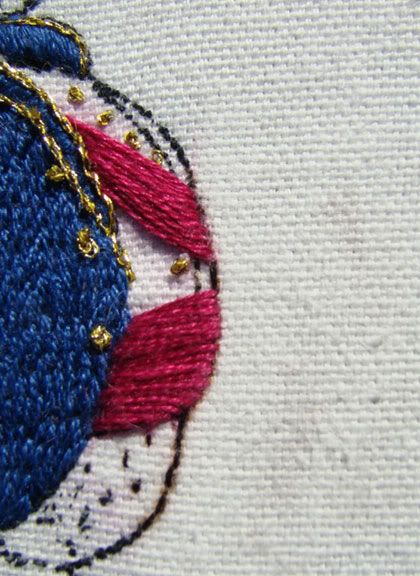 I had plans to use light-colored sewing thread to add a bit of color to the fruit at the bottom of the piece, like I did on his ear, but after the whole bleeding incident and recovery (and the resulting imperfections) I couldn't bring myself to work on it any more than mounting it in the hoop. I didn't finish off the back as planned either. I was SO loving his little dandy jacket with all the metallic details, but now he's just sort of disappointing.
The fabric was another scene from the same Beatrix Potter toile I used on my Fuck Cancer piece this spring.
https://www.craftster.org/forum/index.php?topic=303150.0
This is what Admiral Cottonbotham looked like before.