Now that I am a more accomplished maker and have access to the wide world of interwebs, I have been reconning some old foam headstones I made a dozen or so years ago. Previously I put them out on Halloween night only to avoid thieves and vandals so I had a pretty sketchy "system" for installing them on the lawn. Now I live OUT of town so I can leave them out and want so since they're going to be so much cooler, so I needed a better way to secure them. I did a bunch of looking around and decided that the constraints of having them already cut and the hardness of our soil meant that gluing PVC to the back and then sliding that over rebar that's pounded into the ground.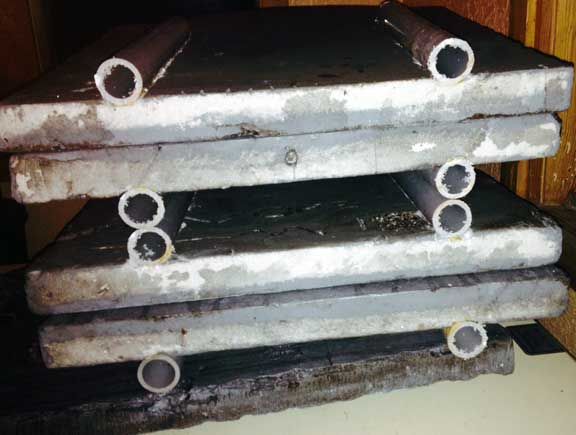 In order to make this easy to do year after year, I wanted the PVC to be uniform across the tombstones, so I used a ledger-sized piece of card stock and a metal ruler to space the PVC and carve some channels for it to sit in to give more surface area for the adhesive. This PVC is conduit we had left over from a project and probably overkill, but it was already paid for and already grey. I may paint it later so it won't show as much.
Then I got some other PVC from the scrap bin at the hardware store and a couple of T-couplers to make a jig for pounding the rebar into the yard (no lawn here in the forest). I didn't bother gluing the joints, because they're really snug.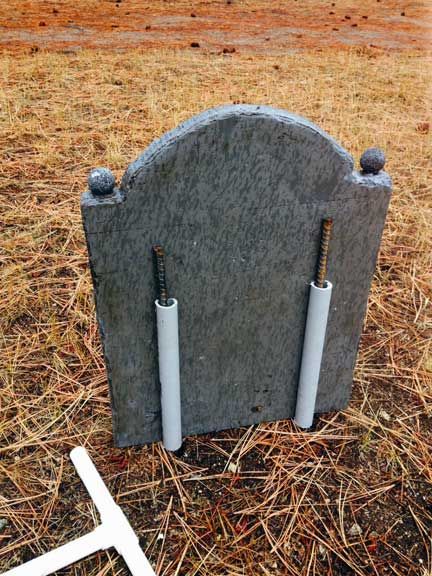 AND it worked! It makes pounding the rebar into the ground a 1-person job. I've only done one so far, but when the weather gets a little better I'll do the rest, set up my mini bone yard, and take pics. WOO!