It's been about 8 years since I had a Christmas tree and probably about that long since The ManFlesh has either. We don't have a great place for one here without moving furniture around to awkward places or into the guest room or whatever AND as you know trees are made of sticks and our dogs are allowed sticks (at least when outside). So... when I saw this material at Ikea in April, I bought a length and figured I'd come up with something.
I built a frame of 1x4 and 1x2 lumber, then attached Homasote board to that. Homasote is a recycled fiber material made as a sound barrier, but it's a great bulletin board material, too, and you see it used a lot that way. Finally, I stapled the fabric to the sides and back of the wood frame, stretching with a similar method as art canvases (but with sloppier corners).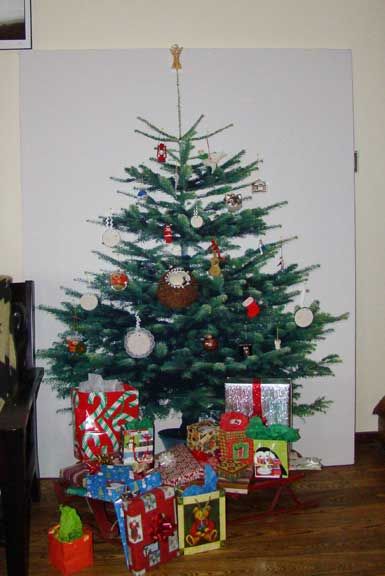 The ornaments are hung using 2" straight pins. I think we need some "us" ornaments; most of these are mine or ones I made him of various pets' footprints. Also, we need a topper and I want to figure out some lights that won't mean a bunch of thick-ish cords or cutting holes in the fabric, perhaps some LED technology. Maybe a bead garland, too.
This was not a cheap project, but cost about 2 years' worth of lot trees and half or less of a decent looking, full-priced traditional fake tree.
UPDATE! I threw together a topper with some things I had laying around. You know, like
BIGFOOT!