YAHOO! After we bought our house in Montana, but hadn't yet moved here I was already *pinning ideas for a clothespin holder, because I was so stoked to have a clothesline again! That was allllllmost 4 years ago and I just finally finished it... a CLOTHES PIN APRON!
I had this "flour" sack in my stash... I got it at the by-the-pound thrift store probably over a decade ago. I just loved it, but never had the right project for it until now. And luckily, I had this green gingham print on hand and enough to make 10' or so of double-fold bias tape.
There was this little pocket sewn onto it and I went ahead and cut the back of the apron using that part. I suppose my phone might go in there and then the little things you find while hanging laundry and don't have a place for, like buttons that have fallen off, broken clothes pins, stuff that's been left in pockets, etc.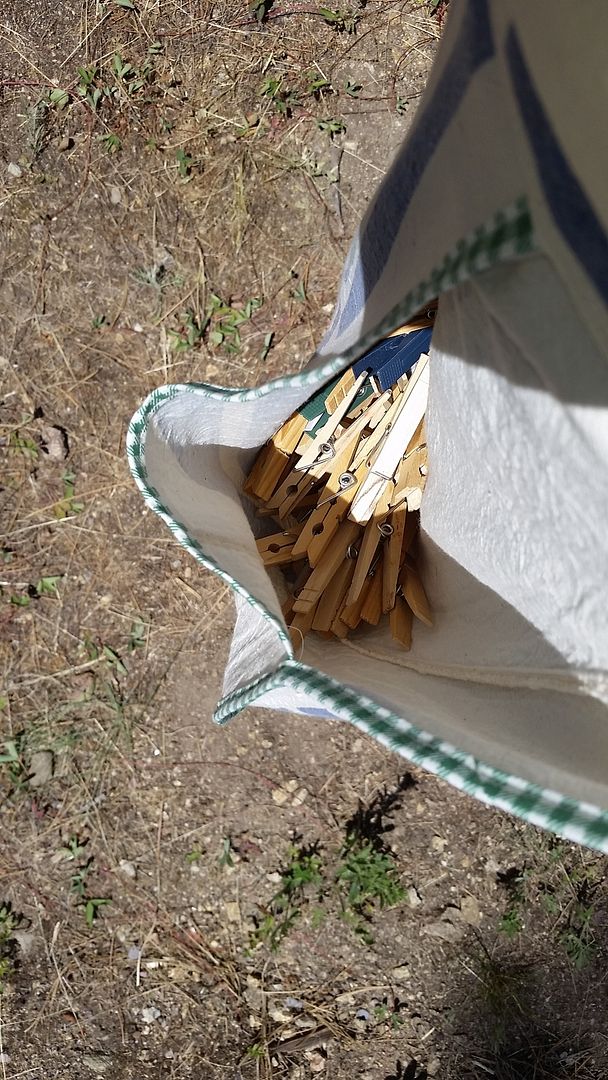 And right after I took these photos I loaded it up and hung a load of whites on the line! It worked great and I am glad I decided to go with the apron over hanging bag for my needs.
*As I mentioned I got the idea from pinterest, but the link on the pin was dead. Luckily the image has measurements enough for me to have made a pattern. But here is a link to the pin with the measurements on it.
https://www.pinterest.com/pin/168885054749634378/