So The ManFlesh works at a foundation that is Elk-related (yes, really) and they have an Employee Crisis Assistance Program that has various fundraisers throughout the year, like chili cook-offs and bake sales. Last month their bake sale was so successful they decided to do another one this month - on St. Patrick's Day. Teehee, my *last contribution was so popular that The ManFlesh was asked if I would be contributing again.
Well, I'd already planned on making Irish Car Bomb cupcakes for his team, so I was already almost ready to make them for the bake sale!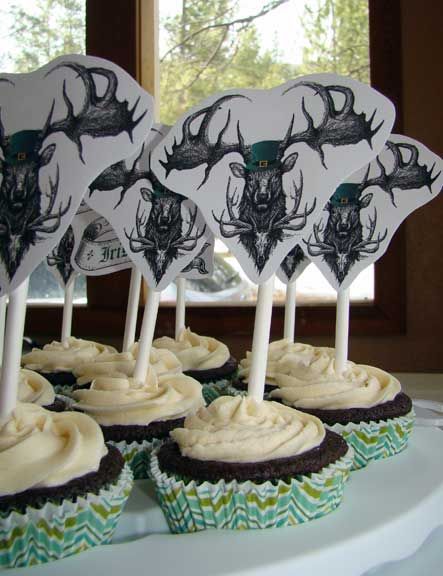 I just had to add fun toppers for the bake sale. this piece by D Trudeau** was perfect (and I didn't even know it had been post of craftster) While trying to decide on imagery, I got the idea to use Irish Elk! POW! and BAHAHAHAHAHAHAAAAAA! There are more deets about all that went into these as well as links to the original recipe & details about Irish Elk, as well as a photo of my T-rex dressed for the holiday (no kiddin') on my blog -
AFTER March 17, 2014, 7a US Mountain Time
.
http://suddenlytaxidermy.blogspot.com/2014/03/a-touch-of-blarney.html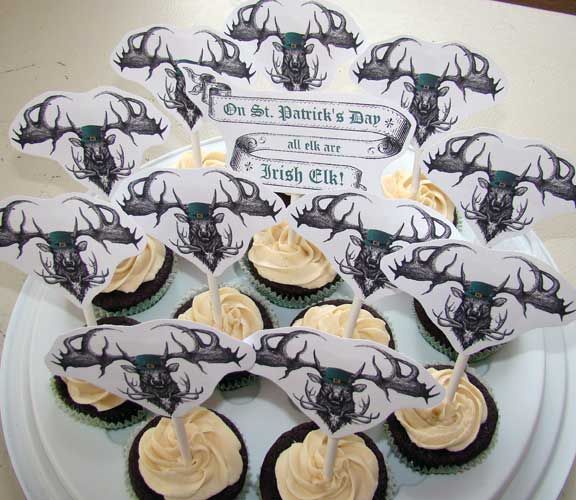 *https://www.craftster.org/forum/index.php?topic=431524.0#axzz2wAVnDoZv
** You can find of D D Trudeau's work here:
http://kodriak.deviantart.com/
and under the craftster user name TheDaytimeHeros.