Sorry it took so long to post pictures! I took the pictures while ago, it was getting them off the camera I had trouble with.
Take a look at all the great stuff I got from
hotgluegert
!
Here's the box/kit. She used some red fabric with awesome gold sparkly swirlies on it.
The loot! She packed it, woohoo! Tape measure, scissors, safety pins, needle threaders, a thimble, buttons, fabric, pin cushion, probably other stuff I forgot to mention... Oh yeah, a seam ripper that will be in none of the pictures because I've already used it a lot and forgot to put it back. :p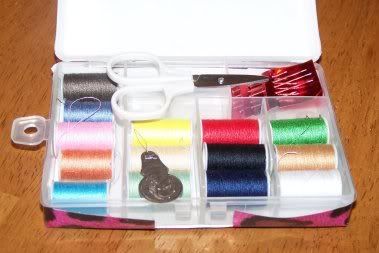 She decorated this little sewing kit for me too!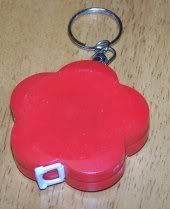 This tape measure is so cute!
AWESOME pin cushion! He is very cute. His legs and head are made of clay (maybe) and his body is felt.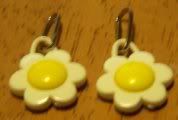 Buttons! There was another set too, of brass hearts, but I can't find that picture right now. My sister has claimed one of the flowers as the zipper pull for her sweatshirt (Is that what those are supposed to be? I have no idea).
I love everything! The tape measure, pin cushion, seam ripper, and scissors have already been used quite a bit. Especially the seam ripper.
Thanks
hotgluegert
!