This was an idea I copied from violentjayne. Only mine is for a much more mature & plump figure. Very comfy to wear!!
From a pair of overalls that were too short in the legs, I cut the legs off right at the crotch saving the pockets. Then took a piece of fabric, sewed it into a tube. Gathered one end & attached to cut overall bottom.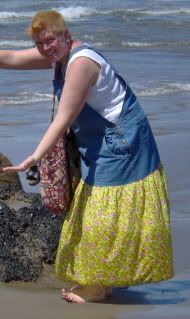 Fun on the beach & the skirt already wet from romping in the ocean. & the bag was also home made by me.

Shaded, but to give a frontal view of creation.

Doesn't that torso look so thin?! ;> The grey shirt is also home made. & now that I'm 40, I get to wear ol' lady hats to protect my face from the sun. Fun!
eta a little sample of skirt fabric.