I found this dress in a local thrift store for only 20 cents!
I hated the original design, but I gave the dress the benefit of the doubt
and tried to keep an optimistic outlook for creating something
fantastic out of its crazy fabric.
I thought that the top was too busy...
but that there was enough fabric in the skirt to mess with.
I wasn't sure how I would pull something like this off...
but I knew that I would have to remember "simplicity is key".
After debating for quite some time,
I decided that the most simple solution
really was the ideal look for this outfit.
Skip the buttons, skip the straps, skip the mess.
The fabric brought enough attention to the outfit, the design could be minimal.
I came up with this: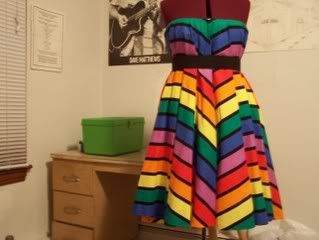 I decided to keep the elastic in the skirt, and sew in a double layer
(for extra coverage, of course) into the top portion of the new design.
Cinching at the waist via a black belt gave the dress nice pleats.
(keeping the buckle in the back to keep the front bright and basic.)
I am very pleased with the new look of this dress...
and consider it a success ten-fold.
I'll be wearing it out as soon as I get a chance.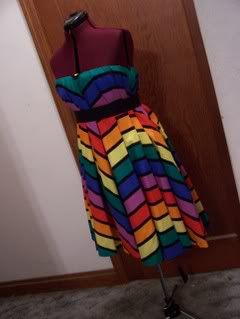 Thanks for looking - This is my first topic!