The first thing out of my package from Shauna (firebird1919) was for my little girl for her 2nd birthday! It was a really adorable coloring book and melted star crayon. I will post a picture tomorrow. My daughter LOVED it! And she says "Tank eww" Shauna!
On the 12th Day of Christmas firebird1919 gave to me...
12 white chocolate roses
and a Low-Fat Recipe Book
Yes, I know it says 12 roses, but they are so yummy! I am really trying to lose weight so I am eating 1 a day as you suggested Shauna. Thank you so much. They are SO good! Also, the recipe book was so thoughtful of you and so was your kind note. I can't wait to cook something out of it!
On the 11th Day of Christmas I received...
11 BEAUTIFUL pieces of jewelry. I seriously love every single one of them. I can't wait to go somewhere this week so I can wear the Christmas ones! TOO CUTE!
On the 10th Day of Christmas my partner gave to me...
10 REALLY cute headbands! I LOVE the one with bright music notes!
On the 9th Day of Christmas, I received...
9 Butterfly Things!! This is my favorite so far!! I LOVE LOVE LOVE everything!
There is a tote bag, a beautiful pair of earrings and matching bracelet, a cookie cutter, a stamp, stickers, and 2 really pretty pieces of fabric.
On the 8th Day of Christmas…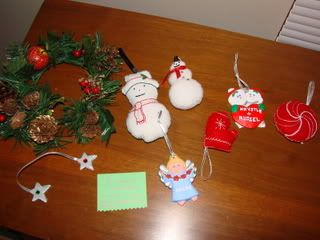 8 Christmas decorations. 1 wreath that I ended up putting a red candle in the middle of (which looked great) and 7 ornaments. I especially love the personalized ones. Too cute!
On the 7th Day Chloe Received…
2 pieces of really cute, soft flannel. I plan on making her some PJs with these. Also, 4 cute coloring books, made by Shauna. Also, she got a really neat, painted "C" that she promptly put in her room. She loves everything. Thank you for thinking of her!
On the 6th Day I received…
A "Learn How to Crochet" Kit. Shauna made me a really awesome book with instructions on learning to crochet. I also got two really gorgeous skeins of yarn. And 3 hooks. I am very excited to get started. I am sorry I have no picture of this. My camera decided to give up one me :/
On the 5th Day of Christmas…
A mirror, etched with butterflies. A really adorable flower pot that was painted by Shauna that I can use to save for my "Craft Fund." Some really, really COOL tape. And some monkey key covers that I have been wanting SO badly for SO long! Thank you!!
On the 4th Day…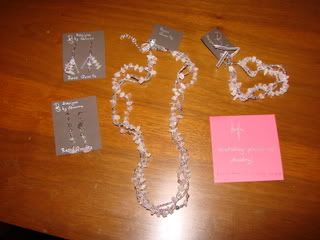 4 really BEAUTIFUL pieces of jewelry. Of course, made by Shauna! This is probably my favorite day. The pieces are Rose Quartz and they are just gorgeous. Very much my style  I love them!
On the 3rd Day…
3 felt ornaments. These are so neat and very pretty. They all are pocketed which I thought was a cool idea!
On the 2nd Day…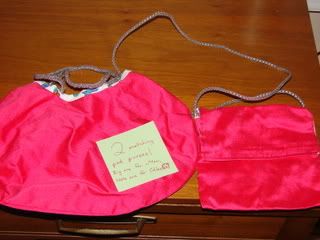 2 HOT pink purses. One for me and one for my little girl, Chloe. She has not stopped dragging hers around. We both love them!
On the 1st Day I received…
An amazing Advent/Nativity wall hanging. This is TOO cool! All of the "characters" (people and animals) are detachable. They fit down in the pockets and so each day we can take one out and put it on the top to make a Nativity scene. I love this! The detail in the people and animals is amazing. What an awesome way for Chloe to countdown to Christmas and learn the story of Christmas.
Thank you so much, Shauna for everything. It was such a joy being your partner. I really appreciate the hard work that you put into this swap. I LOVE it all! Thank you, Thank you, Thank you!!