BAH!! I tried posting this earlier but aparently my computer pooped. So here it is! My can from Annaonthemoon!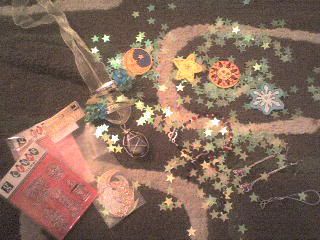 That's most of it, the ornaments were already on the tree and the cats had run off with the Yule log toy. There are super cute magnets, a pair of fairy earrings (which I wore today). Clear stamps (which Ive never used before but look forward to trying out), cute moon stickers, candy (mostly eaten already), matching festive earrings and bracelet, pretty springy hair clips and the COOLEST pentacle I've ever had.
Edit: Oh! Also a really cute trinquetra cell phone charm, currently on my cell phone!
That's the pentacle! It's wire wrapped around hematite (One of my favorite stones) This is definently my favorite thing from the swap, although I really love the scented ornament, I jsut wish Id gotten a picture of it. I'm not sure what to put the bead on, wheather to put it on hemp or get a sturdy chain for it, any suggestions?
The kitties fighting over the catnip yule log, They love it! Winnifred (the long haired one) eventually won it and is now carrying it around the apartment.
That's the green and red crystal earrings, I wanted to get a good picture since they didnt turn out in the big group one. I really like them, and I usually don't like red/green stuff!
Okay, that's all I have for now. Sorry for the cruddy pictures!