this is my first time making a sweater, i'm making the sweater called dogwood donna from the spring 2007 issue of knitscene.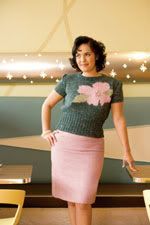 so far it's been a great easy pattern but now i am stumped on the neck shaping.

here's that part of the pattern:

shape neck as follows: Mark center 14 sts.
Next Row: (RS) Work to marked center sts,

join new yarn

and BO center 14 sts, work to end of row, Work

each side separately at the same time

as foll:
Next Row (WS) Purl


ETC.

i don't understand why i'm joining a new yarn (there's no color change) and what it means to work "each side separately at the same time". I know it has something to do with it being a neck hole and i'm trying to figure it all out but can't!

if anyone can help i'd appreciate it. or if you need to know more about the pattern to help, let me know too.

the sweater is worked from the bottom to top, front side first (this excerpt is from the front side) and then the back, then the sleeves.