My daughter (Yes! Girls love Pokemon too!) turned eight this past weekend and wanted a Pokemon party. I made these little Pikachu hats for each of the kids: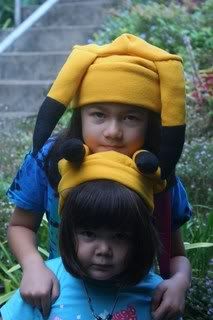 Here are all the kids wearing them. I actually ran out of gold fleece and had to make some green ones:
I found the tutorial (VERY EASY!) on how to make them here:
http://www.tutopedia.com/how-to-make-a-cosplay-pikachu-beanie-hat-secretlifeofabionerd/
I skipped the eyes and the lining...
For more pics from our Pokemon party check out my blog post! It was good fun!
http://mamasamess.blogspot.com/2010/09/operation-pokemon-party-success.html