I made my son a cute scarf. The base is from
http://homepage.mac.com/jeffhaywood/craftsanity/page34/page34.html
and I put a Macaroni fringe on one side. It took just over 1 medium sized (3.5 oz) ball of yarn. Macaroni fringe is done by chaining a length about twice as long as you want the fringe (I did 11), then turning and doing 3 sc in each chain (skipping the last one added) til the end (10 x 3sc = 30scs). It'll curl. Then I slip stitch into the stitch I started the chain, sc in the next 2 stitches, ss in the next stitch then start your chain again.
Sorry if these directions are confusing.
I also made some boas just doing the macaroni thing for a long length of chain. Pretty darn awesome I must say. And it makes those funky yarns useful.
http://i10.photobucket.com/albums/a127/zreekee/redscarfonjake.jpg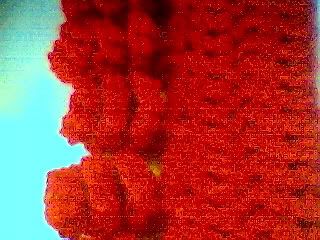 http://i10.photobucket.com/albums/a127/zreekee/rainbowscarkonme01.jpg
http://i10.photobucket.com/albums/a127/zreekee/rainbowscarfonme2.jpg