I made this for the mini 13 days of Halloween swap.
I found some vintage heavy cardboard Bingo cards on ebay and got a rosette die to make the paper rosette that I added a vintage owl drawing. I used dimensional stickers spelling "TRICK" to cover the original "Bingo" letters. I got these neat pennant letters to spell out "TREAT" along the bottom. Finished it with some ribbon to hang.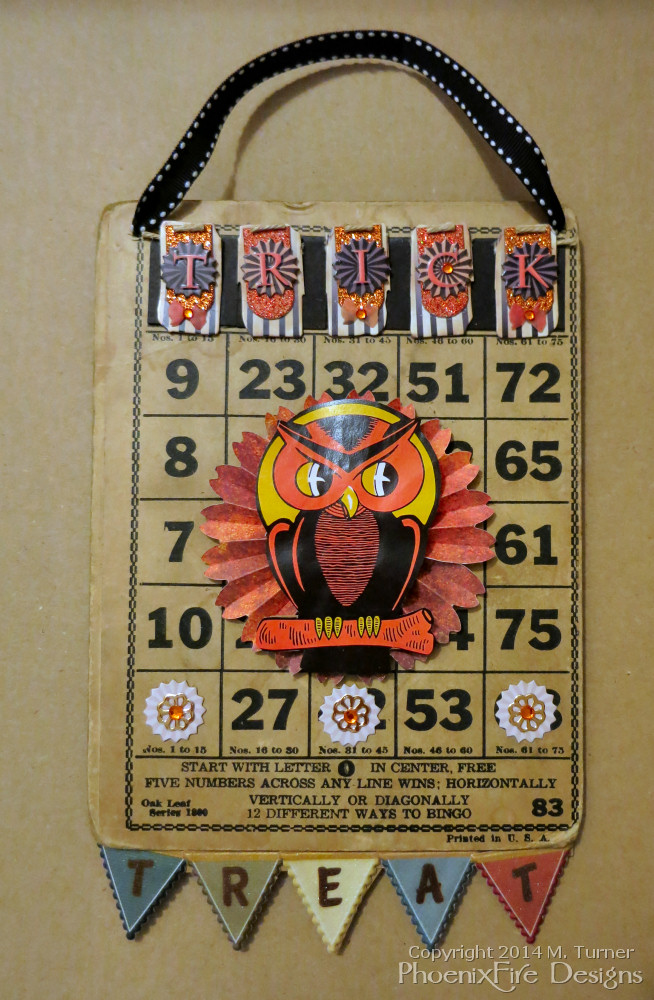 (click for larger)
It was inspired by an item on pinterest:
(click for larger)
This was a challenge to try and recreate the look and style since it's not something I'd ever done before! I didn't even know how to make a rosette when I started but thank goodness for my Cuttlebug and finding a rosette die online! Made the process SO much easier!
I was also really proud that I was able to track down the same style owl image online. Took some work but it was definitely a HUZZAH! moment.
I liked that the Bingo card was a heavy, thick cardstock too. Gave it some substance and it even had that slight "old book" smell that really adds to the vintage feel. Overall, I was very happy with the finished piece!
I blogged about my Halloween crafting here if you want to see more of what I made:
http://www.phoenixfiredesigns.com/blog/2014/10/halloween-crafts/