I bought this unfinished needlepoint on etsy about a month ago.
It had a tiger already finished and all you had to do was fill in a background with whatever stitches you wanted.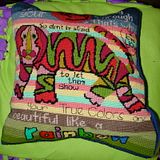 So I added some of the lyrics from Cyndi Lauper's True Colors song.
The tiger looked so shy and awkward and a little afraid and that's why I thought of the song and how perfect it would be for the pillow.
Here's how the needlepoint looked when I got it.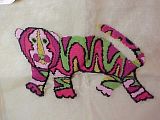 It was from the 70's and a few stitches were missing here and there.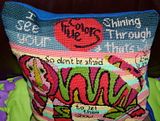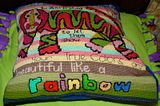 Here's the top and bottom of the pillow. It was hard to get a photo of the whole thing once I put the pillow in. (I know. I should have taken a photo
before
I put the pillow in!) D'oh!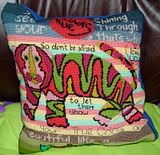 I did all the lyrics on here free-hand without graphing them or anything so it's not perfect.
There is the sky, the sun, a rainbow, the ground, and some grass.
But the most beautiful thing on the pillow is the tiger.
I hope he knows that now.