Hi teacup!
Here's a photo of the back of my John Lennon afghan
before
I wove the ends in...
(please click on it to enlarge the photo)....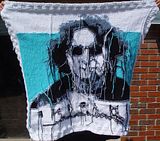 Now, see how the tunisian stitch makes a sort of "dash" in the back that goes along each row like this
_ _ _ _ _ _ _ _ _ _ _
Well, I weave the loose ends in by using a yarn needle and threading the loose end into the same colored yarn by going up under one dash and down the next dash etc. until the loose yarn is used up. If you leave enough yarn to weave in, you shouldn't have to worry about it coming unravelled.
I know it sounds like a horrible chore but it's actually fun because you don't really have to think too much while doing it. LOL!
Sometimes, when there isn't enough of the same color of yarn to weave into the back, you may have to weave it into a different color. For example, the A Human Being afghan...(Please click to enlarge)...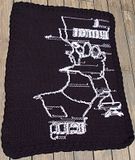 Well, there wasn't much white for me to weave the white loose ends into the back so, sometimes I had to weave them into the black "dashes". But it's ok because you are only weaving underneath that one "dash" stitch and it does not show up on the front of the afghan. See?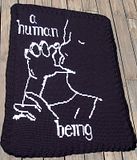 Those white loose ends of yarn woven in don't show on the front.
Hope that helps explain things!