but they definitely won't be my last. I love these Seven Stitch Sockies and the amusement they've given me already, and I just finished them today... err... yesterday, as it's 1:44 AM.
I used the seven stitches per inch socks from Getting Started: Knitting Socks which i got for my birthday from my friend Beth.
I started them on the 13th and finished them on the 15th. The first one would have been finished the second day, but I had to rip back because I guesstimated on the length (no tape measure with me... what was I thinking!) and felt like following the directions was going to be too long. I was wrong (surprise surprise) and had to take out all of the toe decreases, knit in st st for about another inch, then do them all again. The book was great and has a lot of really easily customizable patters. I don't know if someone who's more advanced with socks would find it useful, but as a beginner I really did (probably why it's called Getting Started)
ONTO the pictures...
(which took ages to upload... way to go, Photobucket...perhaps I should edit the size of them, eh?)
When worn as a sock puppet and held to the side, they totally look like a shark, see?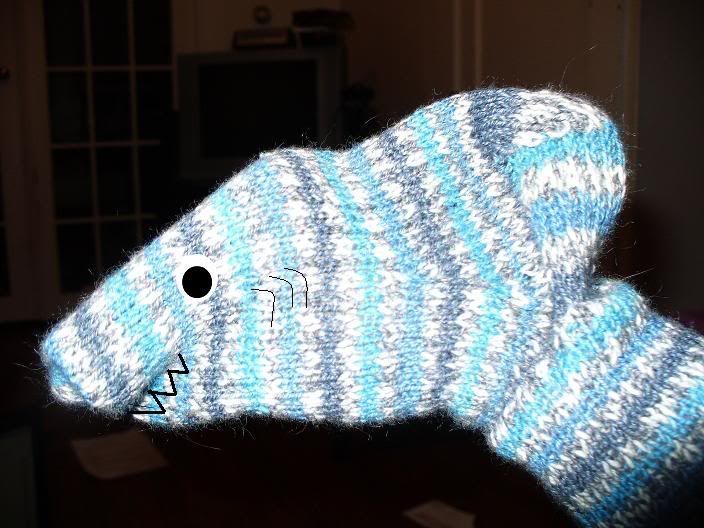 sans MS Paint awesomeness
More sock puppet fun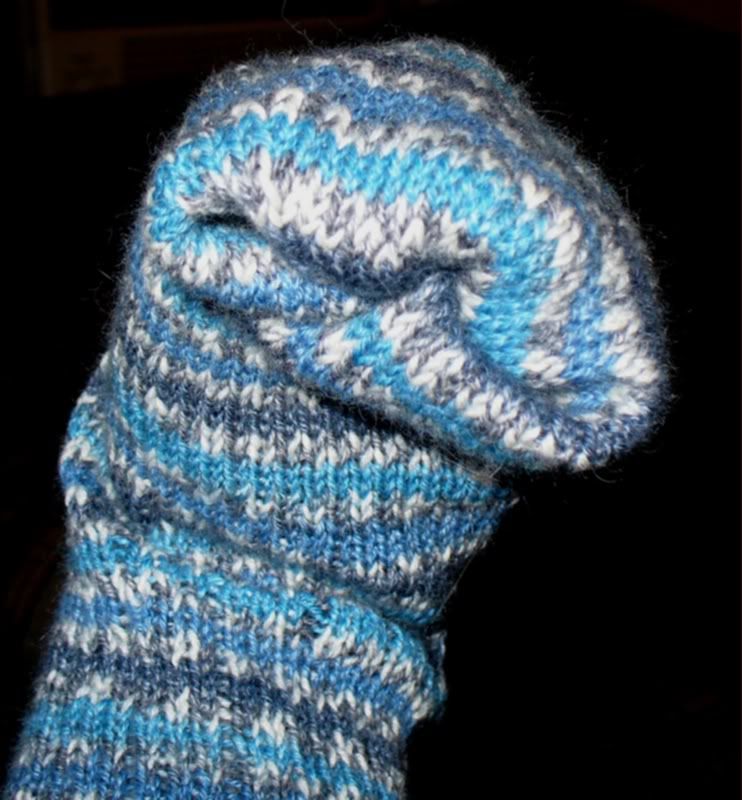 AH MAH GAH! He's got no pants on...
Mr. Sock is appalled that Shawn is only wearing boxers...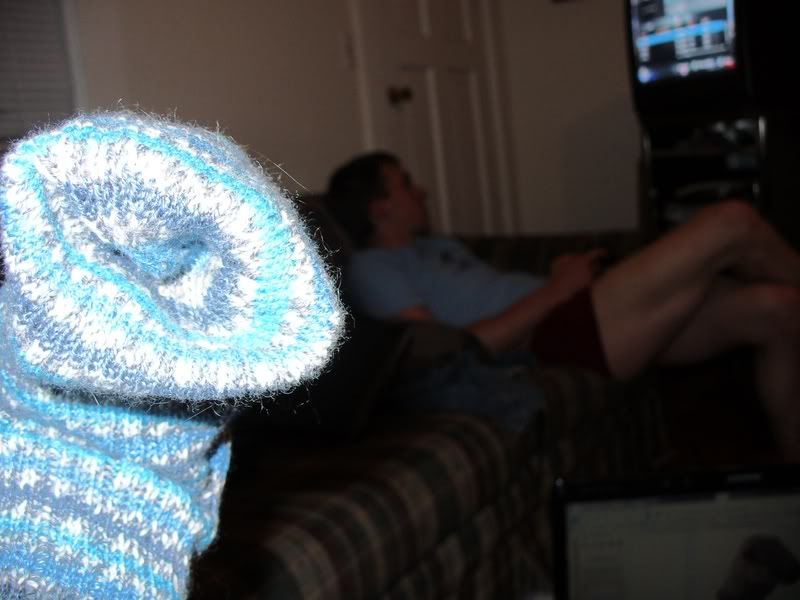 The bottom of my feet, to show that all the stripes match up except for my heels (go figure).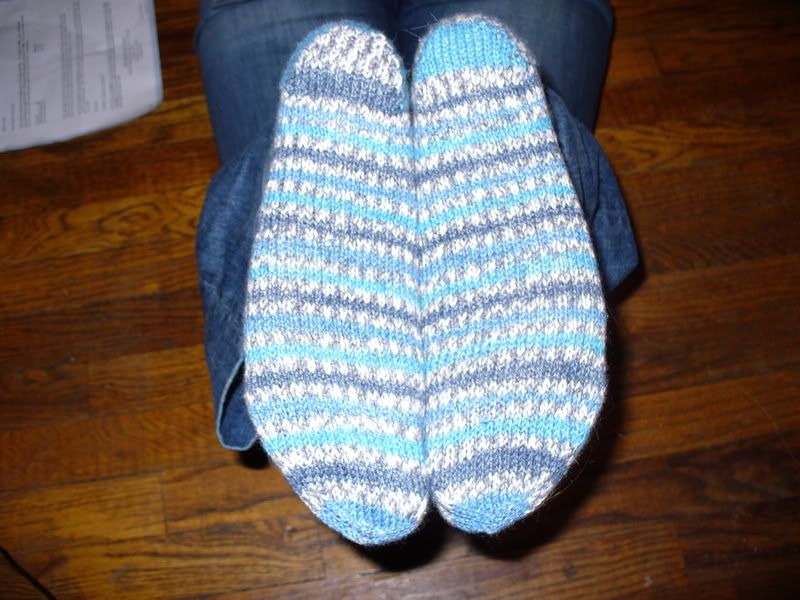 The tops of my feet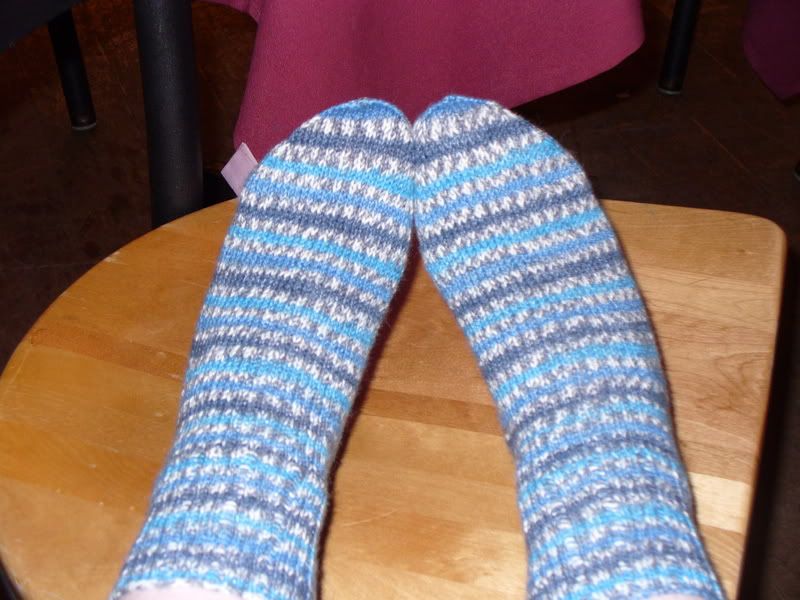 In my fancy pants, slightly painful for long periods of time, new(ish) shoes...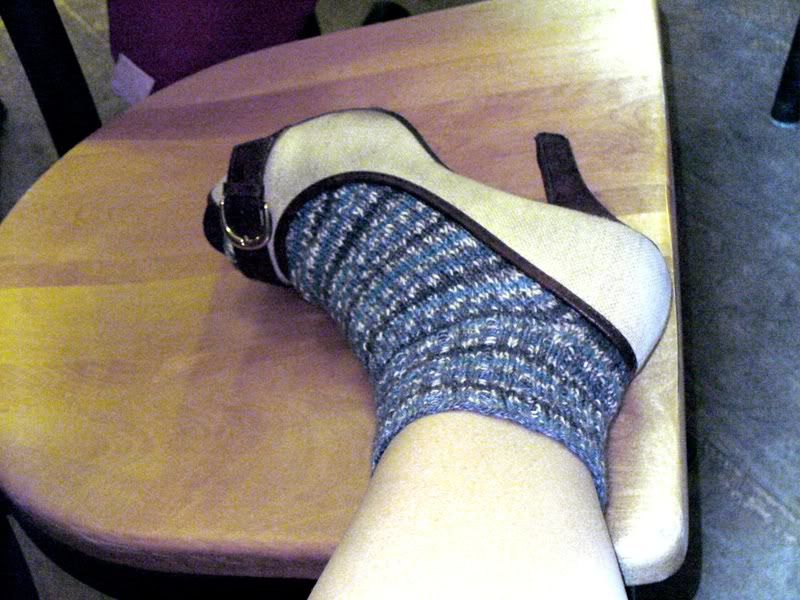 (they're a little more khaki colored than they look... i had to edit the photo because the flash was weird)
and finally me standing up. This isnt' my floor, it's the floor of Breaking New Grounds, the cafe I was knitting in when I finished them.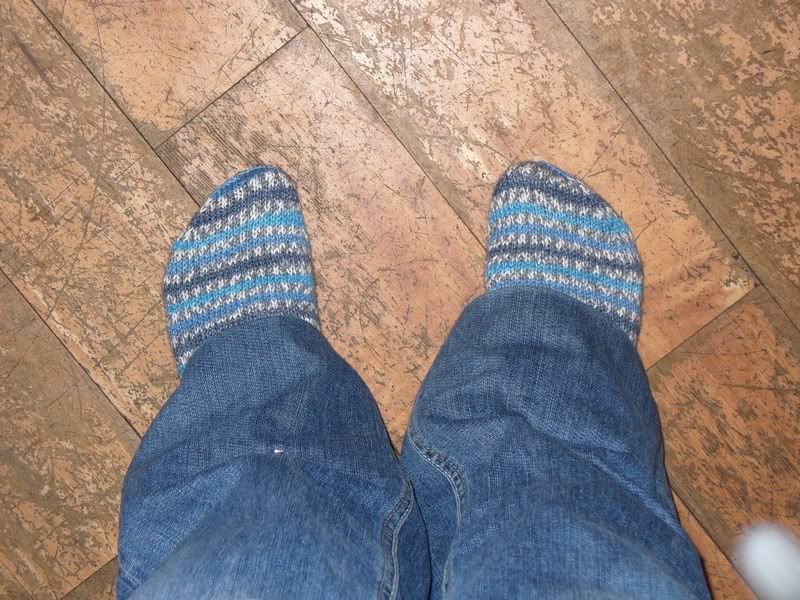 I got a thumbs up from some really pretty, blue eyed, scruffy faced kid who I see there a lot when I tried it on before kitchner stitching them up. The guy is pretty, like Jared Leto pretty. If he didn't have facial hair he'd look like a very angular girl. If I were single I'd be all about this kid, other than the fact that he seems like a total stoner and hangs out with really obnoxious girls... I wish I'd kinneared
http://www.yarnharlot.ca/blog/archives/2007/08/02/i_was_kinnearing.html
him and the girls he was with. One of the girls, when she smiled, looked just like Summer Glau (except loud, blonde and idiotic).
back to socks and knitting....
I love knitting socks and I'm super pumped to try more... my next pair will probably be the same yarn, but baby sized, followed by a super special secret pair, which I'll show off when they're finished. Squee... I'm so pumped about them!