Well I saw these ridiculousely expensive painted jeans on ebay... no way was I ganna pay an arm and a leg for them so I kind of copied their idea (shhhh!!)
These were some old capris of my daughters... You'd be amazed at the great fabric paints they have out nowdays! They dry soft! Nothing like that plasticy stuff we used to use years ago from those little pointy bottles.
The hearts are cut out in the inside so you can see her legs through... and then of course the token bratz lookin' doll cuz she's addicted to her Bratz dolls.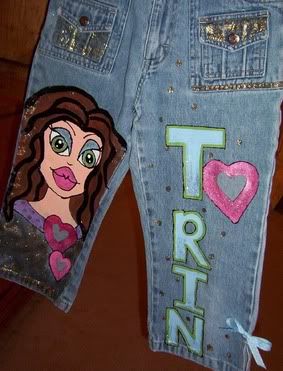 and then this jean skirt of hers...
I finally found letter stencils and I think the name looks alot better stenciled rather than freehanded as in the above picture.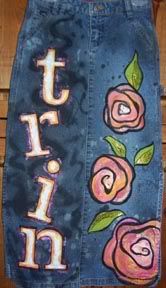 and the back has a little flower on the booty too: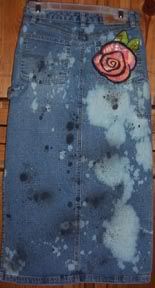 For the skirt I splashed bleach all over - ran out of patience so I ironed it to make the bleach come out faster... then I sprayed fabric paint (from the spray can!) all over and randomly dripped it... then I did the painting!
Aint it just the cutest skirt?! My daughter likes the Bratz capris better than the skirt, but hey... she's a bit of a tomboy.