After I made bags for others for Christmas, I decided it was time for a new purse for me.
The closest to the original color.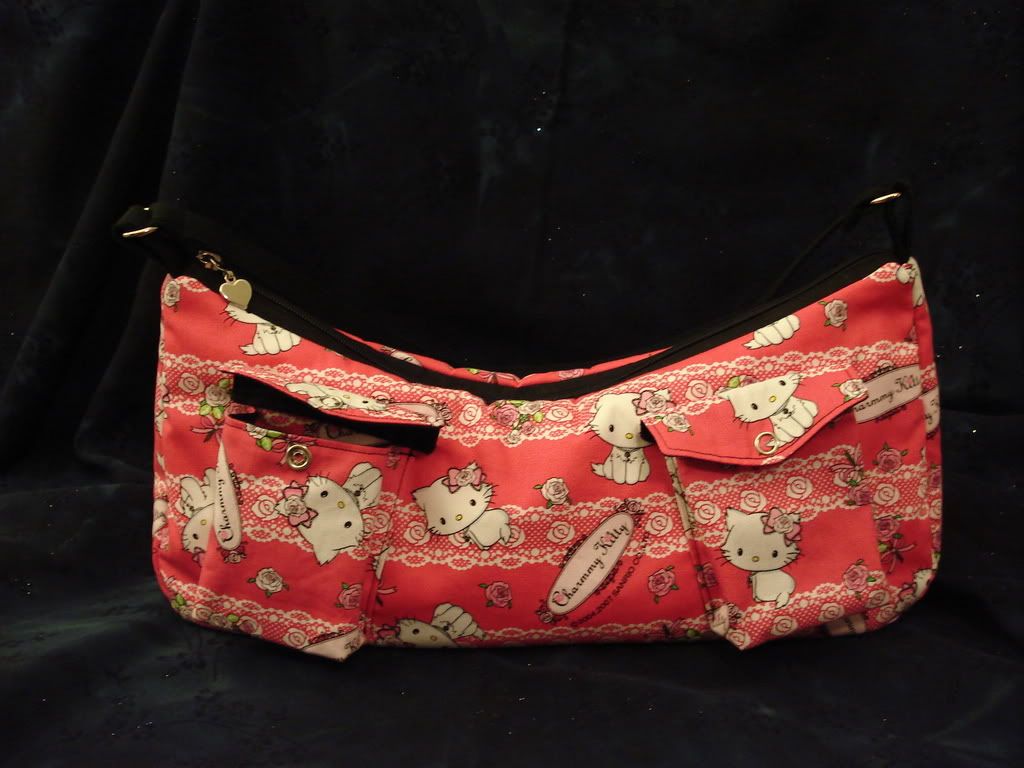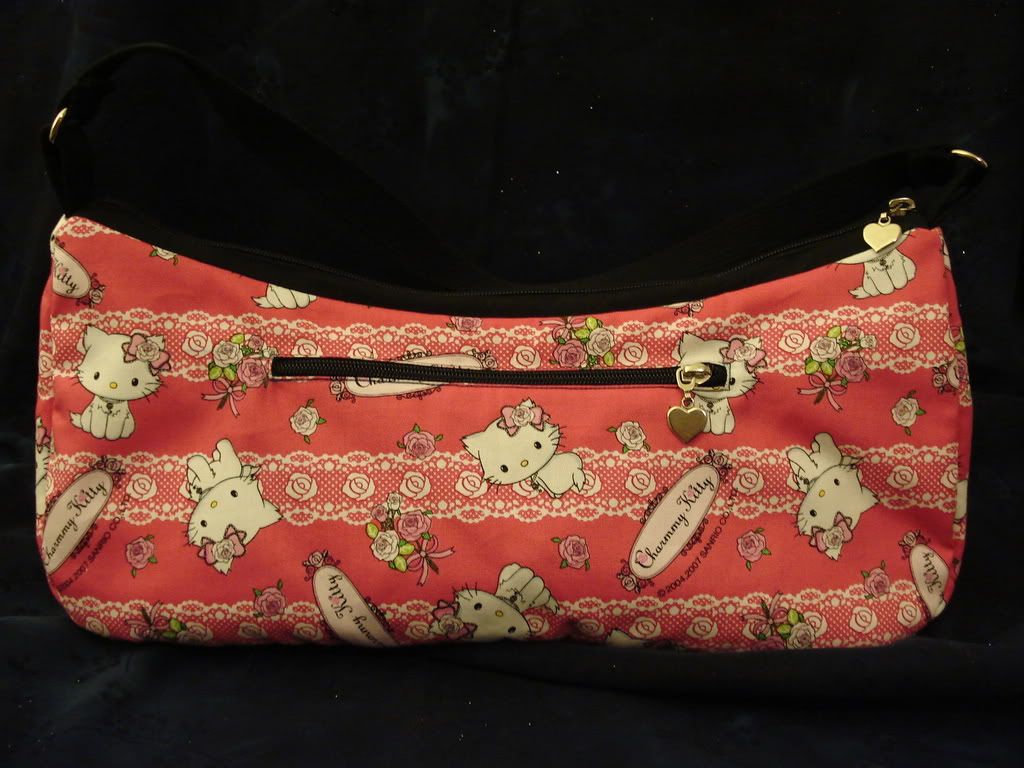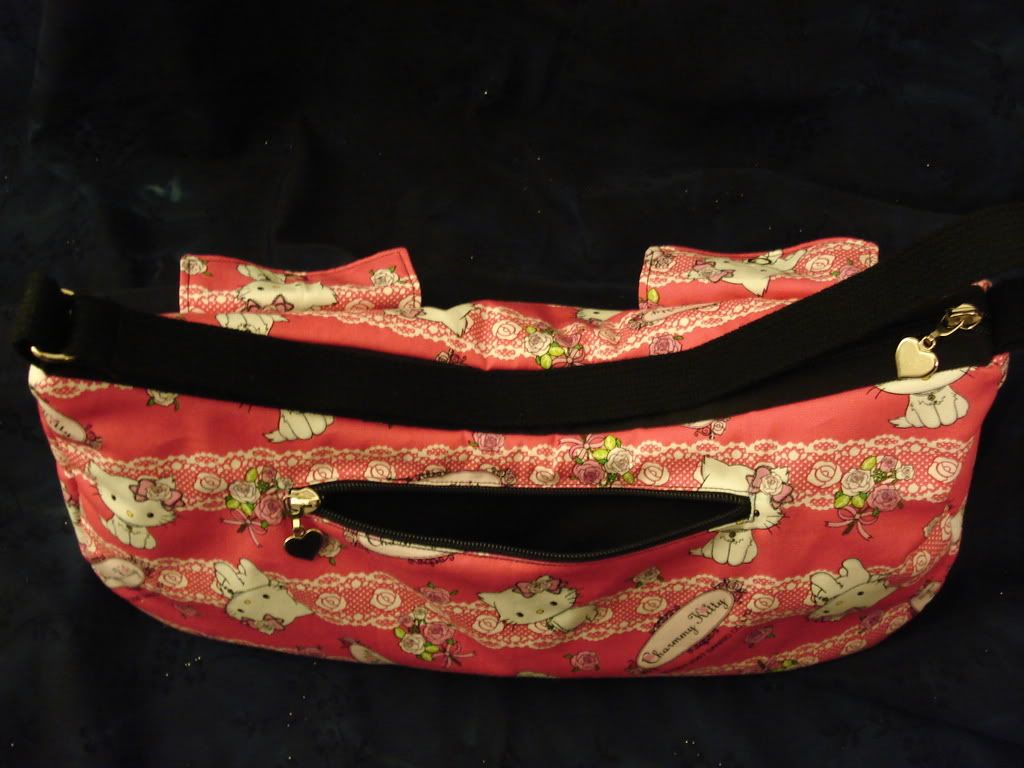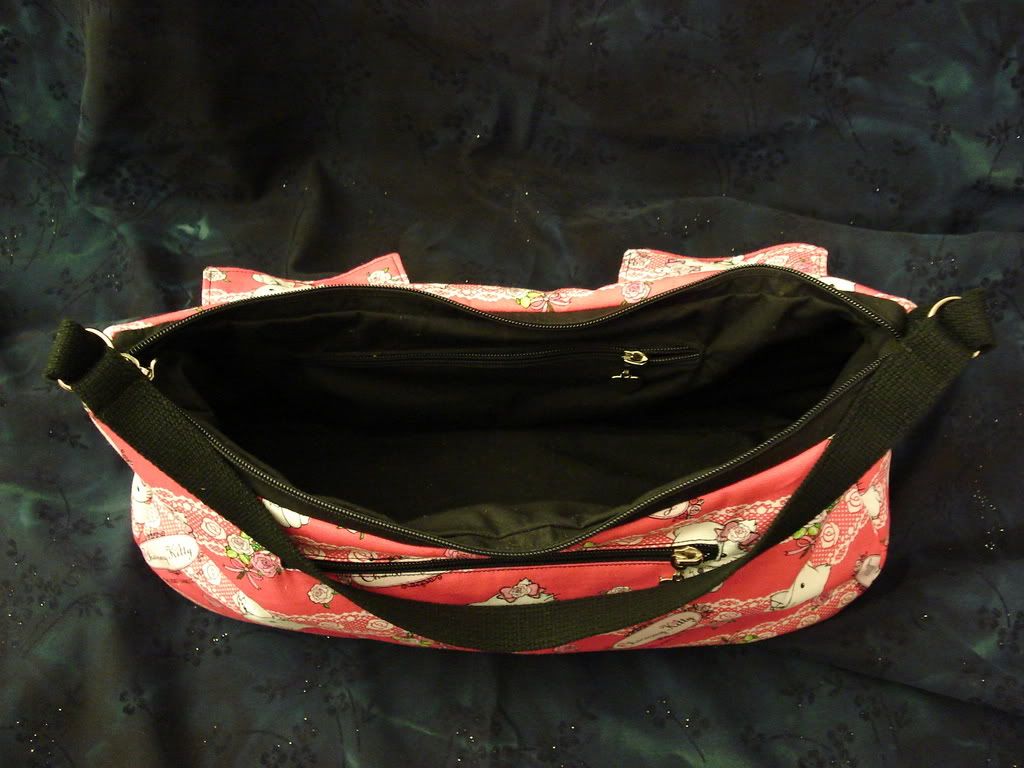 Let me know what you think!
Get ready for a long post.
So I will try to do a semi-tutuorial on this bag. This is my first tute, so if you have any questions pm me. Most of the exact measurements you will probably have to figure out on your own. To make the front and back piece of my pattern I made a 8 1/2 inch tall by 16 1/2 inches wide made a curve around the ends from the bottom to the top. Then in the center of the pattern I measured down 1 1/2 inches to get the curve for the top of the center. It should look something like this after you get it all cut out.
Next you will have to measure the top of the bag where the zipper will go to get the measurement for the pieces to attach the zipper. Mine was 15 1/2 long by 1 1/4 inches to make the top of my zipper the same width as my straps. bit it will depend on what kind of straps you use. Then you need your pockets, I measured mine 6 by 6 inches then cut out 1 1/4 inches out of the bottom sides to make them 3 dimensional. I hope this is making sense to you all
. You will need pockets flaps to cover your pockets if you want them, mine were 4 1/2 by 2 3/4 inches. I also cut them at an angle, just make a line about half an inch above your 2 3/4 mark and connect it at the center then cut on that line. Almost done with the pattern.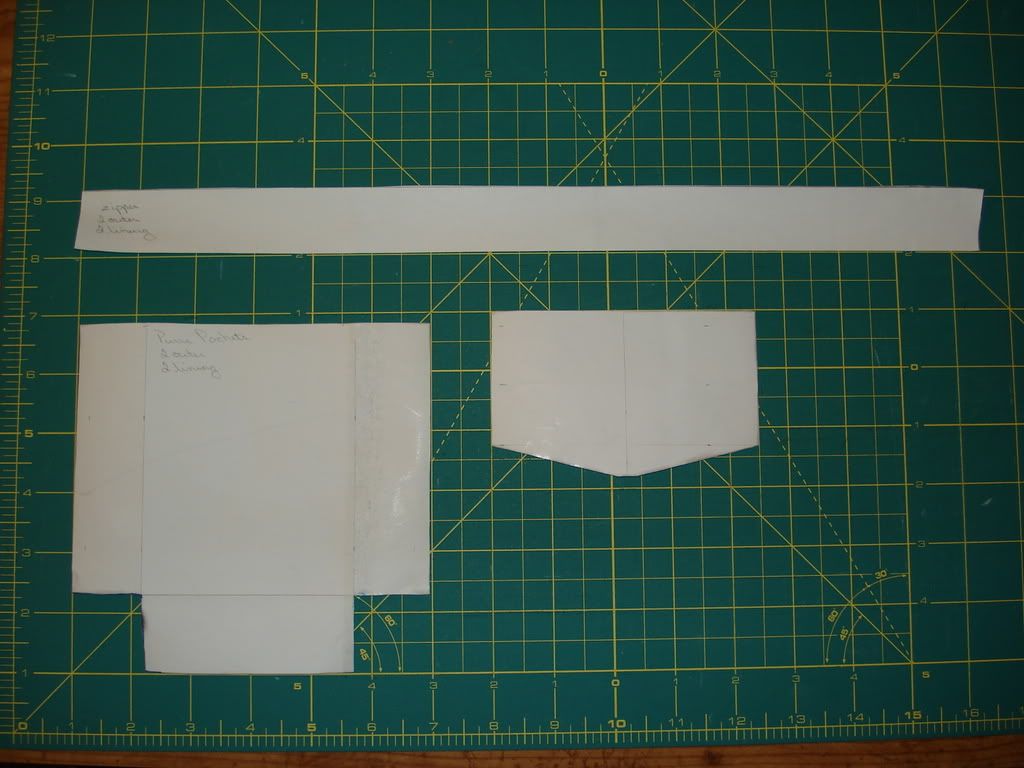 Then you need your bottom and side pieces. I made my bottom and sides separate because I didn't have much fabric so I used plain black for the very bottom. You can make it one long piece if you wish and have enough fabric on hand, whatever floats you boat. Measure your front bag piece from one side around the bottom to the other side. if you want to make your bottom and sides separate decide how long you want the bottom to be cut that from your measurement and add for you seam allowances, I use a 1/4 inch. Now you have to decide how wide you want you bag mine was 4 1/2 inches.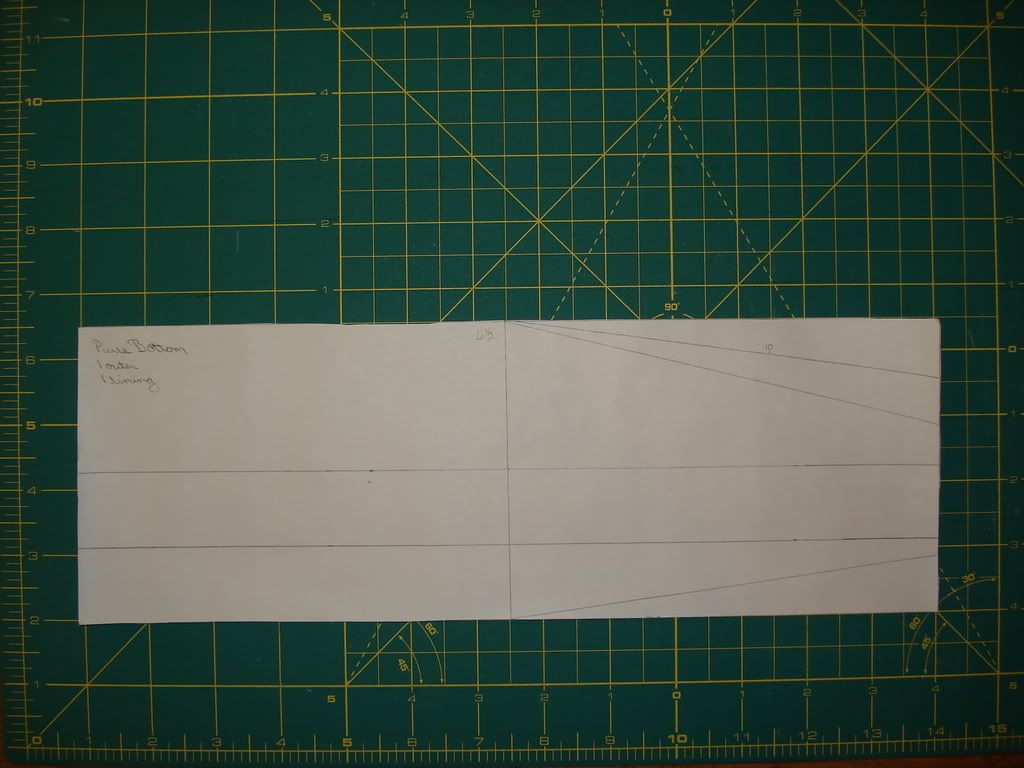 As for the side if you make them separate like I did you will have the bottom of the side the same width as your bottom. In my case it was 4 1/2 inches then you take that with what measurement you have left of your bottom and side measurement and angle it to make that length on the side but also end in the width for your zipper. It should look something like this.
Will return with instructions to put together soon. (play boring elevator music)...
Ok, so now it is time to put it all together. For each pattern piece you will need 2 outer pieces and 2 lining pieces ending with a total of 4 pieces for your pattern. Also if you want to use interfacing or whatever be sure to cut those out to.
First take your zipper and one outer and lining piece, sandwich the zipper between the pieces right sides together. Sew as close to the zipper coil as possible. Then press down and top stitch. Repeat with other side of zipper and remaining outer and lining fabric. Once done with set aside, it will be sew in very last.
If you want zipper pockets now is the time to put those in. I used SewPixie 's
https://www.craftster.org/forum/index.php?topic=11808.0
tutorial on zipper pockets, Thanks! Don't know what I would have done with out that. I guess not have had zipper pockets in my bag, huh?
After you do that its time to attach your front pockets. This can get kind of tricky. First you will need to sew all 4 pieces individually across the square you cut out. This will make them stick out. If anyone doesn't understand this part pm me I will try to explain better. After you do that to all 4 take one outer and one lining fabric place right sides together and sew all around leaving a small hole at the top to turn out. After you get both pockets sew and turned the tuck the raw fabric inside and top stitch across the top only of the pocket. Position onto bag where you would like them and top stitch around the sides and bottom. I have found it easier to stitch the sides then go across the bottom.
Now you have to sew your pockets flaps right sides together leaving a small hole at the top to turn out. Once again tuck raw edges in and top stitch, I top stitched my flaps all the way around. Position evenly above pockets and sew on. If you want snaps, go ahead and snap those puppys on. I had to employ my DH to get the on because apparently im not strong enough to press them on
the one i did popped right off.
If you made your bottom and sides one piece skip this if not sew your bottom and sides right sides together for both the outer fabric and the lining fabric.
Yah! Almost done. Take the front and back piece of your bag and bottom/sides and pin together then sew leaving however much your seam allowance is. It's a little easier IMO if you pin one piece to the bottom/sides then sew and repeat with the other leaving a hole big enough on one side to turn once the bag is finished. Do the same thing with the lining pieces. It should start to look like a purse now.
Time for that zipper! Take your zipper and pin in place across top of the bag outer lining with the outside part of your zipper,sew, repeat with other side. Then turn your bag so your lining and outer fabrics are together and pin the lining part of your zipper to the each side of the lining and sew making sure right sides are together, otherwise you will have seams showing when it is done.
By now you should have a purse with two small holes on either end of your zippers. Take you straps put in those holes. Make sure the straps are on the inside of the purse if not your straps will disappear into the inside of the bag, and smooth out the fabric then sew across being careful when going over the zipper. Turn out through the small hole you left open in the lining slipstitch hole closed. Now you should have a new purse.
I probably made this hard to understand, I was trying to remember how I made it while I was typing this out. Any questions pm me! If anyone makes it please post here, I would love to see them! Also please don't use this to make bags to sell, it took alot of time and was very fustrating to make. Enjoy!