Recently saw some really cute monster ipod cases on the site, and was inspired.
I have a tmobile sidekick and as you know there not the smalled mobile device around, and the case is even bigger. After seeing the moster cases, I thought what a perfect idea to make a cute case for my phone.
The type of tye dye fabic gives it a cute swampy monstery look. Along with the messy stiching.
Not sure if I should add a tail or something,ideas? Hope everyone likes!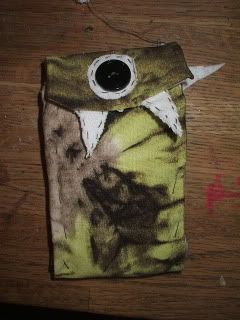 ROAR!