Not to scale, I'm sorry to say. Rolling a 1mm lentil bead for Mercury didn't sound do-able.
Inspired by looking at lots of people's lampwork beads and going "ooooh, they look like little planets!" I knew I was able to get a swirly-cloudy effect in polymer clay, so I went for it. Each bead is inspired by one of the eight planets of the solar system. I was in two minds about including Pluto, which is now technically a "dwarf planet", but since I wasn't doing any of the other stuff floating about in the system I decided to stick to the planets proper.
Plus I'm lazy.
Anyway - picture! Not a great picture - Neptune is camera shy. I just couldn't get rid of that damn reflection (although perhaps taking my own advice and shooting in daylight would have helped
).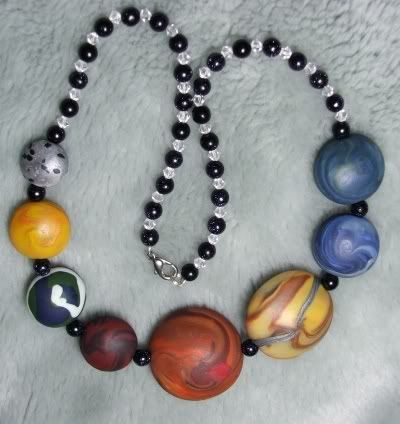 That's blue goldstone and Swarovski crystal for the rest of the
universe
necklace. Mercury is smaller than Mars - the perspective is slightly weird. Jupiter has a crack in it just next to the red spot. They happen sometimes, especially when you don't quite smoosh the clay together properly after adding bits. You can't really see it in the pic and it's not too noticeable in real life unless you look closely. I wish it hadn't but I kind of didn't want to do the bead all over again, cos otherwise it turned out kind of nice.
Opinions and critique welcome! You can tell me off about colours, but I still won't do it to scale - I actually want to be able to wear the damn thing