WOW, such great packages all round! I've been so bad at checking back here...
(Incidentally, for those that were wondering, it's all mould. Stuff that gets mould spores in it goes mouldy and moulded things are shaped in moulds. We don't have mold or molds.)
Anyway, I received... technically on Saturday but I wasn't here, so I picked everything up today. Pic overload alert - pixie5 is an amazing swap partner, she really spoilt me!
I got a Rosie sketchbook and a notebook with an amusing pic of Jo Brand (fab feminist comedian) on the front: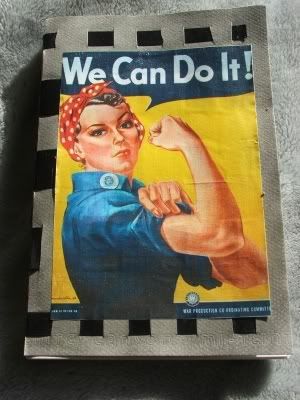 Cutest crochet (or knit? I'm a dunce... can't tell) bag and a matching sewing kit:
Feminist compliation CD and sticker (which I've just realised is upside down in the pic, oops!). On the right is the CD itself, which looks like a vinyl record. HOW cool? I'm playing the CD as I type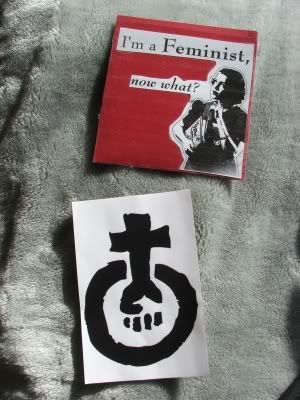 Magnets! Doesn't the pink Caddy remind you of FAB 1 - Lady Penelope from Thunderbirds' car? Both are now on my fridge.
And finally, this stunner of an apron. Such beautiful fabric and the colours are so me!
Thanks again pixie5!