Ever have one of those projects that starts out in your head as a nice easy idea that'll only take you an evening, but rapidly grows and changes and before you know it it's spiralled out of control and it ends up taking a week?
I found these clear glass marbles on a day out with my parents. I'd watched Labyrinth the night before and when my mum went "Look, they look like bubbles!" something in my brain went PING.
I was just going to make spiral wire cages for them. Didn't like the way it turned out. Experimented with bead weaving round them. Liked it, but it wasn't what I wanted. So I went for the complicated, tricky, this-may-not-work-at-all option. Polymer clay, eyelash yarns, chain, charms and beads and eventually... this happened.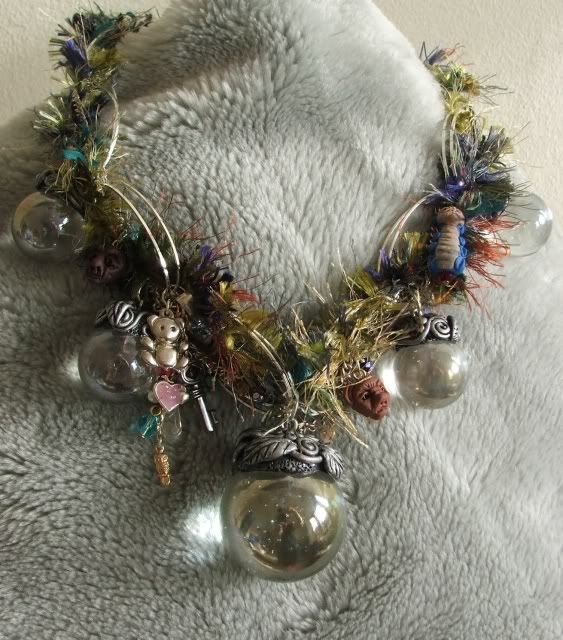 Detail shots:
It'll show you your dreams... the one in there is my dream of one day becoming a half decent photographer! They are all similarly decorated... also reinforced with wire and held in place with Araldite. The marbles are heavy.
A bunch of lovely jewels and treasures
I wanted to get a few little symbols into this as well as making it looking like a collection of stuff a young girl might cling to.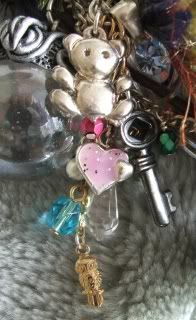 Goblins! I was trying to "channel" Froud rather than copying any specific goblin. I think the second one of the pair (on the right) works better, but I liked the first one, so I kept him anyway.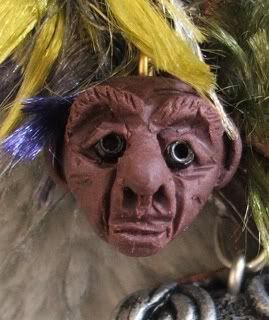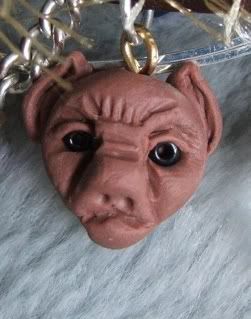 'Ello! I'm not a perfect copy of the worm but I'm not quite this ugly in real life, my close-up seems to have brought out all the little marks you can't really see because I'm so tiny.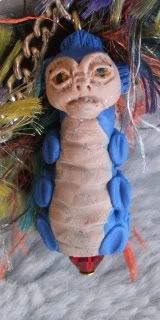 Once again, my boyfriend thinks I'm mental, but it turned out pretty much as I imagined it... it's just a bit too warm for a necklace full of fluffy yarn at the moment
What do you think? CC is always welcome